Awesome gift
By
Shopper

(Hopewell Jct., NY) - December 19, 2011
Great quality. The recipient of this gift loved the fact that the item is not bulky and had a strong hold for the money. Loved the photo of course and said it was one of his favorite gifts ever!


Dad will LOVE this
By
Katie C.

(New Baden, IL) - December 13, 2011 (
See all reviews by this customer
)
Great quality! Pic is clear and clip is heavy duty.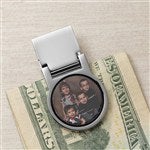 Never let down by this company!
By
Sherrie S.

(Quakertown, PA) - October 27, 2011 (
See all reviews by this customer
)
If you are looking for a personalized gift of high quality, this is the place to shop! I have ordered many things and they all are beautifully crafted and personalized. Every year I come back for holidays, birthdays, etc. My husband was thrilled with the clip and the pic came out great!!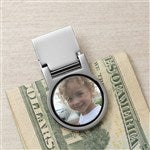 Awesome Gift
By
Aubrey S.

(Mesa, AZ) - June 26, 2011 (
See all reviews by this customer
)
This gift was perfect for my father in law! It came out exactly how I wanted it and with such great quality! Everything I have ordered here has been great!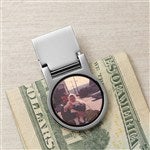 Beautiful!
By
Shopper

(Woodburn, OR) - March 29, 2011
Wonderful Gift, it came out beautiful and my boyfriend loved it!!
I will def. shop here again!

Great quality product
By
Denise B.

(Oakland, CA) - February 20, 2011 (
See all reviews by this customer
)
Picture turned out well, money clip works nicely. Overall, great product, super price, quick delivery.

love it!
By
Maritza R.

(Newington, CT) - January 12, 2011 (
See all reviews by this customer
)
got this as a christmas gift. had a picture with 3 children on it, and i was nervous that it would look too small, but you can definitely see all of the kids. it is so cute! would def purchase another!

great gift
By
Melissa Z.

(New Middletown, OH) - December 12, 2010 (
See all reviews by this customer
)
This was great, picture was very clear.

Great Gifts
By
Stephanie M.

(Davison, MI) - September 28, 2014 (
See all reviews by this customer
)
I ordered two clips to give as gifts. Overall, I was very pleased with the items. However, the picture color on one of the clips was quite a bit lighter than the original. I would have given a 5 star rating had the color saturation not been altered.

great but...
By
Shopper

(virden , IL) - August 16, 2014
I really love this product and my boy friend is going to love it too. Very pleased with it but it would have made it better if I have the option to also not only have a picture in the money clip but to have it in graved as well. I wish I would have had that option.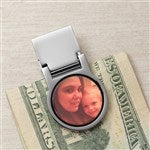 Nice Man Jewelry
By
Shopper

(Maple Valley, WA) - April 30, 2013
Appears to be good quality (time will tell) and very reasonably priced. The ability to upload pictures and real 'preview' capability is awesome way to eliminate guess work.

Valentine Gift
By
Shopper

(Richmond, CA) - February 14, 2012
This was a perfect gift for my guy; He doesn't like to carry a wallet and his money is always disorganized. The money clip was perfect; I took a photo of the one he loves most, and it's a gift he can carry and treasure always. He thanked me and indicated he really liked it. That made my day, as well as very happy. We received it the day before Valentine, and that made it even better.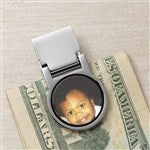 Great piece but breaks quickly
By
Shopper

(Honolulu, HI) - July 24, 2013
This is a great looking money clip, but unfortunately the last two I have ordered broke within 6-months of normal day use. I have bought three of these in the past 2-1/2 years and the last 2 are now broken. The original model purchased in early 2011 is still working, maybe they changed manufactures. The user has a few credit cards and cash and opens it average 4 times a day.

Looks Nice!
By
Shopper

(GARDEN GROVE, CA) - July 6, 2011
I like the design. The problem with it: when trying to clip the bills from the side it wrinkles them, also the money clip widens/loosens up.. It is also hard to open to get bills out..

Photo Money Clip
By
Shopper

(OTTAWA, OH) - February 25, 2014
Very dissatisfied in the quality of the photo. The Money Clip it self was nice but I sent a excellent quality of a photo and the image was terrible. Not happy with the photo at all .