Cute and Unique Idea!
By
Tiffany D.

(McClellandtown, PA) - April 28, 2011 (
See all reviews by this customer
)
The puzzle was absolutely adorable. There were a few minor issues, however. A couple of the pieces had not been completely cut. A simple fix, though. I used a small pocket knife to cut them apart. A couple other pieces had a little bit of the picture peeling away from the puzzle board. A little bit of super glue and it was perfect. I'm very particular about the way I want things to be so fixing up some of the pieces was alright by me. Overall, it was a wonderful purchase and my boyfriend was very pleased :)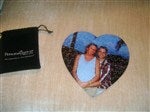 Turns out great
By
Myndi M.

(mountain view, CA) - February 21, 2011 (
See all reviews by this customer
)
Besides the odd shape that can cut off a lot of a picture (but then again, the heart is kind of imperative) the puzzle was amazing. The colors were brilliant and it wasn't painstaking to put together at all.

Its one of those half jokey, half romantic/thoughtful gifts that are perfect for someone you love!

Photo puzzle
By
Shopper

(san diego, CA) - February 17, 2011
Everything was perfect the image quality came out nice. The only thing is that I wish it came in a box not a pouchand with something that I can keep it complete in..because after we put the puzzle together we have to undo it and just store it.

Love Connection scores
By
Shopper

(Edgewater, MD) - February 15, 2011
The puzzle was made using a photo of our recent trip to Egypt with nthe pyramids in the background. Penned I am glad we got this done before the current issues. She put the puzzle together and got very excited as she began to recognize the photo. It was a big hit.

Sweet Idea
By
Shopper

(Knoxville, TN) - February 11, 2011
I ordered 3 of these puzzles. They came VERY quickly...even through "Snowmaggedon 2011" :-)

The picture quality was very good. True colors, nice finish.

I was disappointed in the quality of the pieces. They bent quite easily, the back brown "cardboard" was not very smooth. I put all 3 together, wrote on the backs of them and disassembled the puzzles. Taking them apart was difficult to keep the backing from "flaking".

Would be quite helpful to include a picture of what is being pictured on the puzzle. I made a copy of a finished puzzle, and included it in my bags to my gift recipients. I called it a "puzzle mat". Would be a good idea to include with purchase though.

The pieces fit together nicely. Good fit. Plus, it was neat to have oddly shaped pieces along with your "regular" puzzle pieces.

I am pleased overall. Just wished it used a higher quality board product.

Good product
By
Shopper

(Los Angeles, CA) - January 30, 2011
Great price. Good alignment. But puzzle was not cut perfectly--the back of some pieces were torn.

Good idea needs work
By
TJ R.

(Russellville, AR) - January 29, 2011 (
See all reviews by this customer
)
I was very pleased with the promptness and detail of the puzzle. My only concern is that since it was a gift, the recipient had no clue what the puzzle was! It is in very small pieces and she had nothing to go by. It would be helpful to include a picture of the finished puzzle! In fact, I knew what the picture was (vaguely from memory) and I spent three hours just trying to do the edges -- unsucessfully.

Cute, but Small
By
Bruce W.

(Campbellsport, WI) - January 2, 2013 (
See all reviews by this customer
)
The puzzle was for my 5 year old daughter. It was fun to put it together with her and turned out very cute but it was MUCH smaller than I anticipated.


Heart Puzzle
By
Shopper

(chicago, IL) - October 21, 2012
The concept of the puzzle was very cute. Once I received the puzzle the pieces were coming apart. I had to glue the picture back to the puzzle piece. The sentiment was very romantic and I'm glad I was able to give the puzzle to my special someone. However I would not order from here again. The product quality was poor. I guess you get what you pay for.

NO PICTURE to REFERENCE
By
Delicia C.

(Albany, OR) - February 14, 2012 (
See all reviews by this customer
)
Although this is very cute, it is difficult for the recipient to put the puzzle together when it is not whole apon arrival and has no picture to look at. It would be great to have one or the other. Otherwise, great product!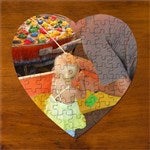 Fun but too small
By
Shopper

(Channahon, IL) - October 7, 2011
I purchased this gift for sweetest day for my boyfriend. It was a great idea for a gift but it was just too small. I recommend buying the 252 square puzzle instead, because you're really just buying the heart shape. And you'll get a cool tin to put it in when you're done. I wasnt too happy.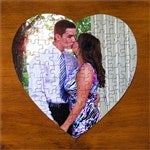 i was expecting even better quality for the price..
By
Shopper

(Bayonne, NJ) - February 27, 2011
i was expecting even better quality for the price..

Heart puzzle
By
Shopper

(Weatherford, TX) - February 17, 2011
I gave this to my grand daughters and wish it had been a little bit bigger in size but it had very nice clarity about the picture.

Good
By
Shopper

(San Jose, CA) - February 16, 2011
I really liked it... Except I just wish that you could expand a little bit more on cropping the picture, since its limited. Other than that it was good and it shipped fast. The color was good.

fast shipping poor quality
By
Shopper

(High Ridge, MO) - July 16, 2012
I was pleased with the ability to see personalization before ordering and the speed of shipment, but the puzzle was thin and easily bent when putting together and taking apart. the picture did look nice but i would not recomend ordering this cheap quality puzzle.

needs improvement
By
Alec R.

(Highland, CA) - February 13, 2011 (
See all reviews by this customer
)
the quality of the picture was much better that what was printed also the quality of the puzzle pieces is less than satisfactory. if your not worried about quality over the sentimental thought then this is a good product but to me its worth less than advertised.

Not what we expected
By
Dianna G.

(Marine City, MI) - March 2, 2012 (
See all reviews by this customer
)
The puzzle is a small piece puzzle which we thought would be slightly larger and there were a few pieces that were damaged and could not be used :(

Review
By
Shopper

(glendale, AZ) - November 21, 2011
I expected the puzzle to be in a box with picture on it not in a little bag. A little disappointed