Fun but too small
By
Shopper

(Channahon, IL) - October 7, 2011
I purchased this gift for sweetest day for my boyfriend. It was a great idea for a gift but it was just too small. I recommend buying the 252 square puzzle instead, because you're really just buying the heart shape. And you'll get a cool tin to put it in when you're done. I wasnt too happy.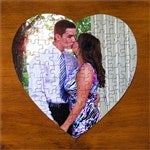 Cute and Unique Idea!
By
Tiffany D.

(McClellandtown, PA) - April 28, 2011 (
See all reviews by this customer
)
The puzzle was absolutely adorable. There were a few minor issues, however. A couple of the pieces had not been completely cut. A simple fix, though. I used a small pocket knife to cut them apart. A couple other pieces had a little bit of the picture peeling away from the puzzle board. A little bit of super glue and it was perfect. I'm very particular about the way I want things to be so fixing up some of the pieces was alright by me. Overall, it was a wonderful purchase and my boyfriend was very pleased :)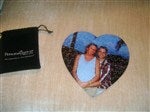 Loved the heart-shaped photo puzzle!
By
Shopper

(Grand Blanc, MI) - February 18, 2013
I looked around for a while for a puzzle that was in the shape of a heart. I had my girlfriend put it together just before we went out dancing, and it was an extra special surprise for her when she realized that it was heart-shaped! She absolutely loved it. I only rated it a 4 for quality. A couple of the pieces frayed a bit when we first put it together, but the shipping was fast, and the nice velvet black purse with drawstring was a classy touch.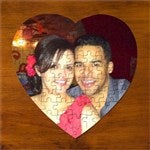 Great Valentines Gift
By
Shopper

(Brentwood, TN) - February 16, 2013
My husband and I put this together (he had no idea what the picture was until about 1/2 way through) on our Valentines trip. The picture and idea of this gift was great. He kept saying how cool it was. We are going to frame it and we will always remember this special Valentines time together.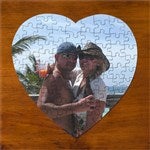 Personalized Photo Puzzle
By
Khou L.

(Milwaukee, WI) - January 25, 2013 (
See all reviews by this customer
)
This was a great gift that I got for my significant other but I actually loved it more! Was a little difficult to put together depending on what the photo looks like, but it was worth it! Loved it!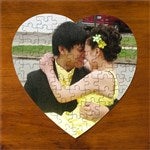 Engagement Present for Savanna & Neil
By
Gina-Marie D.

(Spring Hill, FL) - January 11, 2013 (
See all reviews by this customer
)
As soon as I heard my best friend got proposed to on a get-away vacation on a hot air balloon, I knew I had to get her something meaningful when she returned home. I had her put the heart puzzle together to later find out it was a sunset picture of the two of them kissing that I found on facebook. She was so excited to receive this as she did not expect it. Great way to capture a memory!!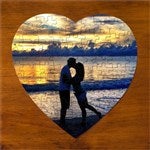 heart of love.
By
Sandra C.

(Johnstown, CO) - December 27, 2012 (
See all reviews by this customer
)
Got this as a gift for my boyfriend. Great product. At first I thought it was going to be too easy to do because it wasn't a lot of pieces but the shape was a challenge. The picture I chose made it blurry so that's my fault. If it was a better picture it would be perfect. I will be making more. :)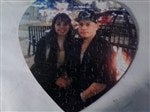 Personalized puzzle
By
Shopper

(El Dorado, CA) - December 6, 2012
The puzzle looks just like the actual photo. The colors are bright and accurate and the picture is very clear.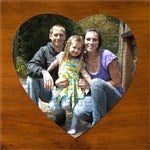 Perfect gift for one year dating anniversary!
By
Kathy P.

(Wichita, KS) - October 30, 2012 (
See all reviews by this customer
)
My son contemplated what gift he should give his girlfriend to celebrate their one year dating anniversary and I discovered this keepsake photo puzzle that I knew she would love and treasure. Since there were only two days left before their planned celebration, I was doubtful that the puzzle could be personalized and shipped to arrive in time considering the short notice. To my amazement, the gift was delivered on a Saturday morning and exactly as ordered!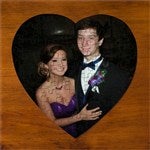 Great Present for our 9 month!
By
Shopper

(cumming , GA) - September 19, 2012
Absolutely loved this puzzle. Fun and easy to put together. It was the perfect present for my boyfriend and even I would love to get one for myself now!