1st Valentine
By
Shopper

(Medford, NY) - January 24, 2014
I ordered this in Black for my Grandsons first St Valentines Day. It is so adorable and the material is a nice weight, I only wish it was available with long sleeves.

Just loved it!
By
Shopper

(Manitowoc, WI) - February 25, 2013
Cute as can be, exactly as pictured and good quality.

Super adorable!
By
Shopper

(Encino, CA) - July 28, 2012
What a terrific personalized baby gift!! So cute and special and very unique. GREAT price point too.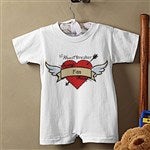 Adorable
By
Martha G.

(North Aurora, IL) - February 18, 2012 (
See all reviews by this customer
)
I ordered this shirt for my son for Valentine's Day, and we loved it! I ordered it a size larger than he normally wears, and it fit just right. Great design and colors too!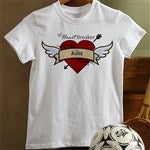 this shirt was adorable on my grandson
By
Sandra A.

(Keavy, KY) - February 14, 2012 (
See all reviews by this customer
)
I love this site because my grandsons name is spelled alittle different and I can't find ready made personalized items


Cute T-Shirt For Any Occasion!
By
Shopper

(APO, AE) - January 30, 2012
I found this t-shirt for my neice and thought it was perfect. Not only can she wear it for Valentine's Day but really for any occasion or even daily use. The quality is good and it washes well (that is saying a lot for a little one)! It even resembles a little "Harley-Style" look, which pleased her father who is a Harley rider!

Heartbreaker romper
By
Shopper

(Dillard, GA) - January 28, 2012
I got this for my great nephew for valentines day and it will look cute alone or with a pair of cute jeans or pants!!!ADORABLE and with his name so cute!!!!

Valentine's kids shirt
By
Jacqueline R.

(Pomona, CA) - February 9, 2011 (
See all reviews by this customer
)
Good quality cotton T-shirt, not thin at all. The design was an iron on, still very cute. My boys loved them.

Return Results
By
Shopper

(Houston, TX) - February 7, 2011
I posted a previous review concerning size of items. Very please with the ease of return. They were very kind and are replacing the two t-shirts at no extra charge. Did not expect since they were personalized! Great service!! I will continue to shop on line.

Great product
By
Shopper

(Dover, PA) - February 6, 2011
I recently ordered this shirt plus a St.Patrcik's Day shirt for my grandchildren. The ordered arrived in a very timely fashion and the merchandise was everything I could have hoped for. The shirt fabric is a very nice quality and the personalization was the finishing touch.

Heart Breaker
By
Carol B.

(Coram, NY) - February 12, 2014 (
See all reviews by this customer
)
I ordered this in black and red heart does not look bright red it is almost a dark wine color. Not exactly what I expected, I'm sure it looks great on white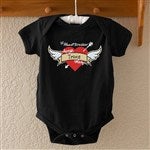 Cute Heartbreaker Shirt!
By
Cathy L.

(Amarillo, TX) - February 11, 2013 (
See all reviews by this customer
)
The shirt was really cute and looked just like the picture. I ordered size 24 months but it looked a little small when I opened the package. If it shrinks any at all it will be too little. That is the only thing wrong with it. I think the baby sizes should be cut a little bit bigger or they should go ahead and have the same selection in 2T or 3T since the 24 months looks so small. It looked more like a 12 or 18 month T-shirt. Overall we like it, though. It will definitely be a one-time wear after washing (or maybe before).

Great Quality, Fast Shipping
By
Shopper

(Rochester, NY) - February 11, 2013
I received this cute little bib right in time for my god son's first valentines day! It was packaged nicely and the quality was great!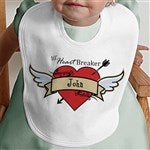 Heartbreaker T Shirt
By
Shopper

(YORK, PA) - February 1, 2013
Sent to grandson; Good quality; cute with personalization. Would have liked long sleeve T Shirt since it's still pretty cold in Pennsylvania. Delivered in record time; early enough to wear to pre-school on Valentine's Day.


Cute Surprize!
By
Shopper

(west stockbridge, MA) - February 14, 2012
Great little valentine's gift for a newborn. Shipped and received on time!

Heartbreaker Tshirt
By
Christina S.

(Peoria, AZ) - August 18, 2011 (
See all reviews by this customer
)
The print is really cute on this shirt. I am worried about how it is going to wash. Shirt is a little thin.

its cute but..
By
Shopper

(Willow River, MN) - February 17, 2011
I didn't really like the way it fit my son. I bought a size bigger then he has been wearing and it was still pretty snug. Very cute though!
Thanks!

Very nice....but
By
Shopper

(Louisville, KY) - February 12, 2011
The quality is awesome, it was delivered in a very resonable time, and the coloring and wording were all correct. However in the picture the entire graphic takes up a sizable space on the shirt, but the one I recieved was not the same. The graphic was much smaller and the wings only stretched to the middle of the shirt. I plan to get pictures taken with the shirt on and im worried that the graphic may not be very noticable.

very cute
By
Shopper

(Honolulu, HI) - February 9, 2011
I had this shirt ordered for a 12 month old infant. The design was alittle smaller than what it showed on the picture but it was still cute.

Valentine's Gift
By
Barbara B.

(Merrick, NY) - January 24, 2011 (
See all reviews by this customer
)
The design on the shirt is very cute, and the shirt itself is of good quality. The quick service is amazing, too. I will be pleased to give it as a gift.

Cheap materials, expensive price
By
April K.

(Creedmoor, NC) - February 15, 2013 (
See all reviews by this customer
)
This hoodie was cute....I love that it is so unique. The hoodie itself is made a little thin, and not of the best quality material & the image is basically like an iron-on....it was cute, but way over priced. Yes, I like it & I am happy with it...but I am glad I used a coupon.

A Little Thin and Small Graphics
By
Shopper

(Clinton Township, MI) - February 28, 2012
Although a cute idea, the graphics that are on the shirt are much smaller than what it shows online. The material is thinner than expected as well. They would only give me $1.60 off of what I paid :-(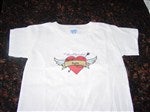 Thin Bib
By
Shopper

(Washington, PA) - January 18, 2013
I'm not happy with the bibs at all. I ordered 2 and although the printing on them were ok, the bibs themselves aren't the quality for the price that is charged. I'm very disappointed with these items.

Lil heartbreaker Infant T-Shirt not true to size.
I was very disappointed with this item. On Valentine's Day morning I tried to put this T-shirt on my grandson. He wears size 12 month. I had ordered this T-shirt in 18 months to make sure he would be able to wear into the summer. When I attempted to put this T-shirt over his little head, it was very tight, and also had no give. I was unable to slip the shirt over his head. I will not be ordering anymore personalized clothes for my grandson. Very disappointed.

Heartbreaker shirt RUNS SMALL!!
By
Janeen E.

(Bayside, NY) - December 27, 2012 (
See all reviews by this customer
)
I loved the artwork, the personalization was terrific, no problems. BUT the shirt itself was a big disappointment. It was SO SMALL and I was embarrassed to give it as a gift. I bought 2 of them, so I was doubly embarrassed. I am a mother of two and know what a true 24 months size looks like. This was not.