Heart Breaker
By
Carol B.

(Coram, NY) - February 12, 2014 (
See all reviews by this customer
)
I ordered this in black and red heart does not look bright red it is almost a dark wine color. Not exactly what I expected, I'm sure it looks great on white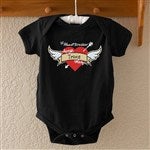 Cute Heartbreaker Shirt!
By
Cathy L.

(Amarillo, TX) - February 11, 2013 (
See all reviews by this customer
)
The shirt was really cute and looked just like the picture. I ordered size 24 months but it looked a little small when I opened the package. If it shrinks any at all it will be too little. That is the only thing wrong with it. I think the baby sizes should be cut a little bit bigger or they should go ahead and have the same selection in 2T or 3T since the 24 months looks so small. It looked more like a 12 or 18 month T-shirt. Overall we like it, though. It will definitely be a one-time wear after washing (or maybe before).

Great Quality, Fast Shipping
By
Shopper

(Rochester, NY) - February 11, 2013
I received this cute little bib right in time for my god son's first valentines day! It was packaged nicely and the quality was great!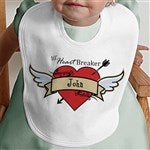 Heartbreaker T Shirt
By
Shopper

(YORK, PA) - February 1, 2013
Sent to grandson; Good quality; cute with personalization. Would have liked long sleeve T Shirt since it's still pretty cold in Pennsylvania. Delivered in record time; early enough to wear to pre-school on Valentine's Day.


Cute Surprize!
By
Shopper

(west stockbridge, MA) - February 14, 2012
Great little valentine's gift for a newborn. Shipped and received on time!

Heartbreaker Tshirt
By
Christina S.

(Peoria, AZ) - August 18, 2011 (
See all reviews by this customer
)
The print is really cute on this shirt. I am worried about how it is going to wash. Shirt is a little thin.

its cute but..
By
Shopper

(Willow River, MN) - February 17, 2011
I didn't really like the way it fit my son. I bought a size bigger then he has been wearing and it was still pretty snug. Very cute though!
Thanks!

Very nice....but
By
Shopper

(Louisville, KY) - February 12, 2011
The quality is awesome, it was delivered in a very resonable time, and the coloring and wording were all correct. However in the picture the entire graphic takes up a sizable space on the shirt, but the one I recieved was not the same. The graphic was much smaller and the wings only stretched to the middle of the shirt. I plan to get pictures taken with the shirt on and im worried that the graphic may not be very noticable.

very cute
By
Shopper

(Honolulu, HI) - February 9, 2011
I had this shirt ordered for a 12 month old infant. The design was alittle smaller than what it showed on the picture but it was still cute.

Valentine's Gift
By
Barbara B.

(Merrick, NY) - January 24, 2011 (
See all reviews by this customer
)
The design on the shirt is very cute, and the shirt itself is of good quality. The quick service is amazing, too. I will be pleased to give it as a gift.

Cheap materials, expensive price
By
April K.

(Creedmoor, NC) - February 15, 2013 (
See all reviews by this customer
)
This hoodie was cute....I love that it is so unique. The hoodie itself is made a little thin, and not of the best quality material & the image is basically like an iron-on....it was cute, but way over priced. Yes, I like it & I am happy with it...but I am glad I used a coupon.

A Little Thin and Small Graphics
By
Shopper

(Clinton Township, MI) - February 28, 2012
Although a cute idea, the graphics that are on the shirt are much smaller than what it shows online. The material is thinner than expected as well. They would only give me $1.60 off of what I paid :-(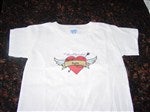 Thin Bib
By
Shopper

(Washington, PA) - January 18, 2013
I'm not happy with the bibs at all. I ordered 2 and although the printing on them were ok, the bibs themselves aren't the quality for the price that is charged. I'm very disappointed with these items.

Lil heartbreaker Infant T-Shirt not true to size.
I was very disappointed with this item. On Valentine's Day morning I tried to put this T-shirt on my grandson. He wears size 12 month. I had ordered this T-shirt in 18 months to make sure he would be able to wear into the summer. When I attempted to put this T-shirt over his little head, it was very tight, and also had no give. I was unable to slip the shirt over his head. I will not be ordering anymore personalized clothes for my grandson. Very disappointed.

Heartbreaker shirt RUNS SMALL!!
By
Janeen E.

(Bayside, NY) - December 27, 2012 (
See all reviews by this customer
)
I loved the artwork, the personalization was terrific, no problems. BUT the shirt itself was a big disappointment. It was SO SMALL and I was embarrassed to give it as a gift. I bought 2 of them, so I was doubly embarrassed. I am a mother of two and know what a true 24 months size looks like. This was not.