Perfect gift for a boyfriend/girlfriend relationship!
By
Shopper

(Cave Creek, AZ) - January 24, 2012
This mug set was so cute I could not resist buying it for my boyfriend for Valentine's Day! I liked all of the options like peanut butter & jelly, pancakes and syrup, etc. We've been dating for a little over a year so I wanted something cute and sweet but not too mushy. I am sure he'll like this gift because I love it!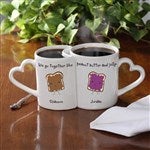 Super cute!
By
Joan A.

(Skokie, IL) - January 8, 2012 (
See all reviews by this customer
)
I bought it for my future place with my fiance. We are excited & cannot wait to use it!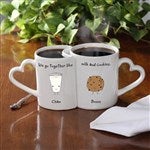 Disappointed
By
rebecca O.

(tuckerton, NJ) - January 3, 2012 (
See all reviews by this customer
)
Although the mugs were inscribed correctly when they arrived the handle was broke completly off. Being 1 day before Christmas I had no time to exchange it.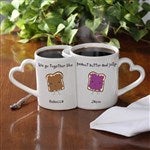 Super Cute
By
Shopper

(Oxford, MS) - May 15, 2013
This was the perfect gift! My boyfriend in Germany has one cup, and I have the other one in the US. It is a cute way to think about each other.
Service was great too.

Best Gift Ever!
By
Shopper

(Vienna, VA) - February 25, 2013
This was a valentine's day for my close friend and I. He's a huge bacon and egg fan, so this gift was perfect! The handles on one of the mug did break when it was delivered the first time round. I had chatted with one of the people here and without any doubt or questioning, they immediately gave me a replacement mug.

The service is just great! I would totally purchase on this website in the future <3



Love it!
By
Shopper

(Long beach, CA) - August 23, 2013
Looks just like the picture, turned out exactly how I imagined it! Great product!

Great gift for an anniverary gift..
By
Patricia F.

(Kentwood, MI) - July 31, 2013 (
See all reviews by this customer
)
I got this cup set for an anniverary gift and I really think it looks great. I have not received any input from the intented couple but I do believe that they will love them. The letter are very clear and nothing goes together better than peanut butter and jelly. PM you've did it again and I am well pleased!

happy mother
By
nancy C.

(Kingman, AZ) - March 24, 2013 (
See all reviews by this customer
)
ordered for my daughter and husband. She has loved mac & cheese since she was a toddler. Even incorperated mac & cheese into their wedding. Perfect for the married couple.

Excellent
By
Shopper

(Canada) - February 24, 2013
Product is great, exactly like how it is in the pictures. Good stuff!

Great Purchase
By
Shopper

(Okeechobee, FL) - November 14, 2013
I purchased the we go together like the Moon and Stars set and it came just the way shown on the website. The recipients enjoyed it and were wowed by it so it was worth the money and effort.

Good
By
Zhiyong W.

(Columbia, SC) - April 24, 2013 (
See all reviews by this customer
)
Good service, and nice gift. Highly recommended!!

Cute and Perfect
By
Shopper

(Austin, TX) - April 7, 2013
The mugs arrived quickly and in perfect condition. They're absolutely adorable. I wish I could buy all of them!

Great
By
Gloria W.

(Taylor, MI) - February 16, 2014 (
See all reviews by this customer
)
The mugs were very special to me for Valentines day, and you made them just that special and I received them on time, Thank you

It Takes Two
By
Shopper

(Sandy Springs, GA) - December 28, 2013
Very imaginative and cute!

Now that I have an unbroken set, they're great
By
Shopper

(Tampa, FL) - April 20, 2012
When I got the mugs in the mail the first time, both had broken handles. They were more delicate than I expected them to be. I called customer service and they sent me a new, unbroken set right away. The company should probably start packing fragile items better - wrapped in a thin plastic is not going to work well.

Cute
By
Shopper

(Erie, PA) - May 21, 2012
These are cute! Wish the mugs were a little better quality but I would buy again.

We go together mugs
By
Patricia B.

(McKinney, TX) - November 18, 2012 (
See all reviews by this customer
)
I love how they look, I just wish the cups on the left were a little bit bigger. It's kinda small. Can't put very much liquids on that side. The right side is a perfect size especially for all my coffee drinker in-laws. :O)

I'd still tell folks to purchase them if they are looking for a great gift idea for a couple.

Cute gift
By
Shopper

(rockaway park, NY) - December 8, 2013
Very happy with this item. I love the peanut butter and jelly saying on the mug. I would definitely recommend this product to anyone.

cutest cups for couples
By
Shopper

(flint, MI) - October 25, 2013
I had bought a set of these for myself and I came back and bought a set for a couple that is having a wedding this weekend, they are so cute.

Adorable gift!
By
Alison L.

(Baldwin , NY) - December 23, 2013 (
See all reviews by this customer
)
I purchased this as a Christmas gift...they are adorable and very good quality. I love purchasing from Personalization Mall.com b/c I always get a great quality gift at a great price and I receive my order in just days.

Perfect gift for Valentine's Day
By
Catherine K.

(PITTSBURGH, PA) - January 19, 2013 (
See all reviews by this customer
)
I received the mugs and they're really cute. I haven't been able to take them out of the box (I requested gift wrapping), but I was able to see the print and I love it. The only thing that bothers me is that I spent full price when they're on sale now. Bummer.

really cute!
By
Elizabeth D.

(Philadelphia, PA) - February 7, 2011 (
See all reviews by this customer
)
great gift, adorable, just as pictured! i have ordered more than a few items from personalization mall and never been disappointed!!

loved
By
Shopper

(Hillside, NJ) - February 7, 2011
loved it! the item was shipped quickly and came out exactly as shown on website!

So cute and adorable
By
Shopper

(Fitchburg, WI) - February 4, 2011
My significant other and I love our coffee time and these mugs are the best valentines day gift. They are so cute.

Was a Gift
By
Shopper

(Laguna Woods, CA) - February 6, 2011
Well, All I Can Say Here is..........Was given as a gift. When they received it, my phone rang immediately and they were absolutely thrilled and couldn't believe it. I have ordered many things from this company and have never, ever been disapointed. All "Top of Quality" and exactly what I thought it would be and not only on the personlized, but the quality of each item. I can't find the quality of these items (even if not personlized) from my 'High End' stores. You won't go wrong here with anything. I am very pleased. My Only Downside is "I don't want anyone to know, my SECRET, of where I get these wonderful things............"

Cute
By
Shopper

(Chicago, IL) - February 7, 2011
They have not received it yet...but I'm sure they will just adore it as they have the other items I have given them from your company!

Great Gift
By
Shopper

(Woodbridge, VA) - February 14, 2011
These mugs were my first purchase from Personalizationmall.com and I am well pleased. I will definitely make future purchases here. The mugs are exactly as advertised and are good quality. Very cute set for tea time, and to present with breakfast in bed. I ordered the ones that say "...pancakes and syrup", which is my favorite breakfast to eat and my guy teases me about the expensive organic maple syrup I buy, so that simile (comparison) was great for us!

Unique gift
By
Shopper

(Eudora, KS) - February 15, 2011
I got this set for my husband to take to his office, so every time I visit him we could have coffee together. It turned out to be just what I expected to get, personalization looked great! Thank you for fast and reliable service.

Perfect for our Valentine
By
Shopper

(Riverdale, MD) - February 10, 2011
It came in timely manner for our valentine and the design is really great us.

Awesome Valentine's Day gift!
By
Shopper

(North Miami Beach, FL) - February 13, 2011
My girlfriend loves PB&J sandwiches so when I saw this set I knew it'd be the perfect Valentine's Day gift. She loved the little the cartoon pieces of bread and thought they were so cute. The mugs seem to be of good quality and it's nice that they're dishwasher safe. I ordered them early and they came within a week of placing my order. She thought it was very thoughtful! I scored major points!

Pb&j mugs
By
Cindy B.

(Decatur, AL) - February 15, 2014 (
See all reviews by this customer
)
What I love about this website is they are so fast. I got these cups in 3 days. They are just as seen on the picture, really cute and the spelling was accurate. For the size of the cup this was a good deal.

Love these mugs!
By
Shopper

(Knoxville, TN) - February 15, 2014
The animation on these mugs is so cute! I purchased the bacon and eggs...love them. Great gift for valentines, or just any time you wanna say i love you.

Love this item
By
Shopper

(Louisville , KY) - February 22, 2013
Received the mug set - I was totally pleased with it.
The delivery time was perfect and as stated.
This company is great to do business with!

cool mug's
I order this for me amd my husban he love:d it

GreatSelectionIdea
Really like the mugs; however, one of the mugs paint was messed up!

So-o-o-o cute!
By
RoseMarie C.

(Lyndhurst, OH) - January 28, 2011 (
See all reviews by this customer
)
This set is so-o-o cute! My granddaughter just had an engagement party and along with another gift I gave this mug set. The only problem I had with this was in the choice because all of the sets were just as darling. Thank you Personalization Mall.com

So cute and whimsical..............
By
Shopper

(La Verne, CA) - January 31, 2011
I am very happy with my purchase. I got it for my husband and myself for Valentine's Day.......just a small token gift that I am sure he'll love.
This is my second purchase from your company and I am "sold" on it.

Thanks so much.........

Great Product, Very Impressed.
By
Gina H.

(Cameron, NC) - November 30, 2010 (
See all reviews by this customer
)
It was a great buy! Very happy with the quality and can't wait to give it for a gift!!!

So Cute!
By
Anne-Laure B.

(Alexandria, VA) - December 14, 2010 (
See all reviews by this customer
)
These personalized mugs are just too cute!
They make a great present!

Good mug but the smaller mug is really small.
By
Elisabeth M.

(Altoona, PA) - December 14, 2011 (
See all reviews by this customer
)
$24 + shipping is alot for two mugs. The smaller mug is a lot smaller then I expected.
They are super cute, though!