really cute!
By
Elizabeth D.

(Philadelphia, PA) - February 7, 2011 (
See all reviews by this customer
)
great gift, adorable, just as pictured! i have ordered more than a few items from personalization mall and never been disappointed!!

Was a Gift
By
Shopper

(Laguna Woods, CA) - February 6, 2011
Well, All I Can Say Here is..........Was given as a gift. When they received it, my phone rang immediately and they were absolutely thrilled and couldn't believe it. I have ordered many things from this company and have never, ever been disapointed. All "Top of Quality" and exactly what I thought it would be and not only on the personlized, but the quality of each item. I can't find the quality of these items (even if not personlized) from my 'High End' stores. You won't go wrong here with anything. I am very pleased. My Only Downside is "I don't want anyone to know, my SECRET, of where I get these wonderful things............"

So cute and adorable
By
Shopper

(Fitchburg, WI) - February 4, 2011
My significant other and I love our coffee time and these mugs are the best valentines day gift. They are so cute.

So cute and whimsical..............
By
Shopper

(La Verne, CA) - January 31, 2011
I am very happy with my purchase. I got it for my husband and myself for Valentine's Day.......just a small token gift that I am sure he'll love.
This is my second purchase from your company and I am "sold" on it.

Thanks so much.........

So-o-o-o cute!
By
RoseMarie C.

(Lyndhurst, OH) - January 28, 2011 (
See all reviews by this customer
)
This set is so-o-o cute! My granddaughter just had an engagement party and along with another gift I gave this mug set. The only problem I had with this was in the choice because all of the sets were just as darling. Thank you Personalization Mall.com

So Cute!
By
Anne-Laure B.

(Alexandria, VA) - December 14, 2010 (
See all reviews by this customer
)
These personalized mugs are just too cute!
They make a great present!

Great Product, Very Impressed.
By
Gina H.

(Cameron, NC) - November 30, 2010 (
See all reviews by this customer
)
It was a great buy! Very happy with the quality and can't wait to give it for a gift!!!

GreatSelectionIdea
Really like the mugs; however, one of the mugs paint was messed up!

Love these mugs!
By
Shopper

(Knoxville, TN) - February 15, 2014
The animation on these mugs is so cute! I purchased the bacon and eggs...love them. Great gift for valentines, or just any time you wanna say i love you.

Pb&j mugs
By
Cindy B.

(Decatur, AL) - February 15, 2014 (
See all reviews by this customer
)
What I love about this website is they are so fast. I got these cups in 3 days. They are just as seen on the picture, really cute and the spelling was accurate. For the size of the cup this was a good deal.

cool mug's
I order this for me amd my husban he love:d it

Melissa's helpful tips
By
Shopper

(Yuma, AZ) - January 16, 2014
Cup are a little smaller than a normal coffee cup. Other than that it's exactly what I expected.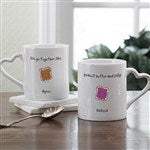 Great Purchase
By
Shopper

(Okeechobee, FL) - November 14, 2013
I purchased the we go together like the Moon and Stars set and it came just the way shown on the website. The recipients enjoyed it and were wowed by it so it was worth the money and effort.

nice cups but...
By
Shopper

(flint, MI) - November 11, 2013
These are nice cups but I thought they were going to be like the other ones I had recieved before(9395)that are contoured to go together, but they are just regular cups, which is fine they are very nice and my daughter and son-in-law really like them, and the saying's that are on them are wonderful.

Very pleased
By
Shopper

(Cantonment, FL) - July 14, 2013
Unique gifts for ones that we love are always appreciated. The kids loved this gift.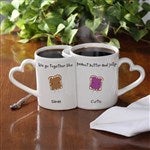 These mugs were a hit!
By
Shopper

(Siler City , NC) - June 4, 2013
I bought these for friends who recently finished buidling their home and already had all they needed - and were a big hit! They're a fun and creative gift and the names are a special touch.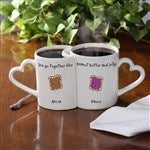 happy mother
By
nancy C.

(Kingman, AZ) - March 24, 2013 (
See all reviews by this customer
)
ordered for my daughter and husband. She has loved mac & cheese since she was a toddler. Even incorperated mac & cheese into their wedding. Perfect for the married couple.

Best Gift Ever!
By
Shopper

(Vienna, VA) - February 25, 2013
This was a valentine's day for my close friend and I. He's a huge bacon and egg fan, so this gift was perfect! The handles on one of the mug did break when it was delivered the first time round. I had chatted with one of the people here and without any doubt or questioning, they immediately gave me a replacement mug.

The service is just great! I would totally purchase on this website in the future <3



love
By
melissa S.

(riverside, RI) - February 21, 2013 (
See all reviews by this customer
)
just wish they were a little larger, should offer different oz cups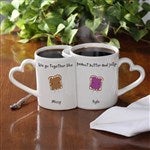 Wife loved it!
By
Shopper

(Margate, FL) - February 20, 2013
My only complaint was the cost of shipping... Waaaaay too much.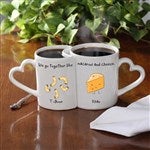 Very cute!!!
By
nancy B.

(canonsburg, PA) - February 19, 2013 (
See all reviews by this customer
)
I bought these for my hubby for valentines day, adorable and cheesy - just like us. My hubby loved them! The only complaint I have is that the cups are to small. Beacuse of this reason, We prob wont ever use them, just set them on a shelf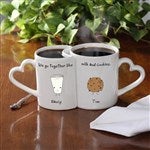 good but...
By
Shopper

(Derry, NH) - February 17, 2013
the mugs looks great! the only problem is that when my hubby opened up his gift, one of the mugs was broken :'(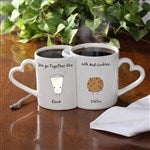 Super cute!
By
Danielle S.

(Nottingham, PA) - February 11, 2013 (
See all reviews by this customer
)
This product is very well done and looks adorable! I got the Cookies & Milk one and the little cookie and milk cup drawing are super cute! I thought the mug with the indent would look strange but it really doesn't and the whole product overall is a great gift, especially for a coffee or tea lover! The only thing I don't really like the best is the font used, especially for the two names, it seems a bit childish to me, but it still overall makes a very nice product!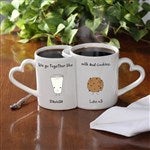 Perfect gift for Valentine's Day
By
Catherine K.

(PITTSBURGH, PA) - January 19, 2013 (
See all reviews by this customer
)
I received the mugs and they're really cute. I haven't been able to take them out of the box (I requested gift wrapping), but I was able to see the print and I love it. The only thing that bothers me is that I spent full price when they're on sale now. Bummer.

cute
By
Shopper

(East Brunswick, NJ) - December 13, 2012
This mug set is so cute; the image and lettering came out perfectly. Only issue, however, is that the smaller half-mug is actually quite small in terms of volume. It's part of the design, so hopefully the receiver of that smaller half doesn't feel jipped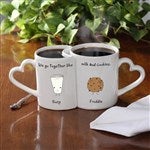 We go together mugs
By
Patricia B.

(McKinney, TX) - November 18, 2012 (
See all reviews by this customer
)
I love how they look, I just wish the cups on the left were a little bit bigger. It's kinda small. Can't put very much liquids on that side. The right side is a perfect size especially for all my coffee drinker in-laws. :O)

I'd still tell folks to purchase them if they are looking for a great gift idea for a couple.

Nice
By
Melissa S.

(Jackson, TN) - October 30, 2012 (
See all reviews by this customer
)
Smaller than expected for price but still a very nice gift.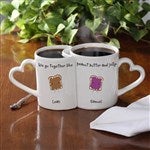 Great Gift!
By
Harriet K.

(Snellville, GA) - August 16, 2012 (
See all reviews by this customer
)
I purchased this item for my husband and I for our wedding anniversary. It came really fast and it is very well made and super cute. I give it 4 stars instead of 5 because of its size. It's kind of small but I would definitely recommend this as a gift and will be purchasing it again for my friends for their anniversary gifts!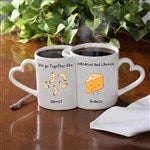 Cute
By
Shopper

(Erie, PA) - May 21, 2012
These are cute! Wish the mugs were a little better quality but I would buy again.

Now that I have an unbroken set, they're great
By
Shopper

(Tampa, FL) - April 20, 2012
When I got the mugs in the mail the first time, both had broken handles. They were more delicate than I expected them to be. I called customer service and they sent me a new, unbroken set right away. The company should probably start packing fragile items better - wrapped in a thin plastic is not going to work well.

personalized mugs
By
Kristine T.

(Pittsburgh, PA) - April 13, 2012 (
See all reviews by this customer
)
The mugs came out beautifully.. just a little smaller size than I envisioned, but cup sizes were explained correctly in the description. I guess I just didn't realize how small they looked, and would have purchased much larger mugs if they were available. Other than that, the web site and products are great, and I plan to visit again! Thanks!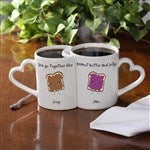 Adorable
By
Lindsey L.

(Edmond, OK) - February 21, 2012 (
See all reviews by this customer
)
I got these for my sister's bridal shower and she absolutely loved them. Shipping and packing were super.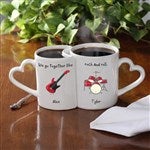 Very pleased
By
Taya P.

(Galveston, TX) - February 20, 2012 (
See all reviews by this customer
)
I really liked the quality of the mugs and they are just gorgeous!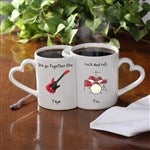 Cute
By
Shopper

(Austin, TX) - February 19, 2012
I loved this gift for our 1st Valentine's Day present.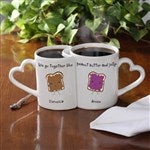 good but small
By
Shopper

(Columbus, OH) - February 14, 2012
The item looks like in the picture (although the drawing on one mug is slightly faded) I was just expecting them to be the size of a regular mug (especially the fully rounded one) and they are about half that.

Mae
By
Mae E.

(Beachwood, OH) - February 13, 2012 (
See all reviews by this customer
)
I thought these were very cute. I sent them to my Son and Daughter in law.
I didn't see them in person, but my daughter-in-law seemed to like them very much.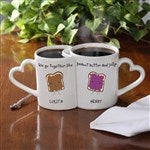 A nice Valentine for us both.
By
Shopper

(Portland, OR) - February 12, 2012
It is not especially useful, but it is a nice Valentine for both of us to enjoy. I like it.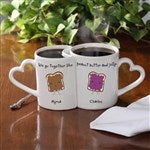 Anticipating a replacement
By
Myrna P.

(Portland, OR) - February 4, 2012 (
See all reviews by this customer
)
I am sorry, but when the package arrived, one (the smallest) was in several pieces. It had been rather poorly packed. So I am awaiting a replacement. I still think it is a delightful arrangement.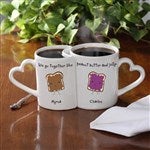 good
good

Personalized mugs
By
Shopper

(Montville, NJ) - January 30, 2012
I received my first shipment and it was broken so I called the company and they immediately shipped a replacement at no cost. I received it within a couple of days. It arrived intact. It's adorable and I can't wait to give it to my husband for valentines day.