Anticipating a replacement
By
Myrna P.

(Portland, OR) - February 4, 2012 (
See all reviews by this customer
)
I am sorry, but when the package arrived, one (the smallest) was in several pieces. It had been rather poorly packed. So I am awaiting a replacement. I still think it is a delightful arrangement.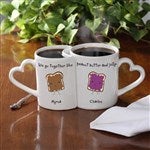 good
good

Personalized mugs
By
Shopper

(Montville, NJ) - January 30, 2012
I received my first shipment and it was broken so I called the company and they immediately shipped a replacement at no cost. I received it within a couple of days. It arrived intact. It's adorable and I can't wait to give it to my husband for valentines day.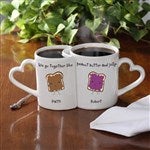 Mistakes
By
Shopper

(Lansing, MI) - December 25, 2011
Mugs are cute and come as advertized but all the care that is take to make sure the right names gets on the right mugs...the mistake was made anyway so be prepared for that. So the picture was correct but the final print switched the names.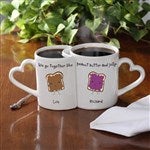 Good mug but the smaller mug is really small.
By
Elisabeth M.

(Altoona, PA) - December 14, 2011 (
See all reviews by this customer
)
$24 + shipping is alot for two mugs. The smaller mug is a lot smaller then I expected.
They are super cute, though!

Very cute!
By
Shopper

(Davie, FL) - November 29, 2011
Nice and what I wanted. Wish they were bigger though.

cute gift
By
Shopper

(Clifton, NJ) - October 18, 2011
i ordered the rock & roll one for my sister & her bf. she plays the drums & he plays guitar. he drinks more coffee than my sister but the guitar was on the smaller cup so my only issue is that they're too small of cups. i was sent them broken but within 2 days i received brand new ones so great customer service! love them overall though!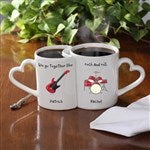 very cute
By
Nancy L.

(Elk Grove, CA) - October 14, 2011 (
See all reviews by this customer
)
I love the concept of the cup. but i wish it can be a little bigger. But it is very cute though. got alot of complements on it. great gift for your bf or gf.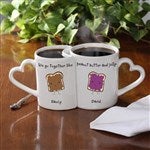 Cute products and quick customer service
By
Shopper

(BOSTON, MA) - September 27, 2011
I ordered this for my boyfriend's birthday - when it arrived, the handles were broken! I emailed the customer service and I was impressed by how responsive it was. It shipped another set the next day. I am happy with the purchase and will definitely order from this website again!

cute mugs
By
catherine M.

(staten island, NY) - June 19, 2011 (
See all reviews by this customer
)
i purchased two sets of the mugs. my cousin is celebrating her 1st wedding anniversary so i bought her the mac n' cheese one cause she loves mac n' cheese. a very cute design. the glaze can be thicker but it's okay. i purchased the milk and cookies for me and my husband's 14th wedding anniversary because i nursed all our kids so i'm the milk and he loves chocolate so he's the chocolate chip cookie. he also needed a new mug so this fit the bill.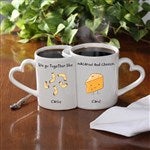 Very Cute
By
Shopper

(Pittsburgh, PA) - April 30, 2011
The mugs were very cute and my fiance really loves them! A great idea. Only negative criticisms are that they were slightly smaller than I was anticipating and don't fit together perfectly. Otherwise great gift!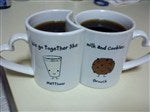 cute
By
Shopper

(POTTSTOWN, PA) - February 18, 2011
A bit corny but cute, gave to hubby for V-Day.

Amazing gift :)
By
Shopper

(Germantown, MD) - February 17, 2011
Gifted this mug to my friend. Very nice fitting and beautifully printed :)
Loved it though would like diff colour combinations n more colours as the background is white.

Adorable Mugs
By
Shopper

(Lower Burrell, PA) - February 10, 2011
Loved these mugs, shipped very qickly to me. Just wish they were a little bigger.

abolutely adorable!
By
Shopper

(Miami Springs, FL) - January 29, 2011
I got the Pancakes set and I love it! It will be my V-Day present to my husband, and I think he will smile at them. They aren't meant to be a big present just a cute detail, they are too small. I wouldn't recommend to buy them for any big occasion unless they go paired up with another gift. Absolutely adorable, and with our names on them, I love it!

adorable for couples
By
Katherine F.

(Attleboro, MA) - December 13, 2010 (
See all reviews by this customer
)
i only wish the mugs held the same amount of fluid each

Loved it!
By
Stefanie J.

(Wilmington, NC) - November 24, 2010 (
See all reviews by this customer
)
Love this item! Fast shipping and was very happy with product. I thought that the cups were going to be bigger then they really were but thats only minor. I thought they did a great job and fast getting it to me!...