Adorable
By
Joyce B.

(Wakefield , MA) - December 7, 2011 (
See all reviews by this customer
)
Purhased for my Grandson who will love it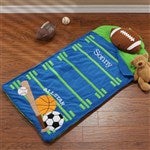 My 4 year old loves it!
By
Shopper

(Archbald, PA) - September 18, 2011
The All Start Sports Nap Mat is very well made. The material is thick and soft, a great sleeping mat for my son at preschool. I love the way the mat rolls up and can be carried as a back pack. I highly recommend this product for a younger child (5 and under).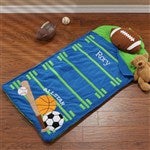 Quick shipping and excellent product
By
Hope B.

(Praireiville, LA) - July 21, 2014 (
See all reviews by this customer
)
I bought this as nap mat for my 2 year old. I received it faster than I anticipated and the quality is excellent. It's very soft and plush and I'm hoping to get a few years out of it. The personalization was also very well done. Would definitely recommend.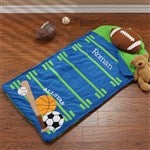 A real winner #2
By
Shopper

(Woodmere, NY) - November 22, 2013
I bought a nap mat for each of my grandkids and they love them.
The girl received the lil'cupcake and the
boy got the All Star Sports mat. They simply love resting on or in the mat. The mats have some cushioning and the detailing is great. Both kids enjoy being on the floor in the nap mat watching tv and love the comfort of the pillows that are part of the mat. Cannot go wrong with this as a gift. Highly recommend it and the kids will love you even more for this gift.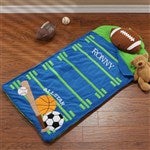 Excellent
By
Shopper

(Shingle Springs, CA) - October 4, 2013
I feel it's a little overpriced. would like to see it in the $50 range.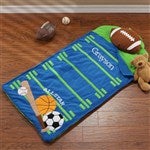 Love, Love the Nap mat
By
Cindy H.

(Midlothian, TX) - September 10, 2013 (
See all reviews by this customer
)
This nap mat is perfect. It is not easy to find a cute, quality nap mat for a little boy. It is so soft. They got it to me within 2 days so that we could start preschool with our mat. My son loves it and it is long enough to last him through kindergarten. The only thing I would suggest they change are the backpack straps. They are not designed to stay in place once you have set them. I just ended up tying them in knots when I got them to the desired lengths. Not a huge deal. Otherwise, the mat is perfect!!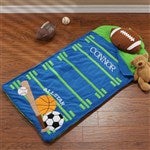 Love it!!!
By
Shopper

(Woolwich Twp, NJ) - July 17, 2013
I love this nap sack for my son. I bought the cup cake style for my daughter and love hers also. It is a good size, very soft and made very well. I have washed it at the end of every week of preschool since it is on the floor and it has held up really well. My kids use them at home also and they like them a lot. I love all products from this company and I will be ordering a lot more things I have seen online, and their prices are reasonable!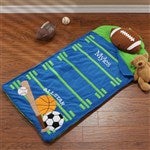 Love it!!!
By
Mary B.

(Edwardsville, IL) - July 21, 2012 (
See all reviews by this customer
)
I did lots of research before buying this mat. My son is tall for his age and this is one of the only nap mats that is a good long length. It is also quite cushiony. My son went to his first day of preschool after being at home with either my mother or myself and slept 2 hours in it. He absolutely loves it!!! I'm so glad I made this purchase.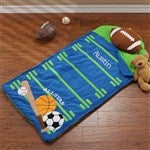 Nap mat
By
Jennifer S.

(Davidson, NC) - January 1, 2011 (
See all reviews by this customer
)
This is cute but just be aware it is a nap mat and not a sleeping bag. It's too small for my 6-year-old.

Great product!
By
Henry D.

(Vicksburg, MS) - August 22, 2011 (
See all reviews by this customer
)
Excellent!

Nap Mat
By
Shopper

(Logansport, LA) - January 17, 2011
I have a 1yr old grandson and he uses the mat at daycare. Overall I was pleased with the mat but I added extra padding just because I thought it was a little on the thin side, however; I would buy this product again.

Personalized All Star Sports Nap Mat
By
Cynthia G.

(Huntsville, AL) - December 3, 2010 (
See all reviews by this customer
)
What a perfect gift for my 1 year old nephew! He can use this for a few more years!

Super cute Nap Mat
By
Shopper

(orlando, FL) - July 2, 2011
My 5 year old son is so excited to use his nap mat at Kindergarten it was defiantly long enough and the personalization came out great!

excellent
By
Shopper

(Montville, NJ) - September 11, 2011
Great product!!! Looks better in person!!!

Very SATISFIED.....
By
TRINA J.

(NEW ORLEANS, LA) - July 21, 2012 (
See all reviews by this customer
)
My Son is going to attend preschool 3... And I wanted something real comfortable and Strudy... For him... I just LOVE LOVE is sleep mat... I would DEFINITILY recommend it.....

Expensive but great gift!!
By
PATRICIA DEE E.

(Haddon Heights, NJ) - December 29, 2013 (
See all reviews by this customer
)
Over the years I've purchased two of these nap mats for my nephews. They (and their parents) loved the mats. Great quality and perfect for watching movies, taking a nap, or lounging while watching tv. The boys https://www.personalizationmall.com/ViewOrder.aspx?vieworderid=194762136 nap mats look adorable next to each other on the floor too!

Love it!!
By
Alexsa R.

(Hillsdale, NJ) - January 1, 2012 (
See all reviews by this customer
)
I bought this nap sack for my son for nursery school and he loves it so much I think I might order a second one for when he stays at Nana and Lolo's house. We all love it!

Sports Nap Mat
By
Shopper

(Staten Island, NY) - November 13, 2011
We purchased these mats for our grandsons to take to day care with them. They are of superior quality and the boys love them. The personalization, of course, makes it even more special for them. Personalizationmall. com ALWAYS delivers in its attention to detail, customer service, and speed of delivery. I keep coming back for more! Thank you, PersonalizationMall.com!

Soft!
By
Kimberly K.

(Orland Park, IL) - December 8, 2011 (
See all reviews by this customer
)
This mat is super soft and a great quality. It came really fast too. I have never been disappointed and I have been shopping from this website for years!