Disappointed
By
Shopper

(Spiro, OK) - December 26, 2011
Thought the mat was cute, but was very disappointed that there were no ties or Velcro on it. A zipper would be ok, too. My 4 year old had trouble figuring out how to use it and there's no way she could roll it up correctly. She said cold was getting in on the sides. Could not send back because it was personalized. would not buy another.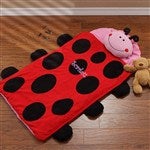 Perfect!
By
Shopper

(Jamestown, IN) - December 13, 2011
Easy to personalize, quick delivery!! Will definitely shop here again!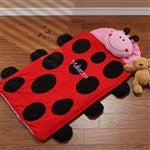 Pre-School Nap Mat
By
Shopper

(Blackwood, NJ) - September 17, 2011
We purchased the Miss Ladybug Nap Mat for our daughter for pre-school. When it arrived in the mail, it was exactly how we pictured it. She took it to school and she absolutely loves it. She says it is very comfortable and she can't wait to take her nap everyday. We love that the nap mat is very soft and the pillow is adorable!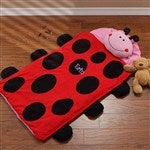 SO CUTE
By
Shopper

(St James, NY) - August 31, 2014
I ordered this for my 3 yr old daughter who is starting preschool. I wanted a personalized sleep mat with a pillow and she already has a lady bug pet pillow in her bed. This will make for an easy transition. It is cozy and warm and seems to be well padded. I think that the pillow could be a drop smaller since its a little too fluffy for her but she just has to find a comfortable position and it works fine. I was afraid that the blanket wouldn't be wide enough but its definitely big enough for a 3 yr old. Easy to fold. I haven't washed it yet so hoping it doesn't get ruined. It looks just like the picture and so far I am happy with it and my daughter was very excited to lay in it.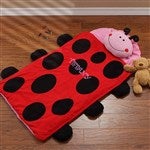 Love our newLady bug nap mat
By
Shopper

(Springdale, AR) - August 17, 2014
We loved the prices, the items displayed were affordable and when receiving the product we ordered it was worth every penny. The quality is great, My daughter loves it and being in kindergarten it's important for it to durable and last. We are very happy with our results and would recommend this company to anyone who needs something they sell. Thank you we will be back again.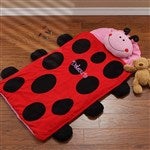 Nap mat
By
Kate H.

(Lubbock, TX) - July 22, 2014 (
See all reviews by this customer
)
I love my nap mat I got for my daughter. It turned out so precious!!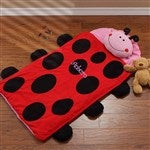 Love Love!!!
By
Kimberly A.

(Southaven, MS) - July 4, 2014 (
See all reviews by this customer
)
She was so excited about this she wanted to sleep it immediately!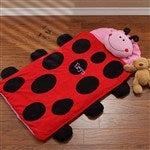 Don't buy
By
Shopper

(Holmdel, NJ) - August 20, 2013
Cute but not good quality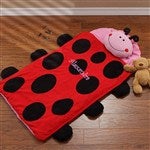 Perfect for daycare
By
Shopper

(Montgomery, TX) - September 18, 2012
I just loooove this!! I purchased this and the Ladybug Blanket Pet for my granddaughter for Christmas. Very nice quality! This will be perfect to bring to day care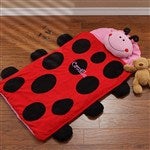 Adorable for 'sleepovers'
By
Brandi S.

(Ortonville, MI) - September 4, 2012 (
See all reviews by this customer
)
My 4 year old wanted a special blanket like mine for when we travel. This did the job and is adorable as well. It rolls up and has back pack straps so she can even carry it herself like a big girl. Shipping was super fast- even with personalization. Love the product and will come back to the website.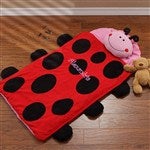 Snug as a bug in a rug!
By
Shopper

(Los Angeles, CA) - December 31, 2011
This was a total hit with my little niece who now looks forward to nap time every day. The embroidery was beautiful and she loved having it rolled up and carry it on her back like a back pack. Super cute!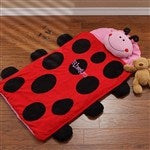 fun gift
By
Donna G.

(Lusby, MD) - December 14, 2010 (
See all reviews by this customer
)
What a wonderful blanket.Beautifully personalized,soft and special. I will use this site many more times!!

Good product but pricey
By
Kimberly S.

(Boston, MA) - January 21, 2011 (
See all reviews by this customer
)
This is a really cute item! I had to have it for my neice's 2nd birthday. It should more appropriately be priced around $30-$40.

cute not functional
By
Shopper

(Houston, TX) - September 3, 2012
I love the concept of this nap mat & it matches the rest of the set we bought (lunch box, back pack, water bottle, T-shirt) The colors are vibrant, the material is soft & it is so cute.
I don't like the fact that this is a very awarkward nap map to roll up, my 3 yr old & her teachers are unable to fold it in the very specific order that it requires in order for it to roll up compact & neatly. So my kid always looks like she is carrying a mess of sheets out of school. My other dislike is that the blanket is only attached at the base (foot) and she is unable to snuggle into this nap mat like a sleeping bag. Also, the whole unit goes into the wash so I'm not sure how firm the pillow will be after a few washes.
Also, I don't think she will fit into this nap mat next year as her feet are already almost at the bottom.
Improve this product by, having the cover removable for washing, provide thicker matting, seal 2 sides of blanket, change to velcro straps, design roll up style to store.

Cute as a bug!
By
Martha K.

(Bolingbrook, IL) - December 26, 2010 (
See all reviews by this customer
)
My grandaughter loved her nap mat. Nice material. Bright colors. Looks well made. Would definitely recommend it.

Loved it
By
Carol Beth N.

(Sterling, VA) - April 10, 2012 (
See all reviews by this customer
)
The recipient seemed very happy with this gift. I was proud to give it to a friends little girl for her 1st birthday

Loved it!
By
Shopper

(Beverly, MA) - January 11, 2012
Exactly how it is pictured! Perfect! Very well made and soft! Personalization is great, cant complain! very cute idea!

Very cute
By
Shopper

(Houston, TX) - August 16, 2012
My daughter loves it, she started to use it to sleep as soon as it arrived. My daughter is 15 months

Ladybug Sleeping Bag
By
Neal N.

(Ruskin, FL) - February 1, 2011 (
See all reviews by this customer
)
Great gift. Ordering was very easy and the recipient, my grand-daughter, absolutely adores this gift. Delivery was exactly as scheduled.



Great customer service
By
donna R.

(cypress, TX) - April 17, 2011 (
See all reviews by this customer
)
I recently ordered the personalized ladybug nap mat and was worried that it would not arrive in time. I notified them and they responded immediately. I got the mat the day before the party. And the mat is absolutely precious!!! Thank you !