Unique Gift
By
Shopper

(Lake Charles, LA) - March 28, 2011
This item is beautiful. Great quality of work in the painting. Meaningful words in the bride's dress really add to the uniquness and meaningfulness of this painting. Love the entire idea of this Canvas Art. I bought it as an anniversary gift for me and my husband to hang in our new home. I would highly recommend it for a wedding gift or anniversary gift.

Shower Gift
By
Shopper

(Lincoln, CA) - March 21, 2011
This is the fourth order I have placed with PersonalizationMall.com. As usual, the item arrived in just a few days, packed effectively in perfect conditon, and the quality of the product exceeded my expectations as have all the other things I have ordered from this website. I am definitely a loyal customer! Good job, Personalization Mall!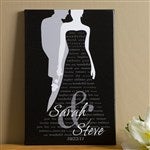 canvas print
By
Shopper

(blackshear, GA) - March 4, 2011
This print is even more beautiful than the picture on the website. I was very impressed with it. The bride loved it. Well worth every penny!

Great price & size
By
Shopper

(Sedgewickville, MO) - March 2, 2011
I purchased this Canvas for a family member's wedding gift and so glad I did. Quality was excellent, beautiful gift for any age.

Very satisfied customer
I can't wait to order this for my daughter's wedding in July so until then my rating of 5 stars is for Personalization.com! I have been ordering from them almost 2 years now and everything has been what i have seen online, packed well & shipped fast!! Also their 15% off coupon code comes in handy too. I just know that i and my daughter will be pleased this summer.

best love art wall decor
By
Charlotte C.

(Irving, TX) - February 19, 2011 (
See all reviews by this customer
)
Personalization mall is the only place i love and trust doing personalized gifts! Ive been shoppin online through this website since 2006 and they have always done a fantastic job! This was a gift i purchased for myself during v-day! I thought it made for great customized wall art! And seein it on da wall is stunnin! This piece definitely reflects the love my husband and i share. When he gets back home from deployment and see it hangin up i know he will like it too! ( i ordered this piece in black)

Canvas Art Review
By
Shopper

(Wichita Falls, TX) - February 14, 2011
I absolutely love it! So happy that I ordered this item. Well made, just beautiful! And super fast delivery. I will definitely be ordering from this company again.

So Lovely
By
Donna F.

(Cape Coral, FL) - February 6, 2011 (
See all reviews by this customer
)
This was such a beautiful gift the bride was crying when she opned it. It was just the right size and the quality was very good.I would order this again for the next wedding or anniversary gift. I loved it and was very proud to give it.
This was in good taste and could fit in any decor.

Great Product!
By
Shopper

(Woodstock, GA) - February 5, 2011
I received my order in a timely manner and it is quite classy looking. I can't wait to hang it in my home!

BEST WEDDING GIFT!!!
By
Shopper

(Carmichael, CA) - February 4, 2011
I love this canvas picture!!! it is soooo wonderful with your personalization! It was bigger then I expected which is BETTER! It is unimaginably beautiful!! Came fast with great packaging!!! Love this website, I buy a ton of stuff from here and it is always top quiality!!!

The Perfect Keepsake!
By
Emily C.

(Lockport, IL) - January 25, 2011 (
See all reviews by this customer
)
This is an Excellant quality canvas and paint. For the price, I was more then pleasntly surprised with how elegant the personalization made it look. I was so pleased with the Bride & Groom Silhouette Canvas Art that I ordered another one, in the next larger size, the very next week!

elegant gift
By
Joanne L.

(Cudahy, WI) - January 22, 2011 (
See all reviews by this customer
)
I ordered this for a 5 year Anniversary couple and they loved it The size was bigger than I thought Very professionally made I would order it again
Thank you

better than pictured
By
Mary F.

(Allen Park, MI) - December 31, 2010 (
See all reviews by this customer
)
this is gorgeous.
so unique and one of a kind.
makes a great gift---exceptionally crafted.

Best Christmas Gift
By
Ashlee R.

(Intercession City, FL) - December 23, 2010 (
See all reviews by this customer
)
I recently bought this as a Wedding/Christmas gift for my roommate and she loved it. When i recieved it, it was wrapped in bubble wrap and in a large box, it was excatly as pictured if not better. The Canvas was neatly secured in the back and very tight in the front, the picture of the man and women were amazing and it looked stuning. It was large enough to hang on the wall by its self but could also be framed.

Nice
By
Shopper

(Merced, CA) - June 10, 2013
Nice momento of our wedding. It was the perfect color combination for our room!

Gave as a wedding present
By
Sue W.

(Houston, TX) - December 25, 2012 (
See all reviews by this customer
)
Gave this as a wedding present and they loved it. I have purchased several items from this website and every time have been very pleased with the quality along with the rapid shipment.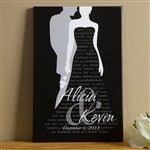 Great Wedding Gift
By
Shopper

(Lehigh Acres, FL) - August 21, 2012
I am very pleased with this product. I can't wait for the bride and groom to open their gift! It is exactly what I had in mind for them. I am amazed at how quickly my order arrived! thank You.

Good Gift
By
Robert H.

(Lincoln, NE) - December 16, 2011 (
See all reviews by this customer
)
I bought this for a present for my wife. she likes it. i would say the quality is pretty good and better than i expected.... just make sure you have everything typed in correctly! the words on the print do repeat, so just be mindful about that and it shipped pretty fast.

Great Gift
By
Shopper

(Alexandria, VA) - December 7, 2011
Very happy with the gift. It is special.

Great unique gift
By
Shopper

(Jefferson City, MO) - August 8, 2011
Have not heard back from the recipient but we liked it a lot and thought it was the perfect reflection gift.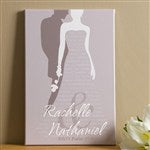 Product Defect
By
Shopper

(Cranston, RI) - February 27, 2012
Upon inspection of the canvas, I noticed it was ripped around the hand area of the female silhouette. Called customer service, they gave me a prompt refund with no hassle. 1 star for the product defect, 5 stars for the customer srvc

Very nice..but slow delivery
By
Valerie G.

(Forest Ranch, CA) - January 9, 2012 (
See all reviews by this customer
)
Received this today framed & in black, very nice! Can't wait for my daughter to see it. I thought i had ordered this in plenty of time for her birthday yesterday but Personalization obviously changed their mailing to Fed Ex Smart Post (snail mail) which is unfortunate and that's why i have given this 3 stars. This should not have taken 7 business days to get from WI to CA. I have been a customer for 2 yrs. now and in all my reviews i have always complimented the company on their quick delivery but not this time.