awesome
By
Shopper

(danvers, MA) - April 1, 2012
I absolutely love this bath mat. Looks awesome in my bathroom and matches perfectly. Get one, you'll love it.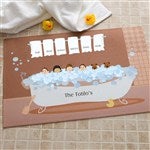 Cute family gift...
By
Lynn S.

(Elgin, IL) - February 27, 2012 (
See all reviews by this customer
)
I have bought several of these mats for friends and family and have always been pleased with the quality and personalization. Although I wish there was a mother & father character, I try to improvise and they do turn out really cute. The mats are a nice size for the bath and have a sturdy rubber backing. I know my sister will be thrilled with this family gift. Hint: the mat will magically flatten out when you unroll it on the floor.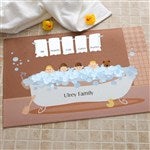 Beautiful Bath Mat
By
Shopper

(Houston, TX) - December 12, 2011
This bath mat is great quality! I will definitely be back to purchase another one for all of my friends' homes.

Adorable!
By
Shopper

(Lawrence, PA) - December 11, 2011
I have told several friends, who are grandmothers, about this tubby time mat for the grandkiddos. It is adorable!

Perfect, Perfect, Perfect!
By
Shopper

(DEVILLE, LA) - November 22, 2011
I can't say enough about this mat. It is of better quality than the bath mats you find in the store. Beautifuly done! I love it!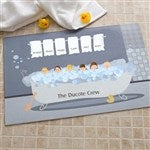 Beautiful and well made!
By
Lilian H.

(Miami, FL) - November 8, 2011 (
See all reviews by this customer
)
I absolutely loved this rug. I bought it as a gift and I plan to purchase one for myself and a family member just as soon as I can. Great buy!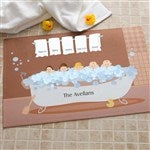 Adorable...
By
Lynn S.

(Elgin, IL) - August 1, 2011 (
See all reviews by this customer
)
I bought this mat for my friend for her birthday and she said it was the most adorable thing she had ever seen. It is a nice size and sturdy enough for bath/shower. I would highly recommend it as a gift for any family. It is practical and will be enjoyed for years to come. Families love that most pets can be included as well.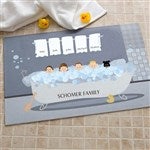 LOVEEEEEEEEEEEEEEE
By
Yvonne H.

(Bradenton , FL) - July 15, 2011 (
See all reviews by this customer
)
I bought this as a a gift for my boyfriend..
Absoutley ADORABLE! Quality was great.. much better than I thought it would be.
The only thing is a wish they had more faces to choose from but thats not a big deal.

Worth every penny.. !

Super cute once I got it!
By
Jessica B.

(Des Moines, IA) - May 17, 2011 (
See all reviews by this customer
)
Nice rug with rubber backing. I got this for my mother in law for Mother's Day, with all of her grandkids in the tub. Turned out super cute, but I was sent the wrong rug at first. Personalization Mall was super apologetic and sent out the right rug immediately.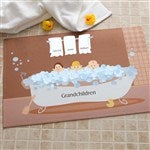 Fun to create....
By
Lynn S.

(Elgin, IL) - April 4, 2011 (
See all reviews by this customer
)
I bought this bathmat for my mother for a Mothers Day gift. The colors were vivid and size and quality of mat very good. I had a blast creating the mat with the names and kids characters. I even had room left for family pets. I am sure my mom will love this gift. It is practical as well as fun. I think it is great that you can preview before you place the order so you can see exactly what it will look like.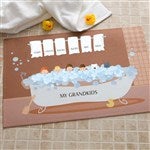 Too Cute!!!
By
Maria R.

(West New York, NJ) - February 27, 2011 (
See all reviews by this customer
)
Loved my bathroom mat!!! It's so easy to keep clean and everybody that sees it wants to know where I got it...of course I immediately go on line to your site and show them all of the wonderful personalized items that are available!!! Great job! My mat is a conversation piece every time!

Cute addition to our decor
By
Noelle P.

(Lemont, IL) - February 25, 2011 (
See all reviews by this customer
)
We love the bathmat. The quality is great and looks really in our bathroom. The image is clear and the characters have an innocent quality to them. The images including the color we saw online matched what we received.

Great gift!
By
Toni B.

(Gretna, LA) - February 16, 2011 (
See all reviews by this customer
)
I bought this for my daughter's family and they loved it! Very well made and really cute item for the whole family.

Pleased
By
Stephen T.

(Palmyra, PA) - January 21, 2011 (
See all reviews by this customer
)
Very nice mat. Turned outexactly as I had ordered. Would recommend this vendor to anybody.

SO cute!!
By
Sally R.

(Roswell, NM) - December 23, 2010 (
See all reviews by this customer
)
OMGoodness, this is the CUTEST bath map ever!! I had so much fun 'putting it together' and could hardly wait to receive it. When I did, I showed all my fellow co-workers and everyone loved it and wanted to know where I got it. The bathmat was a Christmas gift for my 4 young granddaughters and they too loved it, as did their mommy and daddy. I truly think it's the cutest gift I have ever purchased. And as always the delivery and packing were superb! Thanks Personalzationmall.com!!

To Buy Or Not To Buy?????
I loved it soooo cute! Only drawback is when it gets dirty it doesnt clean well. tried wiping it off finally put in wash gentle cycle came out ok but then backing started to come off. Buy two when theyre on sale-problem solved.

VERY CUTE
By
Mary M.

(Sicklerville, NJ) - May 7, 2013 (
See all reviews by this customer
)
I thought that this mat was so cute! It was a decent size and it was easy to see the characters in the tub(not like the tiny plaque)!!! If there was only one thing that I would change - It would be to have more characters to choose from! I had to use the big brother and big sister for my parents, cause this didn't come with any older characters to pick. Also I wanted a girl with black hair, but the only girls with black hair were of a different nationality then ours!

Bath mat
By
Shopper

(dover, DE) - December 6, 2011
The design looks very pleasing and designing the mat was fun. However the make of the mat is not appropriate for keeping it in the bathroom as it does not look like it will absorb wetness after showering. Delivery is prompt and service of this website is great!