Fun Gift
By
Shopper

(Lexington, KY) - April 24, 2012
I purchased this character plaque as a "fun" wedding shower gift. The bride-to-be loved it. I always like to add a special touch with a personalized gift especially for a big life changing event like a wedding. I was really pleased with the quality of the item. I would purchase it again. I also like the pre-view process when placing an order. I like to see how the item looks before purchasing it. PMall makes everything easy!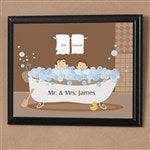 well done
By
Shopper

(houston, TX) - February 15, 2012
excelent quality, very nice.

Absolutely love it!!!!!
By
Shopper

(Staten Island, NY) - January 27, 2012
Excellent quality and super cute!! I bought this for my best friend and I can't wait to give it to her. Definitely worth it and would definitely recommend this to others.

Love It!!!!!!!!!!!!
By
Shopper

(Billings, MT) - January 10, 2012
This product is adorable and I absolutely love it.

Super Cute
By
Shopper

(Bradenton, FL) - December 10, 2011
This gift is adorable. Perfect size and the quality is fantastic.

Very Cute!
By
Shopper

(Bozeman, MT) - November 12, 2011
Better quality than I expected. Looks nice in my modern "spa" themed bathroom. I would definately reccommend this plaque. I bought it for myself but it would be a great wedding gift!

really nice gift
By
Shopper

(Dalton, MA) - October 23, 2011
made well, great gift but I wish it came in more color options, sage green or grey would be nice additions.

The "Perfect" picture
By
Anita W.

(Milwaukee, WI) - September 15, 2011 (
See all reviews by this customer
)
I ordered the plaque the same day I saw it. It arrived at my home 3 days later. I absolutely love it! I have lived in my home for 4 years and could never decide what to put on my bathroom wall because I didn't have much space. The quality of the plaque is excellent. The colors are beautiful! We had a party the following weekend and I received so many compliments. I am 100% HAPPY with my purchase :-)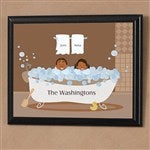 everything was good
By
Shopper

(encino, CA) - July 25, 2011
its so cute and have a good quality.
Thank you personalization mall :))

Super cute
By
Joy L.

(Canada) - July 5, 2011 (
See all reviews by this customer
)
Though the picture of the man and wife do not exactly reflect how we look like, it`s still super cute and everyone that uses our bathroom comments on it. Love it!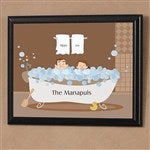 Always looking for quaility
By
Shopper

(Pittsburgh, PA) - June 24, 2011
I'm very please with this purchase. I got it as a 25th anniversary gift for friends, they loved it! It was good quality,clear picture, and the cutest!

Adorable Bathroom Plaque
By
Judi L.

(Battle Ground, WA) - May 22, 2011 (
See all reviews by this customer
)
This item was of very nice quality and arrived quickly and in excellent shape. I am very pleased with all items I have ordered from Personalized Gifts!!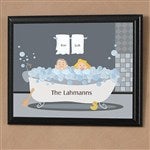 Beyond Expectations
By
MIchele T.

(Waldorf, MD) - April 17, 2011 (
See all reviews by this customer
)
This item is so cute. My husband and I both love it.

Bathtub plaque awesome
By
Shopper

(Watertown, MA) - April 12, 2011
The plaque is made of good quality and the art work is great. Packaged well and a nice size for a bathroom wall. It also has a coating on the frame to stand up to steam.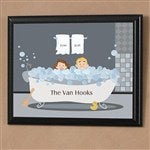 Exceeded Expectations
By
Katherine M.

(Bronx, NY) - February 14, 2011 (
See all reviews by this customer
)
I ordered this to surprise my husband and ended up being surprised myself. I thought it was a framed print out, it's actually printed on a glossey plaque, which came out soooo beautiful. . I loved it, the quality is exceptional! The finished product was great! Excellent work as always!

Perfect
By
Shopper

(Sacramento, CA) - February 13, 2011
I love this plaque. Perfect for us as a newly married couple. Quality is excellent.

Fantastic
By
Jennifer L.

(Bella Villa, MO) - February 8, 2011 (
See all reviews by this customer
)
Really nice workmanship, and I love how I can pick the style (hair/skin color) of the copule. I received it super-fast, too, which is always nice!

GIFT
By
kathryn W.

(norfolk, VA) - February 4, 2011 (
See all reviews by this customer
)
I chose this plaque because i found it adorable. I sent it as a gift and they were very pleased. I chose a neutral color because it would go with anything. I feel that you should offer this in more colors but, they were satisfied an so am I. I surely will be ordering from you again.

Love It!!
By
Shopper

(Williamsburg, KY) - March 18, 2014
This is so adorable! Wish there were more choices for what the characters look like. No black hair so brown was the closest I could get for my husband's black hair! Also wish it was in a frame instead of on a plaque. Wondering how it will hold up to all the moisture in the bathroom!

Pleased overall but...
By
Courtney O.

(Burlington, MA) - August 30, 2011 (
See all reviews by this customer
)
I am very pleased with this product overall. The only thing i wasn't happy about was the actual size. I did think it was going to be a bit bigger than it was. I bought it for my own use so i was glad about that. Had i purchased it for a gift i would have had to get something else to go with it. The quality is great.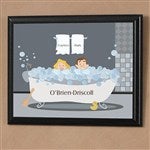 Too Cute!
By
Paulina P.

(Chicago, IL) - February 6, 2011 (
See all reviews by this customer
)
I bought this and placed it in my powder room, I want everyone to see how cute this is!! The size is great, not too small where the names would not be visible; just wish there were more options of a color background but I would buy again as a gift. Makes a great housewarming gift!!!

Wish it was larger
By
Shopper

(Wayne, NJ) - June 3, 2013
The frame is adorable, I just wish it was available in a larger size. Also, there are not too many options to personalize the figures to look like you. I ordered a personalized platter on a different website and the choices were endless; You can really get a close resemblance.