Photo quality excellent.
By
Karen F.

(Middleburgh, NY) - December 12, 2011 (
See all reviews by this customer
)
Shipped fast. Lots of choices for skin around the front of the iPad. Giving as a gift.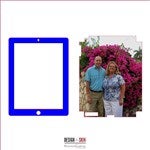 i Pad Photo
By
LIsa S.

(Canada) - October 29, 2011 (
See all reviews by this customer
)
very pleased, the photo turned out great, can't wait until my bestfriend sees it (it is her Xmas present from her dog!)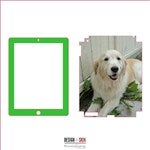 Not a good fit
By
Kimberly B.

(Crestwood, KY) - September 23, 2011 (
See all reviews by this customer
)
The picture was great but was not exacty the right size no matter what I did to adjust it. Wound up throwing the edge away. Not even close to the opening size.
Unlike most items, I was disappointed.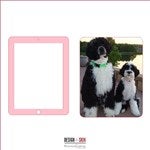 LOVED IT!!!!!!!!!!!
By
Latoya F.

(Lawton, OK) - December 31, 2012 (
See all reviews by this customer
)
I ordered this for my sister for Christmas. She absolutely loved it. It turned out really nice and better than I expected.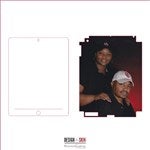 Very disappointed!
By
Pamela N.

(Weston, FL) - December 20, 2012 (
See all reviews by this customer
)
I just received my order today & although I have ordered many time before from this site, this is the first time that I am very disappointed with a few things that I received, this iPad 'skin' being one of them. It's NOT worth the money at all. It really is just an overpriced sticker. Very disappointed with this site since I have never once in the past doubted quality...although this is no longer the case after receiving this low quality, overpriced item

Not really a skin
By
Shopper

(Westford, MA) - June 28, 2013
From the description it sounds like it's more than it is. However, this isn't really a 'skin', as you'd expect, it's just a sticker, fairly flimsy.

Disappointed
By
Shopper

(Egg Harbor Township, NJ) - December 5, 2011
The skin is just a peel and stick photo. I thought it was a fabric cover with my image. maybe my fault but now you are informed.

poorly executed
By
KIM D.

(BIRMINGHAM, AL) - August 16, 2011 (
See all reviews by this customer
)
I can't say how disappointed I am in this item. The images I uploaded were quite vibrant and when uploaded, fit perfectly within the framework of the preview. When I received the items, the printout was faded and dull and the alignment was off by so much that the skins were unusable as the gifts for which they were intended. I have used PM in the past with great satisfaction but this order was a terrible disappointment. I want my money back.

totally useless
By
Shopper

(santa clara, CA) - June 25, 2012
I ordered this product thinking it would be like a thick skin or pad with the picture. But i was extremely disappointed when I got this. It is just a sticker on a very thin paper. You would rather get a print of your pic in walgreens for just $2 and stick it to ipad. TOTAL WASTE OF MONEY AND TIME.

HORRIBLE!!!
By
Shopper

(Copiague, NY) - December 22, 2011
I orded this item thinking it was an actual IPAD2 Skin. What I recieved was a STICKER to put on th IPAD2. Not at all what I wanted!!!! The Item Description is NOT Accurate at all. I am usually very happy with all the items ordered from his site. This item is Horrible & NOT Worth this price. I DON'T Recommend this item at all.
-LisaV

Cute iPad skin
By
Shopper

(Flemington, NJ) - December 29, 2012
The concept is a really great idea. It would be really cool if one day an iPad case became available where you can have a picture printed on it. But the skin came out great. The picture looked a little faded but I think it's because I didn't have a decent pic to start with.

I like it very much the picture so clear
By
fahad A.

(Springfield Gardens, NY) - June 28, 2011 (
See all reviews by this customer
)
I like it very much the picture so clear

Awesome gift
By
Kimberly C.

(Orlando, FL) - December 31, 2011 (
See all reviews by this customer
)
I got this for my dad for Christmas. I was a little worried after reading some of the other reviews but found the skin to fit perfectly! You do want to lay it out on the iPad first to make sure it will align. Don't blindly peel it off and stick it. We were able to install it, perfectly, in less than 5 minutes. The photo was clear, vibrant and beautiful! It has received many compliments!

It's a sticker.
By
Danielle J.

(Shelton, CT) - June 17, 2013 (
See all reviews by this customer
)
I was really disappointed when this arrived and it was just a sticker. I thought it was going to be a rubber "skin" or cover for the iPad. It was very expensive for what it was, but my mom loved it, so I guess it was still a great gift.

OK
By
Shopper

(Somers, CT) - January 2, 2012
Though this case is a good quality picture, it is a sticker and not a physical case. It protects the back, but I was suprised to find that I had ordered a larger sticker to protect my iPad

Gift for myself
By
Shopper

(sunrise, FL) - February 7, 2012
I bought this as a "back protector" for my ipad. Came out exactly how i ordered it, but my only problem was that there were too many slits for the buttons so it made it really difficult to place correclty without having bubbles.