Great gift
By
Steven A.

(Streamwood, IL) - December 28, 2011 (
See all reviews by this customer
)
The growth chart was just what I'd been looking for. The Chart has excellent construction with beautiful design. Short lead time was received within a few days. My daughter loves it and it will last for many years.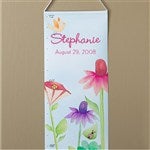 Exactly what I was looking for
By
Shopper

(Omaha, NE) - December 9, 2011
I looked locally for a while for a growth chart and had such a hard time finding something. This one is made out of a canvas material that is great quality. The personalization looks awesome. I also love that it goes up to 72 inches because most others I found were only 4 or 5 feet. My daughter is 5 so we are starting it with her in kindergarten and she is tall so I needed something that tracted height up higher. I do not think anyone would be disappoineted buying this. It really looks great!!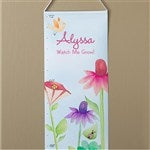 Love love love
By
Kelly D.

(Lyndhurst, NJ) - December 9, 2011 (
See all reviews by this customer
)
Product perfectly packaged.
Shipped quickly
Personalized beautifully, not cheesy like some places do with a magic marker.
I love this item. I will be buying more and I def recommend!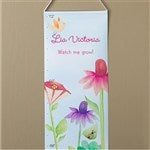 Great Gift!!
By
Shopper

(West Palm Beach, FL) - December 5, 2011
Just received this growth chart for my granddaughter. It's BEAUTIFUL! Better than I expected. High quality canvas - even prettier than appears online. I searched the internet for an hour looking at dozens of other companies. None other was as nice as this for this price. Looks like it costs twice what it is. Quick ship & careful packaging! Thanks!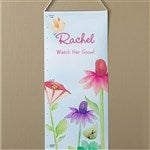 Buy it - you won't be disappointed!
By
Tara J.

(Ozark, AR) - December 3, 2011 (
See all reviews by this customer
)
This is one of the best baby gifts I've ever purchased, in both looks and value - the whole item seems handpainted, as if I spent a lot of money on a customized item. The personalization craftsmanship is top-notch. I have absolutely no reservations recommending this product or the company. I received this product in mere days - absolutely awesome!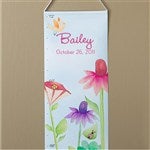 It's so beautiful!
By
Shopper

(Live Oak, FL) - December 3, 2011
I look forward to using this chart as my daughter grows. Durable & pretty & it can move with us if we move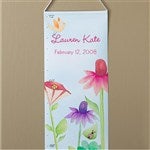 Adorable and Affordable!
By
Stephanie N.

(Raleigh, NC) - November 28, 2011 (
See all reviews by this customer
)
I stumbled across this growth chart during one of Personalization Mall's great sales. I was very pleased with the quality of the product. I purchased by first daughter's growth chart from another source and it was 50.00! Put them side by side and you would never know the difference!! Delivery was super fast too! Thanks Personalization Mall!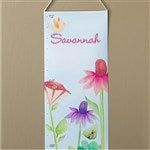 Grow Chart
By
Leslee M.

(Vista, CA) - November 23, 2011 (
See all reviews by this customer
)
A friend came by and I put her on this site to look at all the wonderful gifts that can be personalized. When she saw this chart, she had mentioned how perfect it would be in her daughter's bedroom. That was all I needed to make sure this was purchased as a birthday gift!! Can't wait to see her face when she sees it! I wasn't sure about purchasing, but when I received it I was surprised at the thickness of the canvass used. I will make the perfect gift!!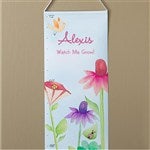 Beautiful and Well-made
By
Amanda H.

(Pensacola, FL) - November 23, 2011 (
See all reviews by this customer
)
I'm very pleased with the beauty of this growth chart and also with how durable it appears to be. I love the personalization of having my niece's name and birth date at the top.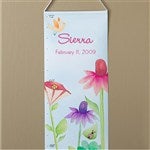 cute
By
Shopper

(West Point, IL) - October 11, 2011
This is a nice heavy vinyl growth chart. I love that fact that it can be personalized, unlike many other companies. For the price it is nice!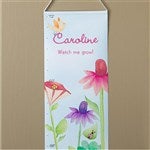 Extra Special Gift for Military Family
By
L. Darlene S.

(Cantonment, FL) - September 14, 2011 (
See all reviews by this customer
)
I ordered one for our military neighbors that moved away. With their first child, she documented his growth on the wall inside his closet having to leave it behind when they moved. This was the perfect gift for their new addition to the family. I also bought one for my granddaughter, the Flower's and Butterflies growth chart have ladybug's on it too and her nursey theme is Ladybugs. I'm impressed with everything I've ordered from your site, quick delivery,and wonderful quality merchandise. Another satisfied customer!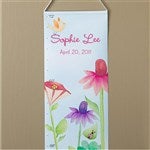 Very well made
By
Jessica S.

(Farmingdale, NY) - August 12, 2011 (
See all reviews by this customer
)
This is a very thick canvas material with vibrant colors. It really came out lovely.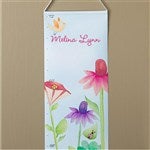 Vivid Colors!
By
Shopper

(Knoxville, TN) - June 15, 2011
Really great looking growth chart. Colors are bright and bold. Only slight comment is that the ribbon/string that hangs the item is a bit weak. If the item is pulled on the slightest by a child, the hanger will break. Could have been sturdier. However, I would recommend this product. I am a regular of PMall.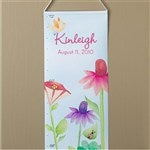 Cute
By
Shanna W.

(Hannibal, MO) - June 13, 2011 (
See all reviews by this customer
)
Very cute, good quality.

Love it!
By
Elicia B.

(Bellingham, WA) - May 7, 2011 (
See all reviews by this customer
)
Very pleased with this growth chart. Didn't know what to expect and was very happy with the quality. Definitely recommend it.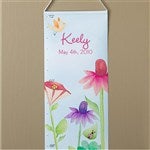 Great gift
By
Laura M.

(Suffolk, VA) - March 22, 2014 (
See all reviews by this customer
)
Purchased the growth chart for my Granddaughters room! It is so cute! Love the design!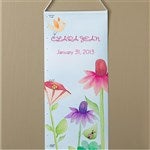 This was better than I thought.
By
Tamara F.

(Schenectady, NY) - December 26, 2013 (
See all reviews by this customer
)
This was by far the best gift I ordered this year for my granddaughter. It was thick and the colors were vibrant. You will not be disappointed if you order this.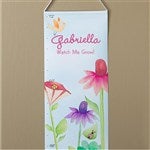 Get What You Pay For
By
Amy S.

(Cincinnati, OH) - November 13, 2013 (
See all reviews by this customer
)
I've owned this growth chart for 8 months. I've had the opportunity to mark my daughter's growth on it twice: once the day I hung it and once today, her birthday.

Pros:
* Very CUTE!
* Easy to hang.
* Personalization looks fantastic.
* Great price!

Cons:

* Material is not easy to write on, which is the whole reason someone would purchase this. The material is "rough" (it's vinyl), and no matter how carefully I try to write, my pen/Sharpie/marker has to work around all the miniscule bumps in the fabric. So it looks like a first grader wrote everything.

* Glue that seals the material around the top and bottom rods is beginning to lose its adhesive. I have to press it back together every now and then.

* Material is beginning to pull a little where the top ribbon attaches to the rod. I foresee it ripping over time.

I would recommend this to a friend because the price and cuteness currently overrule the quality. I fear it won't last a lifetime though.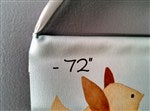 Nice quality
By
Carmen M.

(Rockville, MD) - July 1, 2013 (
See all reviews by this customer
)
My daughter was thrilled with this! The only issue we had with this product was that the length of the hanging ribbon was too long for the closet door. In the interest of time, I put a knot in it. Problem solved.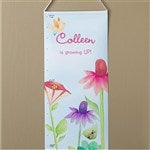 Beautiful
By
Shopper

(Dallas, TX) - June 25, 2013
The growth chart is beautiful and was well-received as a gift.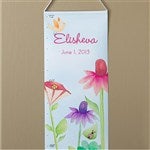 A great gift
By
Mae R.

(Dallas, TX) - June 20, 2013 (
See all reviews by this customer
)
I had run out of ideas for gifts for a large family. Then I found this. Each kid thought it was so cool, the quality is great, and it came so fast!
Amazing job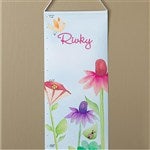 Cute
By
Staci H.

(Colville, WA) - June 14, 2013 (
See all reviews by this customer
)
It turned out nice. My daughter and I are pleased.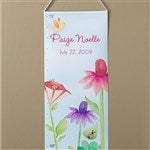 Love it
By
Shopper

(Farmington Hills, MI) - April 22, 2013
I looked for a growth chart for a while before buying this. This was great quality and a reasonable price. Better than any others I found.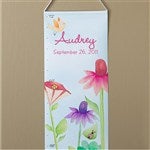 Good quality product
By
Vicki O.

(Boulder City, NV) - April 19, 2013 (
See all reviews by this customer
)
The weight of the material is very sturdy. The graphics are clean and crisp. Not everyone has a door sill to chart their childrens growth. This is a great way to pass on the memories that you can't take with you on a door sill.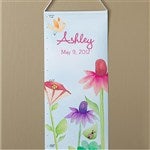 Baby Jordin Growth Chart
By
Gloria R.

(New Orleans, LA) - April 1, 2013 (
See all reviews by this customer
)
Great Item. So Cute. Love it and they loved it also. Thanks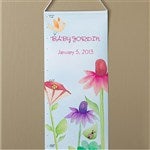 Gift
By
Carol H.

(Houston, TX) - February 23, 2013 (
See all reviews by this customer
)
Bought 2 for valentines gifts and they were wonderful Better than candy!!!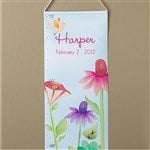 Beautiful!
By
Shopper

(Sugar Land, TX) - February 17, 2013
This looks handpainted. One of the prettiest growth charts anywhere! Arrived promptly....as always with Personalization Mall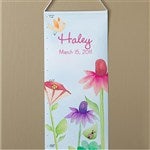 Always wanted one
By
Carol H.

(Houston, TX) - February 9, 2013 (
See all reviews by this customer
)
I bought this for my grand daughter for her first birthday. I always wanted one for my son when he was little and love the memories of him getting taller and growing into the man he is today!!! time goes by so fast and sometimes you need a little help to make the memories Love it!!!!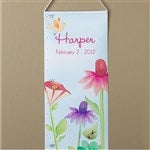 something good to have
By
Nazanin M.

(Upland, CA) - January 25, 2013 (
See all reviews by this customer
)
I love this Growth Chart. The quality is realy good, the colors are so bright and nice and gives your baby's room a touch of happiness and joy. I definitly recommend this Growth Chart to any parents to buy.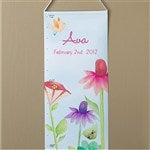 A Work of Art!
By
Gail P R.

(Longmont, CO) - December 29, 2012 (
See all reviews by this customer
)
This is not only an exceptional quality canvas growth chart that comes rolled up in a handy storage tube, it is a lovely work of art at the same time and will be a colorful addition to any child's room, especially a little girl's. I just wish a middle name could have been substituted for the birth date as a second line option.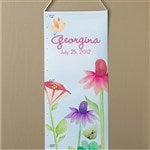 A beautiful growth chart
By
Shopper

(Saint Charles, MO) - December 12, 2012
I buy a growth chart for every new neice or nephew for their first Christmas, making this the 10th I have purchased! It is the sweetest by far! The whimsicle and feminine design is lovely and looks hand-painted (whether it is or not). The service and shipment was reasonable, allowing for personalization. And the quality seems great. I do wish there was room allowed for a middle name (as the first nine I purchased had), but for the price, this is a terrific product!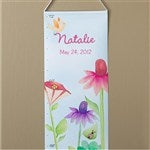 Heavy material
By
Shopper

(Lusby, MD) - October 22, 2012
Purchased as a stocking stuffer/Christmas gift for my daughter so we have not hung it yet. It is a heavy material and looks great.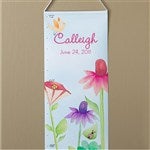 Quality Can't Be Matched
By
Shopper

(Jacksonville, FL) - October 21, 2012
Ordering items "site unseen" online is risky. Not so with this product. These are the finest quality, nicest growth charts I have ever seen. The product is very well made and then, to have them personalized, adds to an already nice product. We were lucky to purchase them on a "sales day", but at full price, the charts are great.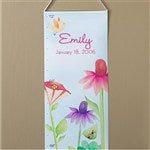 Good Quality
By
Alysha P.

(Evans, GA) - October 6, 2012 (
See all reviews by this customer
)
I searched for a Growth Chart on multiple websites. This one I thought had a better quality for the same price if not cheaper than others made of just plastic. The Canvas, dowel and hanging ribbon were a nice addition to the value of this product.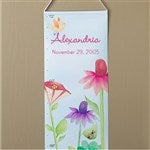 Beautiful!
By
Denise T. W.

(Bethlehem, PA) - September 25, 2012 (
See all reviews by this customer
)
This grow chart will grow with my grandaughter's age since it's not babyish. It's Beautiful art on canvas! Great Quality! Highly Recommend!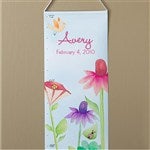 Excellent Quality
By
Ashley T.

(Sterling, VA) - August 27, 2012 (
See all reviews by this customer
)
This chart is made of a sturdy canvas and the art work and personalization are exactly as expected. I would definitely recommend this to a friend!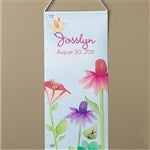 Birthday Gift
By
Lorraine O.

(Downey, CA) - August 12, 2012 (
See all reviews by this customer
)
Love it!!!! My nieces room is butterflies so this is perfect gift for her 2nd birthday. I wish u had it in hawaii design as I have another niece coming up for 2 and I would love to get one for her.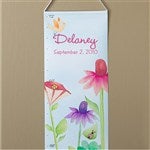 Beautiful Product
By
Shopper

(Fishers, IN) - May 12, 2012
I was truly shocked by the value of this product. It is better than I could have imagined and cost less than my other daughter's, which is not as pretty. I am so pleased and will be back to this site again to order!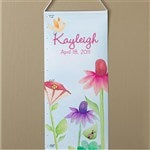 Beautiful product, great price!
By
Shopper

(Medford, OR) - April 23, 2012
This is a beautiful canvas growth chart! The colors are vivid, and was personalized just as I ordered. The price beats any other site by far and it arrived in a week as opposed to 3-4 weeks for other sites. I only wish there was a larger selection of styles. I'm very happy with this one for my daughter, but I didn't care for the boy designs so I didn't get one for my son.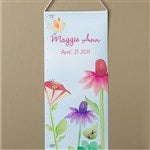 Growth chart for daughhter
By
Lauren S.

(Shakopee, MN) - April 17, 2012 (
See all reviews by this customer
)
Great quality with vibrant colors. Only complaint is the chart starts at 24 inches so you can't put their birth height on it.