Nice picture
By
Shopper

(Woodland Hills, CA) - July 26, 2011
I bought this for my husband and was happy when it arrived so quickly. Nice quality and really liked the rocky design. Thought it was real rocks on a pla. Though so was not to happy about that, but it was cute.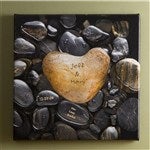 Not as expected
By
Shopper

(Richmond, TX) - February 15, 2011
Looks just like the picture but thought it would be better quality. Don't think it is worth the price.

Canvas Art Rocks Looks Cheap!
By
Shopper

(Hasbrouck Heights, NJ) - February 12, 2011
I was disappointed with the photo quality - the photo was not sharp, the colors not crisp - and I don't understand why there is no hook or other prep on the back of the frame to make hanging it easier...

Okay
By
Lisa H.

(Carrizo Springs, TX) - February 8, 2011 (
See all reviews by this customer
)
I realize that it is my own fault for not reading closer, but it is much smaller than what I thought it was going to be. I would have also appreciated a hanging attachment on it. It is an okay picture.

Not good quality for the money
By
Shopper

(Cincinnati, OH) - August 17, 2012
This item did not meet my expectations. The quality is poor.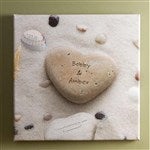 Bigger
By
Shopper

(Spring Lake, NC) - February 19, 2012
I wish the picture could be a bit larger so the print could be more easily read!



heart rock canvas are\t
By
Shopper

(Slippery Rock, PA) - November 19, 2011
Thought it looked a little "fake". The canvas may look better after I have it framed but of course that will cost much more than the canvas itself.

Not as nice as pictured online
By
Alexis J.

(Hermitage, PA) - April 8, 2011 (
See all reviews by this customer
)
I was very disappointed when I opened the box today. Looks VERY cheap. I've ordered in the past other picture frames from this site and LOVED them. But this was very upsetting because it's a wedding gift for a good friend.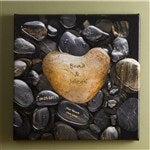 so so
By
sydney E.

(los osos, CA) - February 16, 2011 (
See all reviews by this customer
)
For some reason, I was expecting real rocks on my canvas.. When it showed up as just a print, I was disappointed. It was still good quality and after I spruced it up with some shells of my own, it looked great :-)

MIsleading
By
Shopper

(Falls Church, VA) - February 11, 2011
I received the product yesterday via UPS. I did receive the package promptly and in good condition. However, the picture and description make it appear as though the canvas has actual stone engraved and sealed by polymer. The picture does look real. I basically received a digital picture with my personalization which look far from a rock being engraved. This was meant to be a Valentine's Day gift. Unfortunately, I will be purchasing something else to replace the product. I do work for an internet based company and understand it does say print within the description. However, everything else and the statement regarding being sealed by polymer in addition to the picture make the product appear to be real engraved stone not something I could have designed on my own computer.

Cheap quality
By
Lindsey N.

(Chicago, IL) - January 28, 2013 (
See all reviews by this customer
)
I find this art to look very cheap and flimsy and made of poor quality materials. No way am I gifting this.

FYI...not really river stones..just a pic of riverstones
By
Shopper

(Burlington, NC) - June 1, 2012
I thought this was SO COOL...til I got it...because I thought it was a 3-D picture done on canvas.....I mean...your description says:

"We capture mother nature in her infinite beauty with these authentic, heart-shaped stones washed ashore."

PLUS it doesn't look dimensional at all to me....not very impressed with the quality...borderlines on "tacky":):)....but guess I'm stuck with it...since their wedding is in a couple of weeks.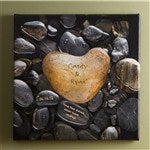 Terrible
By
Shopper

(Long Beach, NY) - October 23, 2011
It wasn't what i expected. I expected rocks on canvas.
That aside, the printing was of VERY low quality. NOTHING like previously purchased items.
I do NOT recommend buying this!