annivesary gift
By
Shopper

(Kintnersville, PA) - July 11, 2011
I ordered this as an anniversary gift for a friend...they loved it! The only comment I would make is, it had a very shiny finish. Since is made to look like a canvas, I expected it to have a more matte finish.

Beautiful
By
Julie F.

(Warrenton, MO) - June 22, 2011 (
See all reviews by this customer
)
Absolutely beautiful. I was impressed with how nice it looked and the quick delivery was GREAT!! Thanks.

Nice
By
Shopper

(High Point, NC) - June 8, 2011
The canvas is really nice, looks as pictured, the names and print are not faded out like I thought they may be. The colors are try to picture on page. When I received it though...the canvas was such it screamed for a frame. So before I could present as gift, I had to have it custom framed which was another $42.00. So if you are one who likes things just so...not half done...you will have it framed and expect to spend $85.00 total on the gift. I had it framed in a blue weathered wooden frame (looked like driftwood almost but with color) to make it look timeless. I loved it. I hope the bride likes it equally well. The lady at the frame shop that saw it said if she were the bride she would love it. I hope that's the case. But I liked it so much I'm thinking of ordering one for myself and I've been married 15 years in August. My bathroom is beach decor and I would like a daily sentimental reminder of our love.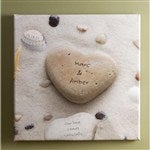 nice
By
Shopper

(MIAMI, FL) - May 23, 2011
very nice!

Excellent Gift
By
Shopper

(Pinson, AL) - May 17, 2011
This was a excellent Mother's Day gift. I had a few problems with the delivery method and time.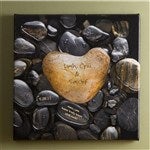 Unique gift
By
Shopper

(Excelsior, MN) - April 26, 2011
I bought it for my fiance as part of his wedding gift in Mexico. The canvas wasn't as deep as I thought it would be which was my only disappointment, but it is a sweet personalized gift that will have our date on it and can be put anywhere in the house.

oops
By
Aimee F.

(new Richmond, WI) - April 18, 2011 (
See all reviews by this customer
)
I love this picture. Unfortunately, I ordered it when I was busy and entered the wrong anniversary date! I hope to fix it with a gold sharpy!

Nice unique gift
By
Sharon S.

(Mukwonago, WI) - April 10, 2011 (
See all reviews by this customer
)
I bought this as a wedding gift and the couple loved it!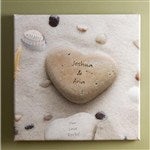 Nice wedding or anniversary gift
By
Shopper

(pensacola, FL) - April 10, 2011
good quality. item just as described.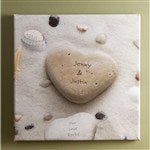 Nice
By
Shopper

(Las Vegas, NV) - March 27, 2011
I bought this as a wedding gift for one of my best friends. I was unsure of the quality, hoping it didn't look 'cheap', but after asking serveral people, they all reassured me that it was nice. I think it looks better at a distance versus up close.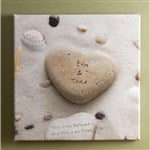 nice idea
By
Jenna B.

(Croydon, PA) - March 21, 2011 (
See all reviews by this customer
)
I really liked the idea of this canvas, as well as how neutral it is for all decor.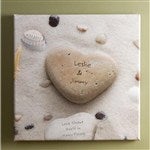 canvas art
By
Shopper

(Long Beach, CA) - March 18, 2011
I really liked it, it came out good. it's a little shinny for canvas and it is a little smaller than I thought it would be, it looks a little bigger in the picture, so pay attention to the measurements! but it turned out really great.

Nice gift
By
Deepa M.

(Greenbelt, MD) - March 1, 2011 (
See all reviews by this customer
)
This is my first time I have used your services and I really impressed with your service and the quality of the product.My husband loved his gift very much.Thank u so much.

Small
By
Jessica R.

(Great Falls, MT) - March 28, 2014 (
See all reviews by this customer
)
I got this for a wedding gift for the couple that has everything. I should have read description better but art is smaller than I expected. As always - the personalization was spot on. Wishing it was a larger statement piece. Otherwise, fantastic and I am sure will still be loved

I am happy
By
Manpreet S.

(San Antonio, TX) - January 31, 2014 (
See all reviews by this customer
)
It makes a good piece if you like to give a personal touch to your gift.
It is not very large so please check the dimensions before purchasing(appears larger in the picture).
The backside is ugly(but isn't visible on the wall so no complaints).
Slightly expensive but makes a good gift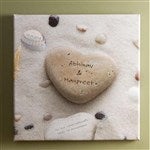 Little disappointment
By
Shopper

(San Jose, CA) - June 28, 2013
The gift description said that name will be engraved on rocks which gives an impression that there will be real rocks or pebbles with name and message engraved on tem. But I was disappointed to see that the whole thing is a pinting of rock with name engraved on it. Though the painting was beautiful, but still did not meet the expectation set by the website.. :( I was disappointed seeing the gift..! But the painting is good too... and the service is real good.. thanks for that.. :)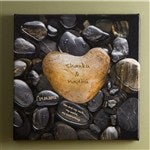 Didn't love it
By
Kathy T.

(Fenton, MI) - August 21, 2012 (
See all reviews by this customer
)
I loved the idea of this picture and the online photo looks as though the words are engraved into the stones. On the actual product received the large stone appears engraved, but the smaller ones look more like writing on the rocks with a yellow marker. It was ok, but wouldn't order again.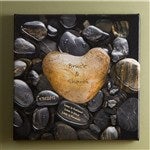 Misleading Description - Not Actual Rocks
By
Shopper

(Maplewood, MN) - August 10, 2012
Although it clearly states, "Canvas", I made the mistake of assuming these were actual stone arrangements on canvas. It is only a photo of rocks. I am not the only one who made this mistake, according to past reviews. Unfortunately, I read the reviews after the fact. That said, it was disappointing to see what we got. I wish I would have upgraded the frame. I believe it would have been worth the extra $20. It looks a little cheap as it is now. Bottom line is that I think it is fine for a teenager, but I would not recommend it for an occasion where a larger gift is appropriate. And the description should be revised. It really can be misleading.

Not as nice in person
By
Shopper

(East Bridgewater, MA) - February 15, 2012
I think this is a great wedding shower gift ect. However, the actual item is not a nice as the picture makes it look. Actually, a little smaller than I pictured also.



Low print quaity
By
Shopper

(Fergus Falls, MN) - February 4, 2012
LOVED the idea of this. Got it for my life parTner and was so excited, it was my third purchase from this site. Unfortunately the print quality is low. Very fuzzy and strange compared to the photo on the website. I ordered the darker color of the two.

Nice Plaque
By
Cheryl L.

(Kansas City, MO) - December 15, 2011 (
See all reviews by this customer
)
I was expecting it to be a lot smaller from the I picture )which I would have preferred) but its very nice.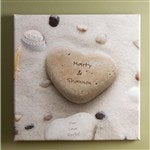 flat canvas
By
Shopper

(Alameda, CA) - December 7, 2011
I thought there were real rocks in this art piece. It is a flat canvas so not so unique.

Heart Rock Canvas
By
Shawna A.

(Kelso, WA) - November 12, 2011 (
See all reviews by this customer
)
Overall I'm happy with the canvas. It's really great quality, not cheap-looking. I wish I had realized how "pixel-ated" the words would be, though. A smaller version (6x6 inches?) would be really cool. My only real complaint about this product is the smell. It has a very strong odor which has banished it to the garage for awhile. It was that bad. In fact, I used the shipping box to wrap another gift in, and the when opened, the shirt inside was reeking of the fumes. All in all it's a very cool piece, and would recommend it to friends, as long as they weren't hyper-sensitive to smells.

not what I expected
By
Jeff V.

(Harrisburg, PA) - October 17, 2011 (
See all reviews by this customer
)
Although not what I expected...I thought this was real rock on a real plaque. But its a canvas covered frame. Although my wife was still pleaseantly happy with it :-)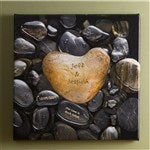 Neat
By
Shopper

(arlington heights, IL) - August 15, 2011
Pretty but words seemed like marker over canvas print.

Nice picture
By
Shopper

(Woodland Hills, CA) - July 26, 2011
I bought this for my husband and was happy when it arrived so quickly. Nice quality and really liked the rocky design. Thought it was real rocks on a pla. Though so was not to happy about that, but it was cute.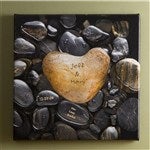 Not as expected
By
Shopper

(Richmond, TX) - February 15, 2011
Looks just like the picture but thought it would be better quality. Don't think it is worth the price.

Canvas Art Rocks Looks Cheap!
By
Shopper

(Hasbrouck Heights, NJ) - February 12, 2011
I was disappointed with the photo quality - the photo was not sharp, the colors not crisp - and I don't understand why there is no hook or other prep on the back of the frame to make hanging it easier...

Okay
By
Lisa H.

(Carrizo Springs, TX) - February 8, 2011 (
See all reviews by this customer
)
I realize that it is my own fault for not reading closer, but it is much smaller than what I thought it was going to be. I would have also appreciated a hanging attachment on it. It is an okay picture.

Not good quality for the money
By
Shopper

(Cincinnati, OH) - August 17, 2012
This item did not meet my expectations. The quality is poor.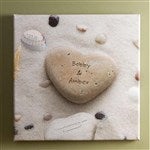 Bigger
By
Shopper

(Spring Lake, NC) - February 19, 2012
I wish the picture could be a bit larger so the print could be more easily read!



heart rock canvas are\t
By
Shopper

(Slippery Rock, PA) - November 19, 2011
Thought it looked a little "fake". The canvas may look better after I have it framed but of course that will cost much more than the canvas itself.

Not as nice as pictured online
By
Alexis J.

(Hermitage, PA) - April 8, 2011 (
See all reviews by this customer
)
I was very disappointed when I opened the box today. Looks VERY cheap. I've ordered in the past other picture frames from this site and LOVED them. But this was very upsetting because it's a wedding gift for a good friend.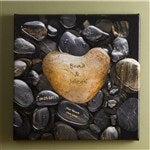 so so
By
sydney E.

(los osos, CA) - February 16, 2011 (
See all reviews by this customer
)
For some reason, I was expecting real rocks on my canvas.. When it showed up as just a print, I was disappointed. It was still good quality and after I spruced it up with some shells of my own, it looked great :-)

MIsleading
By
Shopper

(Falls Church, VA) - February 11, 2011
I received the product yesterday via UPS. I did receive the package promptly and in good condition. However, the picture and description make it appear as though the canvas has actual stone engraved and sealed by polymer. The picture does look real. I basically received a digital picture with my personalization which look far from a rock being engraved. This was meant to be a Valentine's Day gift. Unfortunately, I will be purchasing something else to replace the product. I do work for an internet based company and understand it does say print within the description. However, everything else and the statement regarding being sealed by polymer in addition to the picture make the product appear to be real engraved stone not something I could have designed on my own computer.

Cheap quality
By
Lindsey N.

(Chicago, IL) - January 28, 2013 (
See all reviews by this customer
)
I find this art to look very cheap and flimsy and made of poor quality materials. No way am I gifting this.

FYI...not really river stones..just a pic of riverstones
By
Shopper

(Burlington, NC) - June 1, 2012
I thought this was SO COOL...til I got it...because I thought it was a 3-D picture done on canvas.....I mean...your description says:

"We capture mother nature in her infinite beauty with these authentic, heart-shaped stones washed ashore."

PLUS it doesn't look dimensional at all to me....not very impressed with the quality...borderlines on "tacky":):)....but guess I'm stuck with it...since their wedding is in a couple of weeks.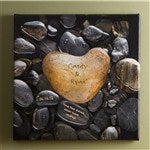 Terrible
By
Shopper

(Long Beach, NY) - October 23, 2011
It wasn't what i expected. I expected rocks on canvas.
That aside, the printing was of VERY low quality. NOTHING like previously purchased items.
I do NOT recommend buying this!