cute gift
By
Shopper

(Pearland, TX) - December 28, 2011
This made a great gift, but it would have been better if they had a bigger size. And if one was on sale for 19.99 then the other should also since they are in the same ordering. Other then that it is a great gift.

Very cute
By
Shopper

(Stamford, CT) - December 26, 2011
Doesn't look cheap at all. Very nice! Just wish the font were a little bolder or thicker.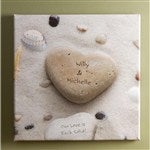 Very Unique!
By
Shopper

(Norristown, PA) - December 21, 2011
I think this might be my favorite gift I got for my boyfriend. The canvas is much bigger than I thought it would be and is made of very good quality. I will definitely be back to purchase more of different ones. I was afraid this would look teenager'ish but it doesn't....it's sweet :)

Our love Rocks
By
Shopper

(nixa, MO) - December 13, 2011
Bought this as a gift for a couple that was renewing their vows. I think they are going to love it!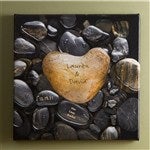 Just right!
By
Dena Walton T.

(Springfield, IL) - December 13, 2011 (
See all reviews by this customer
)
I ordered this as a wedding gift for a couple getting married on the beach in Florida. Needless to say, it turned out just right and as always was received in record time.

It is wonderful to know that I can always expect quality and efficiency when I order from Personalization Mall!

Thank you!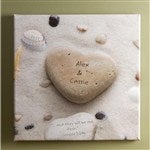 Decent one
By
Shopper

(Columbus, IN) - November 18, 2011
I have ordered this gift for my hubby as our anniversary gift....It was not that alluring as it appears to be in the website..but can prefer this, since its somewhat different from the usual anniversary gifts!

Loved it
By
Shopper

(Lancaster, CA) - October 30, 2011
It was easy to personalize, it shipped to the house quickly for our anniversary. In my eyes it was the perfect gift, I know my husband will enjoy it...

Great Gift
By
Shopper

(Denton, TX) - October 18, 2011
Bought this for my daughter as a wedding present... she Loves it!!

Sentimental Home Decor
By
Shopper

(Lakewood, WA) - September 21, 2011
A wonderful idea! Wish the print & writing were clearer on the canvas. Nonetheless, the sentiment is present and I love that the product allows for personal messages instead of pre-set ones, although the pre-set choices are also good ones. :) Thank you for having this product available. I ordered 1 for me and my husband, he loved it. I ordered another for my cousin, she said it made her cry (happy tears)! WINNER!!!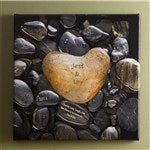 Very pleased
By
Shopper

(DAYTON, OH) - September 4, 2011
I wanted a special gift for a wedding coming up in October. This was just what I wanted. For some reason I had thought it would be little more substantial (heavier), but I'm pleased with it.


Nice
By
Shopper

(Agawam, MA) - August 28, 2011
Got this for my honey for our anniversary...he absolutely loved it...

perfect wedding gift
By
Shopper

(SOMERSET, NJ) - July 22, 2011
I had this made to with the gift for my daughter's wedding....they are having a "beach" theme wedding and I thought this was a perfect touch.

annivesary gift
By
Shopper

(Kintnersville, PA) - July 11, 2011
I ordered this as an anniversary gift for a friend...they loved it! The only comment I would make is, it had a very shiny finish. Since is made to look like a canvas, I expected it to have a more matte finish.

Beautiful
By
Julie F.

(Warrenton, MO) - June 22, 2011 (
See all reviews by this customer
)
Absolutely beautiful. I was impressed with how nice it looked and the quick delivery was GREAT!! Thanks.

Nice
By
Shopper

(High Point, NC) - June 8, 2011
The canvas is really nice, looks as pictured, the names and print are not faded out like I thought they may be. The colors are try to picture on page. When I received it though...the canvas was such it screamed for a frame. So before I could present as gift, I had to have it custom framed which was another $42.00. So if you are one who likes things just so...not half done...you will have it framed and expect to spend $85.00 total on the gift. I had it framed in a blue weathered wooden frame (looked like driftwood almost but with color) to make it look timeless. I loved it. I hope the bride likes it equally well. The lady at the frame shop that saw it said if she were the bride she would love it. I hope that's the case. But I liked it so much I'm thinking of ordering one for myself and I've been married 15 years in August. My bathroom is beach decor and I would like a daily sentimental reminder of our love.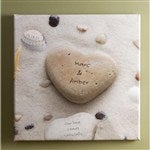 nice
By
Shopper

(MIAMI, FL) - May 23, 2011
very nice!

Excellent Gift
By
Shopper

(Pinson, AL) - May 17, 2011
This was a excellent Mother's Day gift. I had a few problems with the delivery method and time.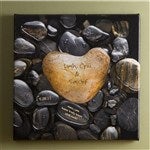 Unique gift
By
Shopper

(Excelsior, MN) - April 26, 2011
I bought it for my fiance as part of his wedding gift in Mexico. The canvas wasn't as deep as I thought it would be which was my only disappointment, but it is a sweet personalized gift that will have our date on it and can be put anywhere in the house.

oops
By
Aimee F.

(new Richmond, WI) - April 18, 2011 (
See all reviews by this customer
)
I love this picture. Unfortunately, I ordered it when I was busy and entered the wrong anniversary date! I hope to fix it with a gold sharpy!

Nice unique gift
By
Sharon S.

(Mukwonago, WI) - April 10, 2011 (
See all reviews by this customer
)
I bought this as a wedding gift and the couple loved it!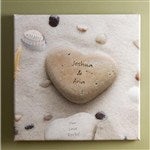 Nice wedding or anniversary gift
By
Shopper

(pensacola, FL) - April 10, 2011
good quality. item just as described.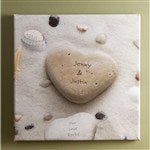 Nice
By
Shopper

(Las Vegas, NV) - March 27, 2011
I bought this as a wedding gift for one of my best friends. I was unsure of the quality, hoping it didn't look 'cheap', but after asking serveral people, they all reassured me that it was nice. I think it looks better at a distance versus up close.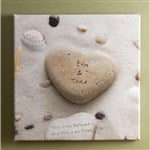 nice idea
By
Jenna B.

(Croydon, PA) - March 21, 2011 (
See all reviews by this customer
)
I really liked the idea of this canvas, as well as how neutral it is for all decor.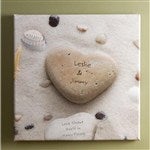 canvas art
By
Shopper

(Long Beach, CA) - March 18, 2011
I really liked it, it came out good. it's a little shinny for canvas and it is a little smaller than I thought it would be, it looks a little bigger in the picture, so pay attention to the measurements! but it turned out really great.

Nice gift
By
Deepa M.

(Greenbelt, MD) - March 1, 2011 (
See all reviews by this customer
)
This is my first time I have used your services and I really impressed with your service and the quality of the product.My husband loved his gift very much.Thank u so much.