White Rose Canvas At
By
Shopper

(GOREVILLE, IL) - January 29, 2013
I purchased two of these in pink as Christmas gifts. They were gorgeious. i loved them so much that I ordered one in white for my granddaughter's wedding anniversary. I thought the writing on this item would match the flower color like the pink ones did. Instead the writing is pink on the white one too.
It just doesn't look as nice as the pink ones because of the incontinuity of colors.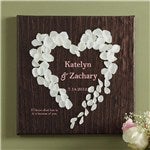 Loved it!
By
Amy W.

(Pickerington, OH) - December 11, 2012 (
See all reviews by this customer
)
Got this as a gift for friends for Christmas, and it superceded my expectations, especially for the price I paid. Thanks very much for an extremely unique gift. We are exchanging gifts this coming weekend. I'll be sure to let you know what they thought of it. (But I know they are gonna love it!)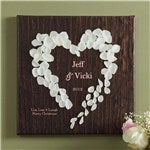 sjstafford, tx
By
Shopper

(Stafford, TX) - August 26, 2012
I ABSOLUTELY loved every aspect of this product! The picture online does not capture the essence of this item. It looked much better in hand. I initially thought the finish would not be the best. However, it exceeded my expectations. I also ordered the card which came in a nice envelope, again I was expecting just the typical plain envelope. I purchased this for a wedding gift. The script and font was as I requested, on both the card and canvas. This is my third purchase and all items have exceeded my expectations. I have an eye for quality. To exceed my expectations, takes a lot. I would highly recommend this item if you are looking for a personalized quality and unique gift that can't be duplicated. Very, Very delighted and pleased!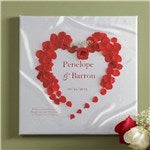 Heart of roses
By
Shopper

(Franklin, KY) - August 1, 2012
it is awesome! I love what was done with it, looked perfect!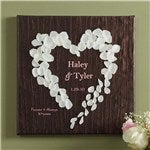 Adorable Gift Idea
By
Jaime S.

(Media, PA) - July 9, 2012 (
See all reviews by this customer
)
I hope someone buys this for me one day! I ordered as a wedding gift for a good friend who loves yellow roses. I thought the roses were 3 dimensional but still when it arrived it was beautiful.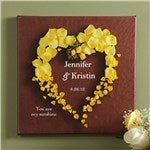 Very nice
By
Shopper

(Columbia Falls, MT) - June 18, 2012
I was very surprised at the quality of this item. Love it, turned out just perfect.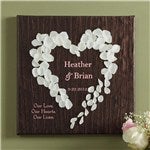 Average
By
Shopper

(Dearborn, MI) - May 31, 2012
I read the reviews too late. It was average. It looks much better in the picture. The ink is not dark enough. However I'm still happy about it.

I purchased the card and it's MUCH better quality. The ink was nice and clear.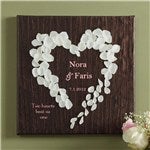 absolutely beautiful..
By
Huda R.

(Canada) - March 4, 2012 (
See all reviews by this customer
)
Bought this for my best friend. At first I thought there were going to be real petals on the canvas...lol.. the picture looks a little better than the real one... nonetheless the real canvas still looks beautiful.... another nice product from pmall =)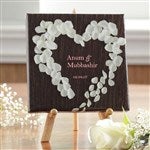 Cute Canvas
By
Kimberly M.

(Port Lavaca, TX) - February 6, 2012 (
See all reviews by this customer
)
This canvas is such a cute gift for Valentine's Day!
The only downfall is that the pictures online make the flowers look "raised" and they are not, but the personalization is perfect and done very neatly and professionally! :)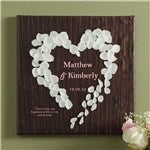 Very nice
By
Shopper

(Akron, OH) - October 12, 2012
This is a sweet keepsake for any wedding couple. I was under the impression that the petals would be fixed to the canvas, but they're actually just part of the image. Still a nice gift though.

Massaya & James
By Shopper (Jacksonville, FL) - July 15, 2012
Yet another year down and still strong through the trials and tribulations, my love for you is eternal

Love the wood look
By
Crystal W.

(Meriden, CT) - February 22, 2012 (
See all reviews by this customer
)
I bought this for my boyfriend for an after Valentines Day gift... he loved it. He loved that it appeared to be wood. This is the second canvas wall art I have purchased through Personalization Mall and you have yet to disappoint me.

good
good

I used this item to hang on my living room wall.
By
Mary P.

(FortlLauderdale, FL) - January 24, 2014 (
See all reviews by this customer
)
When I recieved it I really liked it. It had the right color and print. It came on time and packaged very well. Will buy from this site again.. It was also easy to hang up. Looks beatiful ... The letters are clear and bright..

Cute anniversary memoir
By
Shiffy F.

(Brooklyn, NY) - June 1, 2014 (
See all reviews by this customer
)
Recommend! Looks great on display in our living room.

Beautiful
By
Taylor H.

(Herrin, IL) - October 28, 2010 (
See all reviews by this customer
)
I bought this for my brother and his fiance and i couldn't be happier! It is alot bigger than i expected it and it is just beautiful!

Heart of Roses Personalized Canvas Art
By
Linda W.

(Newnan, GA) - November 27, 2010 (
See all reviews by this customer
)
Heart of Roses canvas was beautiful. It was for a recent wedding gift and the yellow roses matched the bride's flowers. I especially liked the canvas because I was able to have words of my choice on it. Service was wonderful; I received it much sooner than was expected. I would definitely use this company again.

LOVE DISPLAYED TO THE WORLD
By
JOHN J M.

(GLENSIDE, PA) - November 15, 2010 (
See all reviews by this customer
)
Without a doubt, one of the nicest pieces of art I have seen created in a long time. You continue to amaze me with your selections. Kudos.

Perfect wedding gift!
By
Mindy M.

(Portsmouth, OH) - November 15, 2010 (
See all reviews by this customer
)
The best gifts I ever received for any occasion are the ones that required just a little bit of thought and extra attention to detail to make it a perfect gift just for me..this site makes gift giving fun and exciting to see the recipient's face when they unwrap a one of a kind item chosen just for them.

Writing was pink...
By
Sarah F.

(Greensboro, NC) - October 1, 2011 (
See all reviews by this customer
)
I ordered the Heart of Roses in white as a gift for a couple. I couldn't tell from the picture if the writing was light pink or white, so I called to inquire. I was told on the phone that the writing was white. When I received the product, the writing was pink. I emailed to see if it could be changed and was simly told that the preview has it in pink, which wasn't very helpful since on my computer screen I couldn't tell that. I love the item, but do wish the writing had been white and that I had been informed correctly when I called to inquire.

It is nice
By
Tracey C.

(Bunnlevel, NC) - January 29, 2011 (
See all reviews by this customer
)
It is not a nice as I thought it would be but it is still cool. I bought it as a wedding gift. Have not given it to them yet, but I am sure they will love it. The pink is not very bright, which is perfect. I had it in my mind the flower pedals would be 3d. they are not, you can tell it is a computer image, but everyone else that has seen it really likes it. I know what 12x12 looks like but still thought it was going to be bigger than it is. Would like better if it were bigger but it is a keeper.

A nice way to remember your wedding day
By
Shopper

(Morrison, IL) - May 10, 2011
I misread the description and I was expecting actual rose petals on the canvas and was disappointed when there wasn't. I think it is a little pricey for just a small print, but it is pretty.

Good quality, didnt meet expectations
By
Shawna C.

(Summerville, PA) - January 18, 2013 (
See all reviews by this customer
)
I ordered the white roses product. When I ordered this product I was expecting more than I received. I was expecting the product to have a cover over the back of it so that dust cannot get on the inside(that is the way that we sell gallery wraps at the location I work) and it does not. I also expected the rose petals to look more real than they actually do (honestly I expected real rose petals for the price I paid). I would have loved to have been able to change the color of the text so that it matched their wedding colors but that option is not available unfortunately. I will not be ordering this product again. It did not meet my expectations which is a first for me with ordering from this company.

Heart canvas an illusion...
By
Fabiola F.

(Kissimmee, FL) - November 11, 2010 (
See all reviews by this customer
)
Thought by the picture on your site, this canvas was more like 3-D...when I got it in the mail - it seemed cheap looking - NOT 3-D, not as nice as shown on internet. Again for the price - very disappointing...

Disappointing
By
Kristin H.

(Cambridge, MA) - January 17, 2011 (
See all reviews by this customer
)
I generally love everything I purchase from PersonalizationMall and that's why I bought this, despite it being a little pricey. I don't like it at all, it's not anything like I expected. My fiance says he likes it, so in case he is being honest I will give it 2 stars, but he may just be trying to make me feel better. I dislike it so much that I didn't even show it to him when it came, he found it in a bag in the floor, otherwise I would've hidden it longer. Try something different from the site, this one misses the mark.

Little confused by description
By
Shopper

(ALBANY, MN) - January 23, 2011
Based on the description I thought this was canvas art with actual roses glued to the top to form the heart not a picture of roses on canvas. It is still a beautiful piece but I would have not ordered item if I new it was just a picture of roses on canvas instead of actual roses on top of the canvas.

Don't waste your time
By
Jason K.

(Lindenhurst, NY) - February 4, 2011 (
See all reviews by this customer
)
I thought this sounded great and would be a cool idea for my wife. When I received the item I was much less impressed. The quality and clarity of the print looks like something they printed out on a crappy printer. I have lines and other junk on it. Cute idea but not cute quality.

absolutely terrible
By
Olha S.

(perry hall, MD) - January 15, 2011 (
See all reviews by this customer
)
I have purchased items from personalizationMall.com before and the quality exceeded my expectations. This canvas hovewer is totally unworthy of it's price! It's so cheap looking. Don't get fooled by the way it looks at the picture here! It's not the same! It's a piece of cheap oilcloth stretched between and stapled onto 4 wooden sticks! the worst part is that it's non-returnable! I'm not putting this on my wall, might as well just trash it!

Overall satisfied
By
Kristy O.

(greenwood, IN) - February 22, 2011 (
See all reviews by this customer
)
This looks very nice, I am very pleased. My only upset was the lettering being in pink. I guess I just assumed it would be white or it would be an option. Still really like it though.

It was nice
By
Shopper

(Landing, NJ) - July 11, 2011
I got this as an engagement gift. When I first got it I was a little dissappointed because I thought the petals would stick out. Its just a picture of the heart with the petals. It was nice but I just expected more. The couple did enjoy the gift since it was very different though so it is worth getting.

Beautiful
By
Shopper

(Gainesville, FL) - February 17, 2011
Absolutely beautiful. My husband loved it for Valentine's Day.

Sadly let down!
By
Shopper

(Billings, MT) - January 21, 2011
This item is a waste of money. It looks very nice in the pictures, and in theory would be a good gift. But the minute I opened it, I was extremely upset. I have bought it for a Valentine's gift, now I'm afraid to give it. The pink lettering is too bright of a pink, and the faux wooden woodgrain looks horrible. My wall color is green like the picture shows, but it does not look good up against my wall. Not really sure what to do with it now. I have ordered many things through personalization mall, and have never had any complaints. I've never posted a review either through this site. But I am just so unhappy with this product, that I felt the need to post something. At least try and warn other consumers of the negative possibilities of this item. Some people may like this, but be for warned, in person it looks nothing like the pictures. I've never been skeptical ordering from here, but after receiving this item, I will always have doubts now!

Adorable
By
Sarah G.

(Puyallup, WA) - October 20, 2010 (
See all reviews by this customer
)
My only complaint is the size, I thought it would be twice the size that it actually is it. But it is adorable and looks great on my wall!!

Nice
By
Shopper

(alexandria, VA) - January 29, 2011
I got this wall hanging for my girlfriend on valentines. Found it really nice and beautiful.

Simply Beautiful
By
Julie H.

(Stephenville, TX) - December 13, 2010 (
See all reviews by this customer
)
I purchased this after my husband and I got married and it is beyond my expectations. If you know someone getting married, this will be a cherished keepsake for years to come. Great quality, perfect craftsmanship.

Lovely Gift!
By
Beth V.

(Lansdale, PA) - April 7, 2012 (
See all reviews by this customer
)
I have given the Heart of Roses Canvas Art twice, once as a bridal shower gift and once as a wedding gift. It's really a thoughtful gift and the quality is very nice. I would recommend this as a gift for an engagement, bridal shower or wedding. I think the white on brown combination is the nicest.


I Love It !!!
By
Kazue Y.

(San Jose, CA) - March 27, 2012 (
See all reviews by this customer
)
It is beautiful and lovely. I bought this for my 10th wedding anniversary. And I displayed it in my bedroom, absolutely gorgeous and lovely. my husband also liked it. I highly recommend it!!!

Super cute
By
Shopper

(Naperville, IL) - October 23, 2012
Product came in just how I ordered and turned out really great!

LOVE LOVE LOVE
By
Shopper

(Enfield, IL) - April 19, 2012
I am getting married in two months and thought this would be a nice touch for decorations and match the house...my sister came over to my house and saw it, she just got married a couple months ago and loved it so much I had to get her one too! Its so cute and matches anywhere! Fast shipping as well!

loved these
By
Shopper

(New Lenox, IL) - June 12, 2011
They are unique and beautiful gifts that I am giving to my wedding party since most of them are couples that are in the wedding. They are all really cute and good quality. I wish they came with the stands because I didn't want to pay extra for the stands so now i'm on the hunt for cheaper ones