Best Water Bottle Ever!!!!!
By
Shopper

(port washington, NY) - December 28, 2011
I had given this water bottle to a very hard to please 9 year old. She loved it! It's so cool! She hasn't put it down. I will be ordering it again.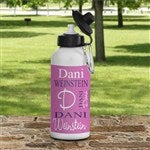 Turned out great!
By
Jill F.

(Gainesville, FL) - November 12, 2011 (
See all reviews by this customer
)
Awesome quality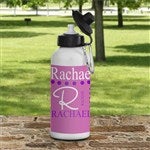 Impressive
By
heather R.

(buffalo, NY) - September 20, 2011 (
See all reviews by this customer
)
I was very impressed by this water bottle for the price... not only is it Aluminum but the personalization is NOT just some sticker wrapped around it. Very nice and my daughter loves having a bottle with HER name on it. So with her so happy, I had to go and order my other two younger kids (a 1 and 2yr old) one too, for the future.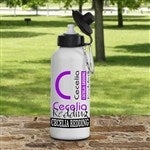 Kids Loved Them!
By
Shopper

(Tipp City, OH) - August 15, 2011
My kids loved the personalized water bottles to take back to school!!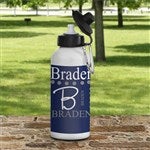 So Pleased!!!
By
Shopper

(Shorewood, MN) - July 11, 2011
I ordered 30 of these bottles (last minute, I might add) for our family reunion. I received them within two days. They were much more than I expected! They were all personalized to my specs and they were aluminum! Great quality. I got rave reviews on the choice of family "souvenier". The only thing I caution is: DO NOT WASH IN THE DISHWASHER!!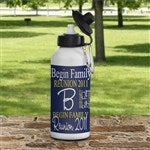 whooh
By
Clare N.

(panorama city, CA) - July 5, 2011 (
See all reviews by this customer
)
the water bottle was for my lil cousin as agraduation gift..
he was so happy and uses it everywhere..now that its summer time

he thinks i spent $60 or more..lol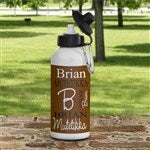 Love it!
By
LauraJane H.

(Lexington, KY) - July 3, 2011 (
See all reviews by this customer
)
It arrived very quickly. I was surprised considering that it was personalized. I got it for my 9 year old daughter to take to camp, and she loved it! I also like the fact that it has two different tops included. My daughter prefers the sports bottle top, but she can use the regular drinking removable one if she so chooses. I plan to order one for myself! Designing it was fun, as well.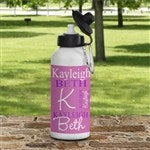 Who's water is this?
By
Shopper

(Atlanta, GA) - May 8, 2011
Purchased these to identify kids water at a reunion. Quality is very good, no leaks yet. Personalization Mall is THE BEST & extremely FAST.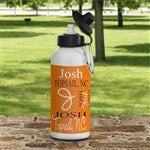 woodman
By
leslie O.

(folsom, CA) - April 25, 2011 (
See all reviews by this customer
)
perfect gift for my son's teacher - the green and red and white lettering really make the water bottle stand out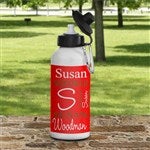 Perfect birthday favor
By
Shopper

(Hillsborough, CA) - June 7, 2014
These are well made and adorable! They were exactly as they look on line and perfect for favors for a summer birthday lunch.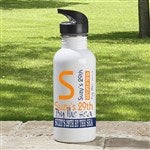 Water bottle
By
Tricia J.

(Dallas, TX) - May 20, 2014 (
See all reviews by this customer
)
Smaller than expected but quality is fine.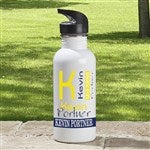 i love it!
By
terri M.

(new york, NY) - February 18, 2014 (
See all reviews by this customer
)
The product actually looks like the image generated..I got this as a valentines gift for someone and it looks soo good it looks expensive!
I am definitely going to order more for myself and others, there also a straw attached on the inside of the bottle which makes this stand out over other bottles because there's no awkward tilting your head back to drink.
over all I am happy and impressed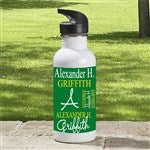 Love It!
By
Nadra A.

(Mott, ND) - January 2, 2014 (
See all reviews by this customer
)
I got all the kids in my life water bottles for Christmas this year. They loved them! The bottles are a really good quality!

Good Purchase
By
Barbara H.

(Palmyra, PA) - December 5, 2013 (
See all reviews by this customer
)
The water bottle is a Christmas gift. I'm sure it will be appreciated. My grandson will be excited to see his name on his own water bottle.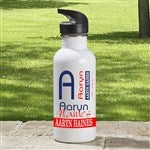 WATER BOTTLE ALWAYS A GREAT GIFT
By
KAREN W.

(STONE MOUNTAIN, GA) - September 9, 2013 (
See all reviews by this customer
)
Recipient is thrilled, as usual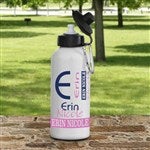 Great product
By
Shopper

(Pelham, NH) - May 16, 2013
This product was delivered fast and was exactly as I pictured it would be. It was purchased as a gift for my Dad and he absolutely loved it! A great idea and so glad I was able to easily personalize everything. Highly recommended!!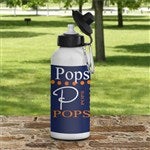 VERY CUTE WATER BOTTLE
By
Shopper

(Uxbridge, MA) - December 28, 2012
MY DAUGHTER IS VERY PICKY THUS MAKING IT HARD TO BUY GIFTS FOR HER. I WANTED A GIFT THAT WAS PERSONAL AND UNIQUE. SHE LOVES HER NEW WATER BOTTLE! IT'S SOMETHING SHE WILL BRING TO WORK AND USE ALL DAY LONG. SHE LOVES THAT IT HAS HER NAME WRITTEN SO BEAUTIFULLY ALL OVER IT!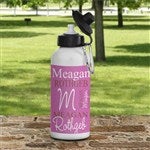 Great Quality - wish it had a strap
By
Shopper

(Morristown, NJ) - September 24, 2012
My daughter loves the water bottle we bought with her initials on it. It's very good quality and the 2 lids are very convenient. We wish it would have a strap to help us keep better track of it.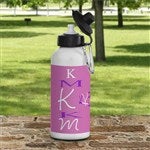 Water bottle
By
Kathelene Y.

(Murfreesboro, TN) - September 24, 2012 (
See all reviews by this customer
)
I like the water bottle, but for what you pay, the color and name(s) should go all the way around the bottle and not for just 3/4 of it. Smaller than I thought it would be, too.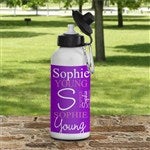 Very nice gift, arrived super fast!!!
By
Shopper

(Weatherford, TX) - August 20, 2012
These water bottles were ordered as birthday gifts for my kids to give. They arrived to us within a week and look awesome! I couldn't tell in picture if it was a sticker or not but they are printed right on the metal bottle bottle itself! The design is very current and "cool" as my daughter said and colors are bold! I will order more such an awesome price for a quality product you dot hesitate to give!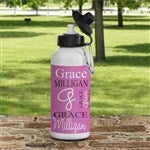 Great
By
Lilly S.

(Louisville, TN) - July 8, 2012 (
See all reviews by this customer
)
The bottles are great and the printing job is fantastic but the metal ring that holds the clip is flimsy but just remove the flimsy ring and just use the carabiniere and not the metal ring. We used it for a Family reunion and everyone loved them. We did loose one to it bursting due to someone filling it with water and putting it in the freezer. :( Over all they are wonderful!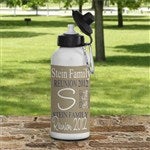 Great gift for band kid
By
Mindy B.

(Centerville , IN) - June 4, 2012 (
See all reviews by this customer
)
This bottle was a great gift for my daughter but was smaller then expected. I should have read the size but expected it to be the standard however it was shorter then most I have seen. Overall a great gift.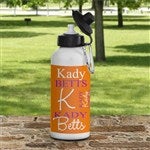 Brownie troop gift
By
Jennifer W.

(The Woodlands, TX) - May 17, 2012 (
See all reviews by this customer
)
I bought these for our entire brownie troop. They turned out great. Super cute, and they do not leak!! Everyone loved them. The kids are all using them as their water bottles for school everyday. Fast shipping. Very happy. Would recommend to a friend, and would order them again.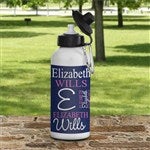 adorable
By
Amber M.

(Carrollton, TX) - May 16, 2012 (
See all reviews by this customer
)
These are adorable. Our granddaughter will be the cutest girl on the team with her water bottle that matches her uniform.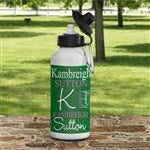 Pretty, but
By
Barbara B.

(Spring Grove, IL) - April 22, 2012 (
See all reviews by this customer
)
I love the design and the bottle itself,but it is way smaller than I expected. I should have read the ounce size and compared it to my home ones. This was intended for an adult at the gym and will be too small, my bad....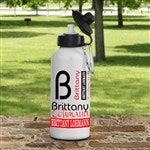 Water bottles
By
Ann L.

(Silver City, NM) - April 17, 2012 (
See all reviews by this customer
)
The graphics ar nice and clear and colors are just like in the picture. THey are smaller than most "Kleen Canteen" type bottles.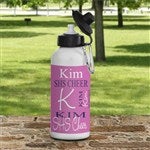 Colors
By
Shopper

(Warren, MN) - September 27, 2011
My daughter loved the water bottles with her name on it. (We purchased two). I would have given it "5 Stars" except the color orange was a muted shade and not a orange, orange like it showed on their web site. Also the black background looked like a dark green. Otherwise~~very quick shipping and a really neat personalized gift! Only need to improve the quality of their colors on their products.

Perfect gift at a good price!
By
Shopper

(Flossmoor, IL) - May 22, 2011
I gave away several of these as gifts and every single person loved
them! Very nice quality, I hope the names don't rub
off, it was their favorite part! I WILL be buying more
as gifts.

Love the personalization
By
Megan E.

(Kennesaw, GA) - August 29, 2011 (
See all reviews by this customer
)
I like the personalization and quality of the bottle but I wish the opening was larger and there was a straw option....it is hard to put ice in because cube's from the ice maker are larger than the opening so you have to break them up or wait for them to melt a little.

Great and Unique water bottle!
By
Shopper

(Saint Marys, GA) - April 24, 2011
I bought this for my son. It exceeded expectation. I love it! It's very unique and very personal for him. It arrived sooner than I expected. Love this! I purchased 3 bottles total. I'm very happy with my purchase. I will also purchase more in the future as gifts.

Excellent!
By
JUDI G.

(BOERNE, TX) - April 25, 2011 (
See all reviews by this customer
)
I purchased six of these for gifts for staff in my office. I was worried that they might look a little cheesey but was wonderfully surprised when they came. I'm proud to give these and I know my folks are going to think they're great!!!

Nicely done
By
Shopper

(Brockport, NY) - November 21, 2011
The personalization was correct and nicely done, but it was only one-sided. The product description did not indicate that it would be on all sides; I just visualized it as such.


Love It !
By
Shopper

(North Arlington, NJ) - June 22, 2011
Love the personalized water bottle - I got this for my daughter and she loves it :) Great quality and it doesn't look like stickers stuck to it - it's really pretty terrific !

Too small for an adult
By
Shopper

(New Carlisle, OH) - December 14, 2012
I usually love everything I order from here but this water bottle was a lot smaller than I thought it would be. I should of paid more attention to the size. I was buying it for a friend. Cute for kids but not for adults.

great colors, but not durable..
By
Shopper

(Cabot, AR) - September 6, 2013
I bought 4 of these for my kids ages 8 and 9 for school with their names on them. We've had them for 2 weeks now and 2 of them have dents in them from them dropping on the ground. They dent real easy. Not recommended for kids. For the price I think I will but the plastic ones from now on...

Love it!
By
Shopper

(Felicity, OH) - August 8, 2011
My son needs a water bottle this year for school. Now we don't have to worry about keeping his name on it with a marker all year. I ordered it in his school colors. Looks really cool and he likes it. Thanks for another great product. Great company to order from.

Great Item!
By
Rae D.

(Grand Rapids, MI) - August 20, 2011 (
See all reviews by this customer
)
The price point for these aluminum personalized water bottles was the selling point for me. They were half the price of the competitor. My four children loved picking out their own color scheme. I only wished they had a few more patterns to choose from. Great find!

Great Gift
By
Heather H.

(Alexandria, VA) - May 7, 2011 (
See all reviews by this customer
)
The design is great, colors are bright and true, and super-fast delivery.

Two small wishes - larger capacity and wrap-around design.

Junior Wedding Party
By
Shopper

(mission hills, CA) - September 11, 2011
The perfect junior wedding party gift for an outdoor wedding in a national park. The two tops are very versatile. The kids, ages 14 to 7 yrs-old, loved them. Ordering and personalizing was simple. Shipping was quick.

Excellent!
By
Shopper

(Santa Fe, NM) - April 15, 2011
Very nice bottle with great personalization!