GREAT GIFT FOR A LITTLE GIRLS BAPTISM
By
SHERRY E.

(FLORISSANT, MO) - June 13, 2014 (
See all reviews by this customer
)
We were needing a gift for a little 3 year girl that was being baptized. There are many baby gifts for baptism but not much for older children. This was a perfect gift for her and we also included a night time prayer book.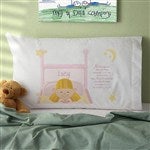 1st Communion pillowcase
By
Theresa R.

(Port St. Lucie, FL) - March 31, 2014 (
See all reviews by this customer
)
I love it! Can't wait till my lovely Grandaughter sees this precious pillowcase.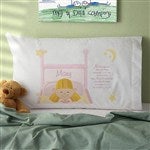 Cute item, looks exactly as pictured
By
tamika H.

(st. louis, MO) - March 4, 2014 (
See all reviews by this customer
)
Really cute item, looks exactly as pictured. It was much bigger than I anticiapted but it will last and can be used as my niece gets older- and needs a bigger pillow, lol. Would recommend.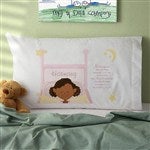 Gift for Baptism
By
Shopper

(Dallas, TX) - June 9, 2013
I purchased this for my niece for her baptism. It was beautiful and she was so surprised that it had her name on it. It was the perfect gift for the occasion.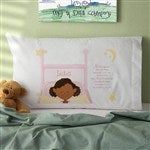 AWESOME!!!
By
Mary L.

(Suffolk, VA) - May 12, 2013 (
See all reviews by this customer
)
This turned out so beautiful. My daughter was so excited to receive this at her First Holy Communion. She just kept saying I get to have my prayers on my pillow!! An Amazing item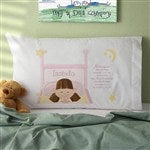 Made in USA
By
traci G.

(Stafford, VA) - April 21, 2013 (
See all reviews by this customer
)
nice work...made in USA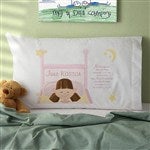 Wow
By
carmen C.

(Torrance, CA) - April 15, 2013 (
See all reviews by this customer
)
my 2 daughters birthday will be soon so i got 2 pillow cases and they are the most beautiful thing ever. They haven't see it yet and I can't wait, this is my idea how i am gonna give them this present. I am gonna go buy 2 pillows i am gonna put the pillow case and wrapped With their favor color paper, I know they are gonna love them.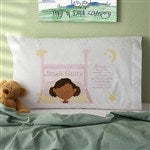 very pleased
By
Shopper

(LOUISVILLE, KY) - March 30, 2013
This was an Easter present for a very special child that survived being born only 1 lbs 5oz and she is going on 3 this october. God has a special plan for her. Her momma loved this gift and we recvd alot of compliments from everyone. I did so much advertising by showing off the pillowcase for this website. :0)
love your products!!!!!!!!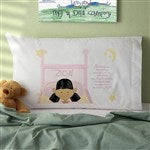 Precious, every little girl should have one!
By
Shopper

(Harrison, NY) - March 22, 2013
Mine were gifts for Communion for my Grandaughter and her cousin and I just thought they were so sweet and creative. As an Elementary Art Teacher, I would usually do the art work myself as always in the past but I am delighted with these and may order a few more in the future. Will say though they could be softer but it can be more for show then to actually sleep on in that case, If I had used fabric paints, the results would have been similar! Thank you!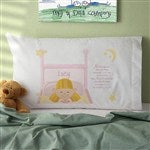 Bedtime Prayer Pillowcase
By
Shopper

(cookeville, TN) - February 24, 2013
I was very pleased with the product and the prompt delivery. My granddaughter was very excited over the fact her name was on the pillowcase.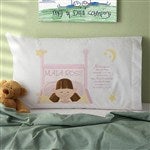 SO cute!
By
Kristin Y.

(Scottsdale, AZ) - January 28, 2013 (
See all reviews by this customer
)
I ordered 2 of these for my twin niece and nephew for their 2nd birthday! They are adorable and they loved them!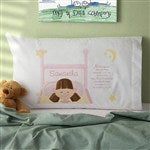 Adorable
By
Shopper

(Evansville, IN) - November 28, 2012
These are a perfect gift for any kid. They are absolutely adorable.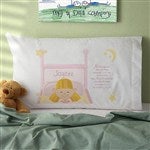 Very Nice
By
Shopper

(San carlos, CA) - May 15, 2012
The girl #6 was beautiful and brown. I'm so glad I ordered.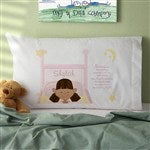 Exactly what I was looking for!!
By
Shopper

(Incline Village, NV) - May 14, 2012
This is great, my little princess loves it.
Thanks again!!!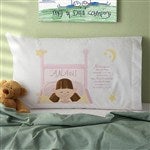 Bought this item twice
By
Shopper

(Moline, IL) - May 2, 2012
I think these pillowcases are darling and my nieces have liked them as 1st Communion gifts. They like having their own name on them.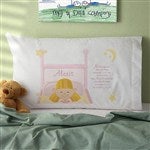 Communion Gift for Emma
By
Shopper

(Newton, NJ) - April 15, 2012
I am very pleased with my purchase. The pillow case fabric is good quality and the size is ample. I'm sure this gift will bring a smile to sweet Emma's face on her 1st Holy Communion Day!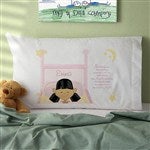 Nice gift
By
Shopper

(Montgomery, TX) - March 30, 2012
Really like the fact that you can pick the color of the little girls hair. Makes it more personal.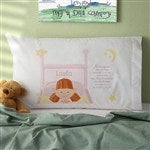 personalized pillow case
By
Mary G.

(Vista, CA) - February 4, 2012 (
See all reviews by this customer
)
The pillowcase was colorful, and the prayer so appropriate for my granddaughter. She loved it as did her parents. Her only negative comment was, "I don't wear my hair like that, but I love it anyway." Typical female!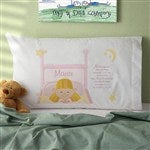 Heavenly!
By
trina L.

(Woonsocket, RI) - January 16, 2012 (
See all reviews by this customer
)
What a great idea. I ordered one for my son and my daughter and they love them. Great that they can be personalized, really gives it the extra touch. Now to but them for my godchildren!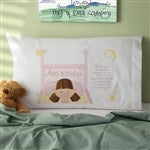 Really nice pillow cases
By
Shopper

(Waldorf , MD) - January 9, 2012
I love how these pillow cases they are very personable and makes me feel as a mother proud to do little stuff for my little girls.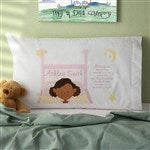 Cute....but....
By
Shopper

(Algonac, MI) - November 27, 2011
This pillowcase is so very cute....BUT....the fabric is so rough. I plan to wash it before we give it as a gift and hoping it softens up. Will see!!!

Love it!
By
Jodi C.

(Ramsey, MN) - January 31, 2011 (
See all reviews by this customer
)
I purchased this for my 2 year old grandniece and her mother loved it. My other niece said she is going to look forward to receiving one on her daughter's birthday, which I've already purchased. These pillowcases make wonderful gifts.

Perfect
By
Shopper

(Westford, MA) - January 24, 2011
The pillowcases are really beautiful and look perfect on the girls beds.

Cute
By
Shopper

(Point Pleasant, WV) - January 23, 2011
i wanted to have my grandchildrens names on there own pillowcases. The bedtime prayer was a bonus. And they loved them.

Great gift for a child
By
Shopper

(Cary, NC) - August 21, 2011
This product makes a wonderful gift for a child for so many reasons---it's personalized not only with their name but with a picture chosen specifically to match their hair and skin color. And the prayer serves as an easy way to help them memorize their bedtime prayer. Lastly, the quality of the cloth seems to be durable and it's such a unique gift.

Very cute
By
Janice F.

(Peoria, IL) - March 31, 2012 (
See all reviews by this customer
)
Personalization is darling but the pillowcase is kinda stiff. May soften up after washing. Granddaughters love them

Very cute.....BUT
By
Shopper

(Algonac, MI) - November 27, 2011
This pillowcase is VERY cute....BUT it is very scratchy/coarse to the touch. I am giving this as a gift and will wash it before giving to see if it will soften up for the little girl to have her sweet dreams on.

beautiful!!!
By
Shopper

(hawthorne, NY) - January 22, 2011
A lovely and unique gift,nicer in person!!!!

Cute, but not practical
By
Ada R.

(Las vegas, NV) - June 1, 2014 (
See all reviews by this customer
)
Girls LOVED these as their First Communion gifts, and everyone thought they were just so adorable.
I believe they were too hard. These are supposed to be pillow cases but they're so hard you can't actually sleep on them. Hopefully they soften up after a few washes.

Great First Communion Gift
By
Shopper

(Hinckley, OH) - May 4, 2012
I received the pillowcase so quickly. Have to say it is adorable and my Granddaughter is going to love it. It is nice and soft and the character is so cute. I know she will keep it forever as a keepsake!

Perfect Personalized Pillow case for her
By
Hazel D.

(Canada) - March 19, 2012 (
See all reviews by this customer
)
I loved my personalized pillow case. It was beautiful and the site pics really are a true representation of the product. The pillow case was good quality and I can't wait to put it on Serena's bed. I would definately recommend this to family.

The pillow was used for my granddaughter
By
Shopper

(RANDOLPH, MA) - December 20, 2011
Everyone loves the look of the pillow. I especially love the fact that she can learn and say her prayer every night. The pillow case has not been cleaned yet so I am unable to speak on if the color washes out. I would buy this pillow case again. The only suggestion I would make is that it would be nice to actually buy a bigger pillow with picture and prayer on it. You do offer and show a small square type of pillow that could be used in a chair or as an additional pillow. This pillow does not have prayer or picture.

wonderful
By
Arlene M.

(Philadelphia, PA) - November 17, 2012 (
See all reviews by this customer
)
the phase is impressive and it is pretty.

Her Bedtime Prayer Pillowcase - Little Sister
By
Shopper

(Montclair, CA) - May 8, 2012
I ordered 3 of these pillowcases for my Grandchildren's first communion. The quality and personalization were spot on. The girl's hair was darker than the blond I thought I had ordered. No problem...they were adorable and appreciated.

Good choice
By
Shopper

(lakewood, OH) - May 7, 2012
The pillowcase is the cutest and a great idea for a special occassion gift. The picture is so cute and the words are sweet, everyone made a fuss over it.

so cute
By
Lena E.

(Madison Heights, MI) - May 23, 2011 (
See all reviews by this customer
)
such a cute pillow case my goddaughter loved it. i bought it for her communion

Loved Them
By
Shopper

(Fairburn, GA) - March 28, 2011
Bought these for my two sons and they are so cute. Cant wait to put on their beds!

great gift
By
Shopper

(Laingsburg, MI) - February 17, 2011
This is a great gift for a loved one.

Birthday gift for little girl
By
Shopper

(Farina, IL) - July 27, 2011
Very nice, will order again.

Loved This!
By
mary P.

(west chester, PA) - June 29, 2011 (
See all reviews by this customer
)
My daughter loves this pillow case. She put's it in the middle of the other two pillow cases on her bed to show case it. My niece was over the other day and asked where I got it, so I'm going to order another one and surprise her with it.