Wonderful gift
By
Amy N.

(Huntington Beach, CA) - March 28, 2011 (
See all reviews by this customer
)
i bought this for my God daughter when she was born and everyone loved it. It's great quality and looks really cute hanging in her bedroom!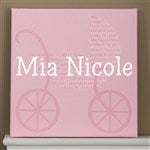 Great baby gift!
By
Nicole S.

(Naperville, IL) - December 26, 2013 (
See all reviews by this customer
)
Great gift for parents of new baby, I have bought several of these and they always go over well!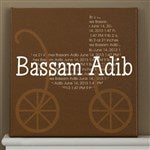 Special keepsake
By
Cathy M.

(Lewisville, TX) - July 1, 2013 (
See all reviews by this customer
)
I love this quality canvas keepsake! I gave it as a gift and the new parents loved it! An exciting bonus for me was to be able to add the week day to the baby's birthdate since the birth month was a short named month of June. The size is perfect not too small not too big. I will give this gift again! Will be treasured long after an outfit or toy has been outgrown.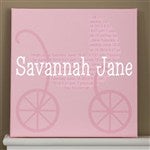 Super wonderful!
By
Michelle J.

(Sparta, WI) - April 26, 2013 (
See all reviews by this customer
)
This is the second of these gorgeous gifts I've purchased! They're super nice, great quality and wonderful to give as a gift!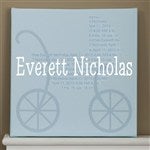 Awesome
By
Stacey L.

(Forest Lake, MN) - April 20, 2013 (
See all reviews by this customer
)
Beautiful and touching gift for a friend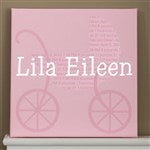 Very pleased
By
Jonathan V.

(South Milwaukee, WI) - February 22, 2013 (
See all reviews by this customer
)
We order this item for a friend of mine and hisvwife when they had there son. The item came quickly and looked even better in person. Very pleased and affordable and a little different then the same old baby gifts. High reccomend!!!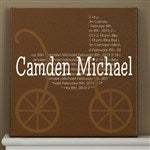 Nicely done!
By
Karen L.

(Westminster, CO) - February 25, 2012 (
See all reviews by this customer
)
We ordered this canvas for our granddaughter...and it is really nice! Well made...great size!! We changed the wording and made it a First Birthday keepsake.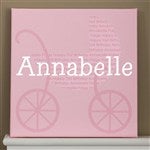 Had to work around shipping
By
Rae B.

(Aberdeen, SD) - January 8, 2012 (
See all reviews by this customer
)
We received the canvas and it was very pretty. Our only issue with the site is that we were not able to purchase this as a gift for someone who lives in Hawaii and have it sent to them. So we had to have it sent to us, open it up, remove the receipt and then ship it ourselves. It cost $5 to do Priority Mail. I have no idea why this site could not do that themselves. As for the actual canvas, we previewed it and liked it. We are still waiting for the couple we bought it for to let us know they got it. Hopefully they will not mind the "S.B." because the baby has 2 middle names and there were not enough spaces allotted for that.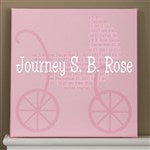 Perfect!
By
Heidi V.

(Independence, OH) - May 12, 2011 (
See all reviews by this customer
)
I purchased the Brown canvas. It was perfect. My sister just had her first child about a month ago and it worked out that Mother's Day was so soon after. They decorated their nursery in neutral colors and matched perfectly! They were so excited about it and really impressed. The quality was great and the shipping was SO fast! Turned out wonderfully!!

Pretty
By
Shopper

(Pittsburgh, PA) - August 6, 2011
The item is pretty - very lightweight and doesn't look like it cost as much as it did though. I guess I expected it to have a little more substance. Shipped very quickly though.

Super cute!
By
Shopper

(Highland Mills, NY) - August 27, 2011
I purchased this for a friend that just had her first child! I love that you can add in all of your own information, if you dont want to put the date, you can just repeat the baby's name for the background. The only thing I dont care for is that you dont have the ability to change the color of the baby's name. I purchased the blue sign and the name is in white, online the color looks bold and bright but in person it blends into the canvas and is harder to see from a distance. You should be able to change that color to a darker color so it really stands out. Other than that, I loved everything else!

Unique
By
Shopper

(ROSWELL, GA) - May 9, 2013
This is a really nice and affordable piece of wall art. The only negative is that there needs to be more colors (more ofter parents are steering clear of the traditional blue and pink theme).
That being said, I had to go with the brown/espresso color for my new niece (as the room was the opposite of pink). It was quite dark and not the nicest shade of brown.
Quick shipping

Pleased
By
Natalie A.

(Indian Head, MD) - August 26, 2011 (
See all reviews by this customer
)
I bought this for a friend of mine and had it shipped directly to her. She loved the product and said that she will have this for years to come. I have not seen it yet but she loves it and even asked for the website so she can start purchasing keepsakes.

great grandchild gift
By
joann V.

(woodhaven, NY) - May 3, 2011 (
See all reviews by this customer
)
this gift was sent directly to my grandchildren for the birth of their baby, and they liked it so much that it was hung up in the baby's room 5 minutes after it was received. such an unusual new baby gift, they just love it.

Canvas Art
By
Shopper

(Harrison City, PA) - April 30, 2011
Really pretty ! Good quality also !!!

Great gift!
By
Shopper

(Carmel, NY) - February 4, 2013
I have given this canvas to at least 4 different parents and every one of them loves it. It is made very well and looks great. I came on the site today because I am buying another one today for another newborn. Great product!

Satisfied customer
By
Sandra E.

(Canada) - October 8, 2012 (
See all reviews by this customer
)
I just received my shipment and am very pleased with all of my items. The quality is excellent and delivery was very speedy. I will definitely be ordering again in the future.

More than happy!
By
Shopper

(Walled Lake, MI) - August 26, 2012
I have ordered this product for two of my girlfriends newborn babies. They have been so happy with it, one girlfriend is going to purchase one for her son that is already a couple years old. I feel this is a very special gift to give and I will continue to buy this product!!! :)))

best gift ever!!!!!!
By
Jayne B.

(St Charles, MO) - March 15, 2014 (
See all reviews by this customer
)
Bought this for my first grandchild and everyone at the shower loved it.
What a unique gift as well as totally unexpected.
I will buy one for every new baby!!

My Go-To, Always a Hit Gift for new Parents
By
Amy N.

(Cincinnati, OH) - April 1, 2013 (
See all reviews by this customer
)
This is probably the 6th All About Baby Personalized Canvas Art I have purchased over the past few years. The ease of plugging in the baby's stats, reviewing the sample (with your data to prevent typos), the short shipping time and the timeless piece for the nursery has me coming back. As soon as I get the baby's stats from the parents or once they post it on Facebook I can order this piece. It then arrives within 4-5 business days at most and then we can delight the parents when we go meet the baby. It's a quality and shows you really thought out the gift.

Very satisfied
By
Julie B.

(Medina, OH) - March 12, 2013 (
See all reviews by this customer
)
I was 100% satisfied with my purchase and the delivery! The picture was everything I expected and more, with quality materials.

Elizabeth Hope has a beautiful Canvas Art in her honor
By
Paula B.

(Langhorne, PA) - August 27, 2011 (
See all reviews by this customer
)
This lovely canvas art is so beautiful. It was a nice size, 12 x 12 and the graphics were perfect. As always, Personalizationmall.com has exceeded my expectations.
Thank you for the newest addition to our sweet granddaughter's room. It is nice to have an option, other than pink, for our baby girl. :) Perhaps you could add a sage green to your choices....how lovely!


Another Great Gift
By
Shopper

(Murphy, TX) - July 27, 2011
As always, I was very pleased with ths personalized frame. So cute and the colors were perfect. Thanks for another great product.

Beautiful & Unique Gift !
By
Shopper

(Harrison City, PA) - July 7, 2011
I bought this for my granddaughters room. Love that you are able to preview before purchasing. It was beautiful quality and such a unique gift , her parents loved it !

Loved It
By
Shopper

(Mount Prospect, IL) - July 17, 2012
This is a great gift for anyone. I bought it for my brother and sister-in-law and they absolutely loved it. Very nicely done and you get what you expect. Highly recommend.

Great gift
By
Shopper

(Dover, FL) - April 9, 2012
Gave it as a gift for my bestfriend who just had a baby, and she loved it!!!

Great Gift Idea
By
Danielle B.

(Dubuque, IA) - September 18, 2011 (
See all reviews by this customer
)
I bought this as a gift and it turned out beautifully. I really love giving the people close to me something special that isnt just picked up off a store shelf. This is just another great gift I have ordered from personalization mall that was again well received. I would definitely recommend this gift to others! The quality of the canvas and the printing looked very nice.