Beautiful!
By
Regina L.

(partlow, VA) - September 4, 2011 (
See all reviews by this customer
)
It was shipped quickly and it turned out perfectly. My mother just loved it.

Perfect Addition
By
Heather D.

(Cincinnati, OH) - July 18, 2011 (
See all reviews by this customer
)
I had been searching for a few weeks for something to put on a smaller wall in my upstairs office. I came across this piece while surfing the site one day. This year my younger brother will turn 18 and neither myself nor any of my cousins have kids-- so our entire immediate family will all be adults. My grandparents will have no kids in their family. I already mentioned I thought that we needed something to commemorate this. This family tree did the trick. It looks perfect in the office, the names came in perfectly, and it arrived within a few days! I'm an avid user of personalizationmall.com and once again they proved why I keep coming back!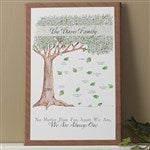 ABSOLUTELY WONDERFUL!
By
Shopper

(West Des Moines, IA) - July 18, 2011
We got this for my Grandpa from all the grandkids! Excellent quality and it is perfect!

BEAUTIFUL!
By
Shopper

(Cornwall, NY) - July 13, 2011
I purchased this"Family Tree"as a gift for my parent's 50th wedding anniversary. After 50 years, you can imagine that my parents received every anniversary gift there was out there. However, they never got a family tree!I come from a big family and this was the only one I found online that was able to accommodate the entire family. The only problem I had was when I received the tree.The brown border was really off centered. I called customer service and they said they well send me a new one. Just be careful when you order to check that the border is even.You really don't need to frame this, but I did.I purchased a frame at a local craft store and used 1/2" metal offset clips to secure in frame and it turned out beautiful!, Needless to say, it was a gift that my parents said will treasure forever!I would definitely recommend this for any special person or people in your life!

WONDERFUL service
By
Barbara H.

(Bogota, NJ) - May 22, 2011 (
See all reviews by this customer
)
I ordered this item as a gift for my Dad (Father's Day). I ordered it 5-6 weeks before Father's Day to make sure it would come in time. Within a week I rec'd it and it was PERFECT. It is the best gift you can give any Dad for Father's Day. Thank you for the wonderful service great printing job.

Fantastic!!!
By
Shopper

(East Greenbush, NY) - May 14, 2011
This item is terrific! The quality is great. I was totally impressed!!!

Beautiful piece of art
By
Giovanna S.

(Leominster, MA) - May 13, 2011 (
See all reviews by this customer
)
I bought this as a gift to my mother and she absolutely fell in love with it. It is beautifully crafted and I think I will be buying one for myself very soon!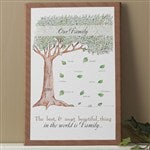 Happy Mother
By
Kimberly A.

(Greenville, SC) - May 13, 2011 (
See all reviews by this customer
)
This was a great gift idea. My Mother loved it! So did the rest of my fmaily. The quality of the product is outstanding. I would love to have one for myself.

Lovely gift for family
By
Shopper

(East Pittsburgh, PA) - May 12, 2011
Love, love, love this family tree on canvas art. Purchased as a Mother's Day Gift for my Mother-in-law. She loved it so much it brought her to tears. Very satisfied.Would recommend.

as described.
By
Shopper

(Saint Louis, MO) - May 10, 2011
Exactly as described. I like it!

Family Christmas Gifts
By
Janice W.

(Indianapolis, IN) - May 10, 2011 (
See all reviews by this customer
)
Every year we give each of our children a "family gift" for Christmas. This year it is the "Family Tree". I can hardly wait for Christmas! The quality of this item is great. The size is perfect and should fit in each of their home decor. I want to hang mine up now but of course I can't because then they will all want one and I want it to be a surprise! This item is very nice.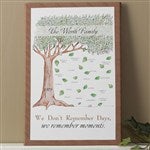 Family tree canvas is a great gift
By
Deborah F.

(Saint Louis, MO) - May 9, 2011 (
See all reviews by this customer
)
I bought this for my boyfriends mother for Mother's Day, she loved it! Even got tears. Now everyday she can look at what she has created and be proud of her family...

Now I want one for myself!!
By
KIM D.

(RIDDLE, OR) - May 7, 2011 (
See all reviews by this customer
)
This was purchased as a Mothers Day gift for my Mother-in-law and she loved it!! It is unique, very personal and something that can be handed down for generations to come. There was enough room for the six kids, spouses and their grandchildren if done right. I recommend this to anyone who is trying to buy a gift for someone they love or someone who "has everything." It is awesome!!!

Better than expected!
By
Shopper

(Houston, TX) - April 20, 2011
I ordered this for my mother in law for Mother's Day. I thought it was a cute original idea. I was amazed by the quality when I got it in. It is so much better than I expected it to be.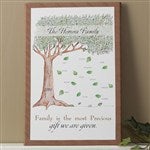 Gift for Mother's Day
By
Shopper

(Hobart, IN) - April 19, 2011
This classic family tree will be a tribute to our family for years to come. Quality work. Great job!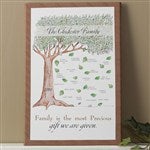 bought for in laws
By
Shopper

(Sterling Heights, MI) - December 20, 2012
Shipped very fast and item looked just as it did online. Ordered for the in laws and think my mother in law will really enjoy!!

Great Gift- one complaint
By
Shopper

(FORT WORTH, TX) - October 19, 2012
This turned out to be a beautiful gift! However the only complaint I have is that it clearly says that there is up to 3 lines per name and that is not the case, it keeps making you re-do the names if you try to put 3 lines. So it is great if you are happy with just a first name and maybe last name if you want to show diversity within the family itself.

nice canvas piece
By
Shopper

(Sulphur Bluff,, TX) - July 14, 2012
It is a nice canvas piece. Looks to be framed, but the brown surrounding it is canvas also..hangs right on the wall that way...

Almost Perfect
By
Byron K.

(Staten ISland , NY) - July 10, 2012 (
See all reviews by this customer
)
This is my second purchase since i found this site a month ago, and with a baby being born in the family i intend on coming often. We loved this family tree its almost perfect. Only downfall is the names are a bit hard to read when more than a few feet away. I also wish there was a way to make the leaves bigger and the names were inside. We bought this as a 70th Birthday gift for my dad and he absolutely loved it. But being 70 he had to bring it up close to read the names. it is very easy on the eyes but this causes it to be a little hard to read.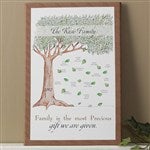 Family Tree Canvas
By
Shopper

(Oak Ridge, TN) - January 20, 2012
I loved the print, but I was unhappy because the brown around the edges was slanted. I think it where they pulled the canvas tighter on that side. I would have liked to sent it back and had them redo it, but I had ordered it for my grandmother's birthday.

Great Family Heirloom
By
Wendi N.

(Philadelphia, PA) - November 4, 2011 (
See all reviews by this customer
)
This was the perfect gift for my dad, he absolutely loved it. This canvas will compliment any decor and is a great way to display your family tree (and there was room for every name).