Fathers Day Gift
By
Shopper

(Dallas, TX) - June 16, 2012
I got matching shirts for my son and his daddy for fathers day - Great quality of shirt and graphic - boys shirt runs small to size - Otherwise it was a great gift and they will wear them for lounge days watching football - Go TEAM McCoy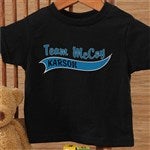 Runs small but great shirt!
By
Kimberly S.

(Chatsworth, GA) - March 26, 2012 (
See all reviews by this customer
)
Please note that this shirt runs small so keep that in mind when ordering. I didn't notice that but customer service was great when I called and they helped me out with getting another one. My son will love this!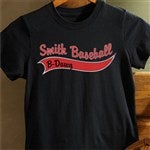 Not What I Expected
By
Shopper

(Lehigh Acres, FL) - March 23, 2012
The t-shirt was very cheap and the Printing was not good, Looked like it had already been washed a hundred times. I bought this along with 2 matching ones for my sons and all the shirts and printing are the same. My husband even made the comment that it looks like it says MUP rather than MVP.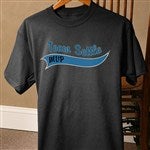 ladies love them too
By
Randy B.

(West Valley City, UT) - March 12, 2012 (
See all reviews by this customer
)
I got one for my fiance. It has my last name and in the banner it has the Mrs. She was very happy and loved it.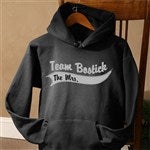 Sizing
By
Shopper

(Chicago, IL) - December 29, 2012
These shirts run extremely small. Order one size larger than you think you need. Quality of the shirt is good and printing is excellent. I purchased three t-shirts and a sweatshirt for christmas presents. All were too small and I could not use them. Personalization Mall stood by their products and granted a one-time courtesy exchange which allowed me to get larger sizes. I was so thankful that I placed another $160 order for addtiional christmas presents!

Sizes are off
By
Shopper

(Canada) - March 19, 2012
The quality is excellent. I ordered a size 18 month shirt and it seemed a little small. I had to double check the tag when I got it.

Bday Gift
By
Shopper

(Salinas, CA) - August 11, 2012
Love the personal touch of the gifts I order from this site. However, keep in mind that the shirts run small for the adults. Other that the shirt was a hit!! Thank you

Great shirt - size was smaller than average
By
Shopper

(Fremont, CA) - April 29, 2011
I love this shirt but was disappointed that the sizing was smaller than average. My husband always wears an XLARGE shirt but this one seems to run small and after washing will be a tight fit ;-(


Cute but....
By
Michele F.

(Arlington Heights, IL) - July 6, 2010 (
See all reviews by this customer
)
I didn't like that the only option was a black t-shirt. I was going to order them for the whole family but decided, I'd just get one for my husband and Son first to see how it looked. The black shirt quality is of nice quality, still don't like the black though. But the Print on the shirt feels very rubbery. LIke after a wash or 2 it's going to start peeling off and cracking. Granted I have not washed them yet, we just got them. But the print is not the same as any T-shirt we have in the house. Just seems kind of cheap. They are cute shirts and my husband loved that they matched. I'd get more if the shirt came in a different color like blue or white or really anything but black. I'd love to have a cheesy family shirt day!
So very cute love the style of the print, hate the black only option and the cheap print quality. but it's unique and couldn't find this style anywhere else.

VERY cute shirt but..
By
Tabitha H.

(San Luis Obispo, CA) - July 18, 2011 (
See all reviews by this customer
)
While this shirt is extremely adorable (especially when he and dad are wearing it) the quality of the laser printing is lacking. The writing was bright and bold right out of the box, but is now faded after a few washes, maybe 3. I expected more out of a shirt that cost 22.95. I love PM, but am a disappointed with the quality of this product.

A Homerun!
By
Shopper

(Ellenwood, GA) - June 20, 2011
The shirt is cute. My kids matched their dad on Father's Day. Everyone thought it was a great hit. I picked the purple wording and it didn't show up as well. Otherwise a great shirt and good quality.

A Homerun!
By
Shopper

(Ellenwood, GA) - June 20, 2011
Cute shirt. It was a great hit on Father's Day! My kids matched their dad and everyone loved it. However, I picked the purple wording and it was a little hard to see the names. Otherwise great!

Look good
By
Amber D.

(Macomb, IL) - June 11, 2010 (
See all reviews by this customer
)
THe tshirts look good. They are very cute however the sizing is way off. My boys wear a size 10 and because I am leary of the shirts being too small or them outgrowing them to quick I bought the Youth size Large 14-16 and the shirts barely fit them. I am afraid that after the first wash they won't be able to wear them. But they look great for the moment.

Gift for a special boy!
By
Angela M.

(Oklahoma City, OK) - July 23, 2011 (
See all reviews by this customer
)
My husband and I bought this for our dear friends 6 year old's birthday! He loves sports, and I wanted to do something special for him. It turned out great! The shirt is very thick...very good quality. The personalization turned out great...and he loved it!

Great Gift for Dad and Son
By
Shopper

(Virginia Beach, VA) - June 23, 2011
Personalizing a shirt for both dad and son can cost a lot of money. Thankfully this website offered a quality product for a reasonable price. I got my husband and matching shirts for his first fathers day and he loved them! I look forward to doing business with this company again soon. Thank you for helping me to make my husbands fathers day so special. :) :) :)

perfect gift
By
jan B.

(grants pass, OR) - June 21, 2011 (
See all reviews by this customer
)
My son in law is very hard working an does alot to help me at my home as well. We joke about being team Barnes and he is our MVP. it came quickly and was good quality and a great pric

Grandson-in-law loves it
By
Shopper

(okeechobee, FL) - December 7, 2012
I'm very happy I ordered this custom shirt for my grandson-in-law.. His smile said it all....And I had his baby one made...

Just great :)
By
Shopper

(Okemos, MI) - February 24, 2014
good quality! A lot of options for customization :) Ordered as a gift for wedding anniversary (Dad, Mom, kids = Family Team)

Fathers Day gift
By
Shopper

(Lacey, WA) - June 20, 2013
Turned out great! Fit was perfect, my husband loved the shirts!

Huge Success
By
Michele F.

(Coloma, WI) - January 16, 2013 (
See all reviews by this customer
)
The father & son shirts looked great and were a hit at Christmas with everyone.

Shirts for the whole family!
By
Billie H.

(Clinton, OH) - June 28, 2010 (
See all reviews by this customer
)
I ordered shirts for my daughter's family to support my granddaughters go-kart racing. The shirts are excellent and she is so proud to see everyone supporting her like that.

Perfect
By
Dorothee H.

(Austin, TX) - June 23, 2010 (
See all reviews by this customer
)
Great quality, vibrant colors, very pretty t-shirts. I ordered one for my husband, one for my son, both are just great t-shirts.

mom
By
Vanessa G.

(Buttonwillow, CA) - June 11, 2010 (
See all reviews by this customer
)
I bought this team shirt for my husband and our lil boy for Father's Day! My husband plays softball so I thought it would be fun to get them matching shirts. I am now ordering one for me so I can be the "FAN" of both of the men in my life. Quality of the shirts are excellent. Very pleased!

Everyone makes mistakes... how you handle them is where it counts!
By
Nadia J.

(Bethel, CT) - July 5, 2010 (
See all reviews by this customer
)
I bought three of these shirts with blue writing. Unfortunately, one of them had a manufacturing error. This is where this store impressed me most. I contacted customer service and they were beyond polite and expeditious with their response! I quickly received a replacement shirt a few days later.
These shirts are high quality(thick fabric) and SO cute!

Family Team
By
Karen B.

(New York, NY) - June 20, 2011 (
See all reviews by this customer
)
This was a Father's Day gift...Dad was the Capt., Mom, the MVP, 1st child, the pitcher, 2nd, the catcher, 3rd, 1st base, 4th, 2nd base and the 5th child was 3rd base....what a great team as everyone wore their t-shirts to celebrate Dad's special day....thank you

Papis day gift
By
Shopper

(Salinas, CA) - June 6, 2011
I am so impressed with this site and the products I ordered. The T-shirt look great. I can't wait for Fathers Day. Also the gift came in so fast. I will definitely be back to order more gifts. Thank you!

Great shirts!
By
Terri M.

(Chesapeake, VA) - August 16, 2010 (
See all reviews by this customer
)
I ordered these shirts for our homeschool. The kids and I love them!