Great Look
By
Leigh R.

(Orting, WA) - May 31, 2014 (
See all reviews by this customer
)
Shirt came out great! The review feature when creating the shirt is awesome and true to the actual finished product. Gave4/5 stars because I would have liked it if I could choose the lettering and be able to put more letters

Sizing
By
Shopper

(Chicago, IL) - December 29, 2012
These shirts run extremely small. Order one size larger than you think you need. Quality of the shirt is good and printing is excellent. I purchased three t-shirts and a sweatshirt for christmas presents. All were too small and I could not use them. Personalization Mall stood by their products and granted a one-time courtesy exchange which allowed me to get larger sizes. I was so thankful that I placed another $160 order for addtiional christmas presents!

Bday Gift
By
Shopper

(Salinas, CA) - August 11, 2012
Love the personal touch of the gifts I order from this site. However, keep in mind that the shirts run small for the adults. Other that the shirt was a hit!! Thank you

Fathers Day Gift
By
Shopper

(Dallas, TX) - June 16, 2012
I got matching shirts for my son and his daddy for fathers day - Great quality of shirt and graphic - boys shirt runs small to size - Otherwise it was a great gift and they will wear them for lounge days watching football - Go TEAM McCoy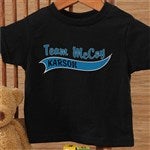 Sizes are off
By
Shopper

(Canada) - March 19, 2012
The quality is excellent. I ordered a size 18 month shirt and it seemed a little small. I had to double check the tag when I got it.

Big hit!
By
Daniel M.

(McKinney, TX) - December 27, 2011 (
See all reviews by this customer
)
I've ordered several items in the last few months, and I haven't been disappointed by the quality. I wish there were more options for shirt colors, but my order turned out just as I'd hoped. Great for family pride!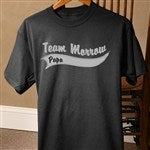 well pleased
By
Tanga M.

(Markham, IL) - June 27, 2011 (
See all reviews by this customer
)
This is my favorite site for looking for the best gift for the person that is hard to shop for.

My husband was impressed once again with your quality and my selection this gift.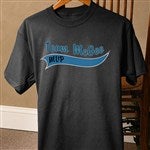 A Homerun!
By
Shopper

(Ellenwood, GA) - June 20, 2011
The shirt is cute. My kids matched their dad on Father's Day. Everyone thought it was a great hit. I picked the purple wording and it didn't show up as well. Otherwise a great shirt and good quality.

A Homerun!
By
Shopper

(Ellenwood, GA) - June 20, 2011
Cute shirt. It was a great hit on Father's Day! My kids matched their dad and everyone loved it. However, I picked the purple wording and it was a little hard to see the names. Otherwise great!

Great T-Shirt
By
Shopper

(Hartsdale, NY) - June 13, 2011
Ordered this shirt for my husband. It came as pictured on the website. It is of good quality.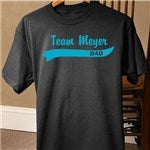 Look good
By
Amber D.

(Macomb, IL) - June 11, 2010 (
See all reviews by this customer
)
THe tshirts look good. They are very cute however the sizing is way off. My boys wear a size 10 and because I am leary of the shirts being too small or them outgrowing them to quick I bought the Youth size Large 14-16 and the shirts barely fit them. I am afraid that after the first wash they won't be able to wear them. But they look great for the moment.

looks great but doesn't hold up well to washing
By
Shopper

(parker, CO) - June 20, 2014
Love the look of the shirts but after 2 washings (gentle cycle) the print starts to fade

Cute
By
Leigh R.

(Orting, WA) - May 31, 2014 (
See all reviews by this customer
)
Bought this to match a Shirt for my husband and son as a Father's Day Gift. Although very cute and true to the review creation feature, I was disappointed that the same colors in the shirts were not available in this onsie.

Great shirt - size was smaller than average
By
Shopper

(Fremont, CA) - April 29, 2011
I love this shirt but was disappointed that the sizing was smaller than average. My husband always wears an XLARGE shirt but this one seems to run small and after washing will be a tight fit ;-(


Cute but....
By
Michele F.

(Arlington Heights, IL) - July 6, 2010 (
See all reviews by this customer
)
I didn't like that the only option was a black t-shirt. I was going to order them for the whole family but decided, I'd just get one for my husband and Son first to see how it looked. The black shirt quality is of nice quality, still don't like the black though. But the Print on the shirt feels very rubbery. LIke after a wash or 2 it's going to start peeling off and cracking. Granted I have not washed them yet, we just got them. But the print is not the same as any T-shirt we have in the house. Just seems kind of cheap. They are cute shirts and my husband loved that they matched. I'd get more if the shirt came in a different color like blue or white or really anything but black. I'd love to have a cheesy family shirt day!
So very cute love the style of the print, hate the black only option and the cheap print quality. but it's unique and couldn't find this style anywhere else.

VERY cute shirt but..
By
Tabitha H.

(San Luis Obispo, CA) - July 18, 2011 (
See all reviews by this customer
)
While this shirt is extremely adorable (especially when he and dad are wearing it) the quality of the laser printing is lacking. The writing was bright and bold right out of the box, but is now faded after a few washes, maybe 3. I expected more out of a shirt that cost 22.95. I love PM, but am a disappointed with the quality of this product.

Not What I Expected
By
Shopper

(Lehigh Acres, FL) - March 23, 2012
The t-shirt was very cheap and the Printing was not good, Looked like it had already been washed a hundred times. I bought this along with 2 matching ones for my sons and all the shirts and printing are the same. My husband even made the comment that it looks like it says MUP rather than MVP.