Very nice quality
By
Anna B.

(Crystal City, MO) - December 6, 2011 (
See all reviews by this customer
)
THis is the third year I've ordered a personalized sweatshirt and my son loves them. I like the fact I can pass them down to my younger children because I had our last name as the customization.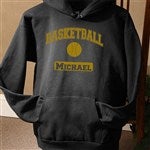 Nice Sweatshirt Too Bad I Didn't Order Larger
By
Kelly I.

(Melrose, MA) - December 4, 2011 (
See all reviews by this customer
)
I bought this sweatshirt in the past for my son who was and is now 12/13years old and also 2 of the tee shirts with the hockey logo and ordered the correct size for him in the Mens sizes. I knew when I order this sweatshirt for my petite 10 year old daughter I should have gone to the adult Small. I ordered the 14/16 for her and was disappointed that it will just fit her with just alittle room and not a full fit like the kids like to wear sweatshirts. She would have maybe gotten 2 seasons if I ordered the small/adult.
She wanted the Softball in the blue/color and we did our "City Name" as the Personal part. Now that we are only getting 1 season and it is black It wasn't worth it for me this time. I really wish they would offer these Hooded Sweatshirts and Tee's in the gray color so they can wear them into the spring and summer months. I love the quality and lettering as usual. Size up when ordering!!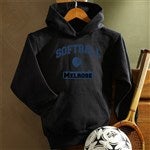 Personalized puts product over the top!
By
Shopper

(Mahopac, NY) - November 21, 2011
Gift for nephews who are fanatic baseball fans. They will be reminded of the sport even though the little league season is over. Personalization options are great to create a special touch.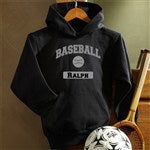 Hooded Sweatshirt
By
Shopper

(Mount Holly, NC) - November 20, 2011
Great quality and true to size.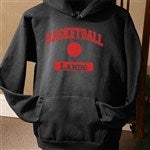 Disappointed
By
Kimberly B.

(Elkton, MD) - November 15, 2011 (
See all reviews by this customer
)
The size of the sweatshirt does not seem true to size I ordered 10-12 should of ordered 12-14. It's a Xmas gift and will not be able to be worn.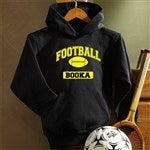 Loved it!
By
Shopper

(Park Ridge, NJ) - October 2, 2011
The sweatshirt came out great and it was really good quality!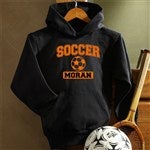 great product
By
Shopper

(Staten Island, NY) - August 6, 2011
great product and fast shipping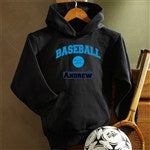 softball sweatshirt
By
Shopper

(HINCKLEY, OH) - November 22, 2013
was disappointed with the lettering it looked like it had been peeled off over the 2 LLs in softball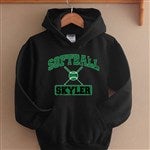 Horrible
By
Marie D.

(Lincoln City, OR) - November 10, 2013 (
See all reviews by this customer
)
The printing was spotting with many places missing in letters as well as in print of design. I had to find another gift for my Grandson. The shirt quality was good but printing was terrible.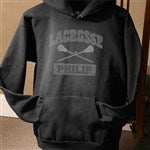 Outstanding Quality. Very heavy sweatshirt.
By
Shopper

(Carver, MA) - May 6, 2013
Bought as a anniversary gift to celebrate meeting my wife at a road race. I am extremely satisfied with the quality of the sweatshirt. It is very thick material. Not some thin cheap sweatshirt. Hope she likes it..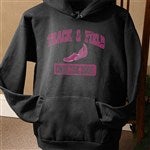 Soccer Hoody
By
Patty H.

(Foristell, MO) - March 11, 2013 (
See all reviews by this customer
)
I purchased this for my grandson's birthday. It looks great!! It's not quite as heavy as I was expecting, but overall I love it! Haven't given it to Hayden yet, but he's going to love the fact that it has his school colors. Would definately recommend it to others. :)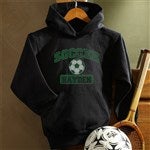 Sports themed sweatshirts
By
Sandy H.

(Streator, IL) - February 11, 2013 (
See all reviews by this customer
)
Ordered the personalized soccer sweatshirts for my boys. One was grey and the other was green. They loved the sweatshirts. Always great quality and a good price too! Very satisfied customer!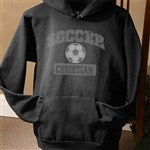 Great product, even better service.
By
Brittany G.

(Kewaskum, WI) - December 21, 2012 (
See all reviews by this customer
)
I ordered this in a "Youth Large" for my nephew. He is a skinny 7-year old, but I am glad I ordered the Large, as I think a Medium would've been too small. Definitely order 2 sizes up, especially for growing kids! The sweatshirt is great and I think he will love it. I love the wording color options available too...I was able to get the text in his favorite color!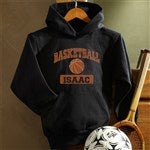 Football Sweatshirt
By
Gloria R.

(New Orleans, LA) - December 13, 2012 (
See all reviews by this customer
)
A great gift for someone who plays the game. I know he will love it. I not only got it personlized, but I got his number on the back of the sweatshirt. Wow! Love it. Great job Personalization Mall.com Thanks.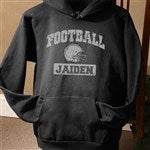 Size chart not accurate
By
Renata G.

(Glendale, NY) - December 7, 2012 (
See all reviews by this customer
)
I was very disappointed with the sweatshirts sizes. While I truley love the style, and the personalization, they seem to be smaller than I had hoped. I ordered them according to the size chart. I was going to go a size bigger, however I trusted your chart, now 4 children I ordered them for won't be able to wear them, and I am out $100.00. Lesson learned, when ordering clothing from you, I will always go a size larger.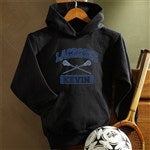 Football Sweatshirt
By
Gloria R.

(New Orleans, LA) - December 4, 2012 (
See all reviews by this customer
)
I just love the sweatshirt. It is soooooo nice. I know the person receiving it will just love it. I am so excited about it. As always I love everything about personalizationmall.com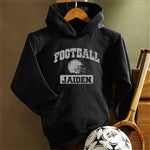 Awesome item! Super fast shipping.
By
Shopper

(Monona, WI) - November 28, 2012
I can't wait to give this for xmas :)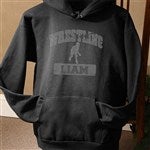 Very Happy with my product!
By
Shopper

(Payson, UT) - November 18, 2012
Great place to shop!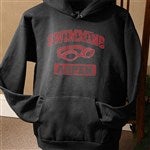 Great Item!! Just as Expected!
By
Shopper

(Payson, UT) - November 18, 2012
I love personalizationmall.com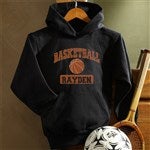 Great hoody
By
Shopper

(Laguna Hills, CA) - October 26, 2012
Love the hoody, great idea for a x-mas gift for a teen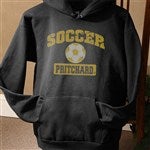 LOVE IT
By
Shopper

(Harlan, IN) - September 30, 2012
My 6 year old LOVES her sweatshirt. I am glad I ordered it 2 sizes bigger so it fits perfectly.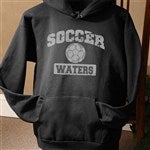 The perfect hoodie!
By
Brianna B.

(Fulton, MO) - September 24, 2012 (
See all reviews by this customer
)
I am a cheerleading coach so I wanted something unique to wear to games. This hoodie is perfect! My squad members all wanted to order one! The only downfall is that you are unable to choose your colors to match your team. My hoodie came in black with gray writing. I am about 5'2 and 120 lbs and ordered a medium...perfect fit. Quality, durable material. Drawstring hood, cuffed wrists and pouch pocket.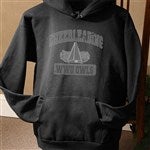 birthday gift for grandaughter
By
barbara H.

(Reading, PA) - August 24, 2012 (
See all reviews by this customer
)
Awesome and was great quality, name and color just right. First year of my 6 year old grandaughter playing soccer so this was a perfect surprise birthday gift- everyone at the party wanted to know where I found it!

Nice gift idea.
By
Shopper

(Montgomery, TX) - August 19, 2012
I started my Christmas shopping early this year, I purchase two for both of my grandsons. I think they will love it. Can't wait to give it to them! After ready the other reviews, I ordered the largest boys' size. I am glad I did!! It will fit them perfectly. They both usually wear size 10, but they like to wear everything a little big.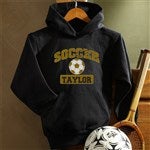 Daughter loved this hoodie, great guantee
By
Maureen H.

(Canada) - May 21, 2012 (
See all reviews by this customer
)
I bought this hoodie for my daughter who has started playing volleyball this year. She loved it, and was wow'ed by the customization. The teachers at her school were impressed too. Unfortunately, the lettering was coming off, but I sent personalizationmall.com a note about it, and they sent me a replacement right away. I was very much impressed with there standing behind their products. I will continue to order from them.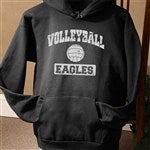 Satisfied Customer
By
Shopper

(Richmond, TX) - March 5, 2012
I am so impressed with the service that I received from this company. I placed my order for a personalized hooded sweatshirt. It was in the mail the very next day and I received it 2 days later. It arrived exactly as I ordered and the fund transaction was extremely smooth. I am very please with this company and will be using them for future personalized purchases. Thank you.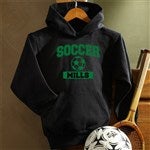 Male classmates are envious & frowning, female classmates gimmie & clowning.
By
ANNA S.

(HOUSTON, TX) - January 11, 2012 (
See all reviews by this customer
)
My son absolutely FLIPPED when he opened his gift and saw his NAME and his favorite SPORTS LOGO on this beautiful quality style warm hoody displaying his school colors. What a brilliant and festive way to start the New Year. Thank you Personalization for bringing joy and laughter to my son's face and making him the envy of all the boys at school. All the girls are giving him so much attention asking him where did he get such a nice sweater. Again, thank you.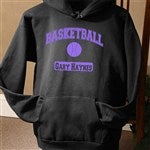 WAY TOOOOO SMALL
By
carolanne W.

(Toms River, NJ) - December 24, 2009 (
See all reviews by this customer
)
Sweatshirts are great. I wish I read the customer reviews before I ordered my sweatshirts. I ordered 3 at one size bigger than I normally would have ordered and they were incredibly ill-sized. I bought size 6-8 and it looked like it would fit a three year old. VERY DISAPPOINTING~particularly because there is absolutley no refund or return for the right fitting sweatshirt. Now I have three sweatshirts that I spent $90.00 on and they will simply go to waste because there is a name on them.

Hooded sweatshirt - youth sizes run small
By
Deborah F.

(Bedford, TX) - May 13, 2012 (
See all reviews by this customer
)
Youth hooded sweatshirt run small. Order two sizes larger. I will reorder from personalization.com. I was disappointed when I reordered that the "swimmer logo" changed.

Sizes
By
Shopper

(Greensboro, NC) - November 21, 2011
The sweatshirt looks good, however the sizes run very small. I ordered a youth large and it was still way to small!

Susan
By
Susan V.

(Sagamore Hills, OH) - November 13, 2011 (
See all reviews by this customer
)
First of all, I am a loyal PM buyer and LOVE their products, but this was my first purchase (out of probably 50) that I was concerned about. The sweatshirt was adorable, but it appeared to run small. I purchased a 6-8 for a just turning normal size 6 year old and I am concerned it will not fit him. I think the next size up would be huge but just an FYI. Thanks for all the wonderful products and excellent customer service PM!

Does NOT FIT
By
kelly K.

(Lawrence, KS) - December 19, 2010 (
See all reviews by this customer
)
I ordered this sweatshirt for a 9 year old boy. I read the reviews prior to ordering so I knew I should order 1 size bigger than he normally wears. He is a size 10-12(for a roomy sweatshirt) so I ordered the Largest Kid Size which is 14-16.(one size bigger) There is no way it will fit him! Since it is personalized I can not return it. They offered a 30% discount if I want to reorder...No Thank You. I would recommend ordering 2 sizes larger than you need...This company definitely needs a size chart or to have better quality merchandise so that items are more true to size! I was Disappointed!

Great gift!
By
Ellen P.

(Frederick, MD) - October 1, 2009 (
See all reviews by this customer
)
This sweatshirt was awesome. I bought it for my son's best friend's 12th birthday gift. He loved it and told me that he hadn't taken it off since he received it! Just a consideration...I think it may run a tad small. I bought it for a normal size 12 year old & ordered an adult medium. It fits perfect, but I wanted a little more room & could have gotten a size large. But very pleased with it.

Quality
By
Shopper

(San Diego, CA) - December 20, 2012
The personalized name on the sweatshirt bright and noticeable from afar.(color purple). The sweatshirt is not very heavyduty.

This sweatshirt is a big hit!
By
Jenelle B.

(Littleton, CO) - January 7, 2013 (
See all reviews by this customer
)
I have ordered this sweatshirt for my family and some teammates and its always a big hit. The only downfall is that the wording starts to breakdown and come off after a few washes. The sweatshirt itself is great quality and still looks good so I will still highly recommend the product.

Didn't run as small as I thought it would
By
Linda A.

(Mason, OH) - November 2, 2009 (
See all reviews by this customer
)
I ordered this for my son. He is an adult small, so I up-sized to the adult large. Once it arrived, I realized I could have propably gotten away the adult medium, but he will only grow. The quality is great, the imprint was exactly as pictured, and the inside is extremely soft. It was a hit!

Sweatshirts run small
By
Missy L.

(Granger, IN) - October 23, 2012 (
See all reviews by this customer
)
I ordered a basketball sweatshirt size 10-12 youth for my daughter. The color and quality are great and I received it a little over a week after ordering. I rated it 4 stars instead of 5 because of the inaccurate sizing. My daughter is transitioning from size 8 to size 10 so most clothing sized 10-12 I buy her is a little too big. I figured this would be okay for a sweatshirt. It does fit her, but barely. The hood is quite tight getting over her head and there is not a lot of 'give' to it. She will likely grow out of it before basketball season is over. I would recommend buying 1 size bigger than what your child wears now (even if they are at the low end of that size range).

Great for kids
By
Shopper

(Little Elm, TX) - December 7, 2012
My daughter could not wait to get this sweatshirt. A friend of hers had one and she had to have it. My oly suggestion is order it a size larger than you normally wear because it runs small.

Great Gift
By
Andrea J.

(Omaha, NE) - November 11, 2009 (
See all reviews by this customer
)
I ordered these for a group of young people who work for me at hockey games so I purchased the hockey hoody with their names. These are wonderful the kids love them and you can see their names clearly. I would highly recommend them.

awesome sports hoodie
By
Cassie B.

(MACOMB, MI) - December 23, 2010 (
See all reviews by this customer
)
My fiance loves it! I just wish the material was a little bit thicker for our cold months here in michigan.