Nice but . . . . .
By
Patricia P.

(Honeoye Falls, NY) - November 26, 2012 (
See all reviews by this customer
)
I like this sweatshirt, but I would like to caution others about a few things: (1) This is not a real thick sweatshirt, it would be something I would wear indoors, not to keep you warm outside. (2) BUY IT BIGGER THAN YOU NEED. My son is 14 and skinny & I bought an Adult Small and it just fits him and the way the kids wear clothes these days that means its too small for him. I would exchange it but it is personalized, so I doubt that's an option. It is a nice quality sweatshirt and the printing is good on it, just understand my above cautions and you will be very happy with your purchase.

Nice Quality
By
Rebecca K.

(Howell, NJ) - December 16, 2011 (
See all reviews by this customer
)
Sweatshirt is very nice, sizes run small wish I had ordered the next size up.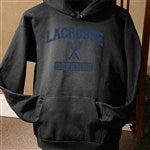 Runs small
By
Shopper

(Arlington, VA) - November 29, 2011
The quality is fine, but this sweatshrt runs small - ordered my average-sized 11-year-old a Youth Large (14-16) and it will just barely fit him. Order up if you want a roomy fit.

Sweat shirt
By
Anne C.

(Goffstown, NH) - November 17, 2009 (
See all reviews by this customer
)
I Purchased 4 sweat shirts and I loved the personalizations but for the money I was a little disappointed with the quality of the material. They seemed to be a little bit on the thin side and I was hoping for a nice thick sweatshirt.

Sweatshirt
By
Kim G.

(kingston springs, TN) - February 1, 2014 (
See all reviews by this customer
)
Cute design. The sizes run very small!! Torso is short. And it had a weird smell that took 3 washes to get out... Like a chemical smell.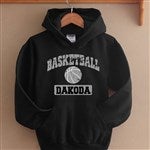 Size chart not accurate
By
Renata G.

(Glendale, NY) - December 7, 2012 (
See all reviews by this customer
)
I was very disappointed with the sweatshirts sizes. While I truley love the style, and the personalization, they seem to be smaller than I had hoped. I ordered them according to the size chart. I was going to go a size bigger, however I trusted your chart, now 4 children I ordered them for won't be able to wear them, and I am out $100.00. Lesson learned, when ordering clothing from you, I will always go a size larger.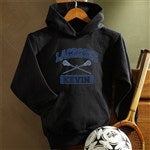 bummed out
By
Shopper

(Milwaukee, WI) - December 26, 2011
I was sooo excited to find something like this for my nephew. I ordered the hoodie, and received it quickly. The problem was that it was not a true to size shirt. I bought several other hoodies from several different stores for my nephew as the rest of his Christmas gift, and they all fit. Now I have to order another one so he has the rest of his gift and I have a shirt that no one else can wear.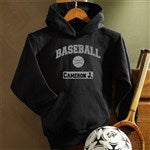 Runs Small
By
Shopper

(Frederick, MD) - December 24, 2011
Ordered a small 6-8. Its sized more like a size 5. Need to size up. I ordered for a smaller child (age5) thinking he would have for 2-3 years and match the ones for his mom and dad. Hopefully, he will be able to wear it this time next year without it being too small .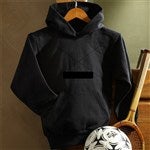 Disappointed
By
Kimberly B.

(Elkton, MD) - November 15, 2011 (
See all reviews by this customer
)
The size of the sweatshirt does not seem true to size I ordered 10-12 should of ordered 12-14. It's a Xmas gift and will not be able to be worn.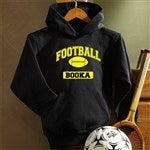 Runs VERY small
By
Amber B.

(Greenfield, WI) - January 15, 2011 (
See all reviews by this customer
)
I purchased a 10/12 for my 11 year old and it BARELY fits my 7 year old. My kids are small for their age as well. I am very disappointed in the size and since i cannot return it, i am stuck with a shirt that no one else can wear.

Horrible
By
Marie D.

(Lincoln City, OR) - November 10, 2013 (
See all reviews by this customer
)
The printing was spotting with many places missing in letters as well as in print of design. I had to find another gift for my Grandson. The shirt quality was good but printing was terrible.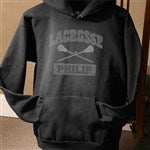 Not so good
By
Shopper

(Pittsburgh, PA) - November 25, 2012
Runs small. I bought a 14-16 and I don't think it will fit my daughter who wears at 10.

Does NOT FIT
By
kelly K.

(Lawrence, KS) - December 19, 2010 (
See all reviews by this customer
)
I ordered this sweatshirt for a 9 year old boy. I read the reviews prior to ordering so I knew I should order 1 size bigger than he normally wears. He is a size 10-12(for a roomy sweatshirt) so I ordered the Largest Kid Size which is 14-16.(one size bigger) There is no way it will fit him! Since it is personalized I can not return it. They offered a 30% discount if I want to reorder...No Thank You. I would recommend ordering 2 sizes larger than you need...This company definitely needs a size chart or to have better quality merchandise so that items are more true to size! I was Disappointed!

WAY TOOOOO SMALL
By
carolanne W.

(Toms River, NJ) - December 24, 2009 (
See all reviews by this customer
)
Sweatshirts are great. I wish I read the customer reviews before I ordered my sweatshirts. I ordered 3 at one size bigger than I normally would have ordered and they were incredibly ill-sized. I bought size 6-8 and it looked like it would fit a three year old. VERY DISAPPOINTING~particularly because there is absolutley no refund or return for the right fitting sweatshirt. Now I have three sweatshirts that I spent $90.00 on and they will simply go to waste because there is a name on them.