Cute mug
By
Shopper

(boca raton, FL) - December 5, 2012
Mug is cute but writing is very tiny and hard to read the words inside the heart. Otherwise it's a cute gift.

Small letters in heart
By
Shopper

(West Hollywood, CA) - March 19, 2012
The personalization is excellent. The names in the heart are tiny though. Wished they had been larger and easier to read but otherwise, nice.

Okay
By
Shopper

(Kalamazoo, MI) - February 19, 2012
I like the design, but the print was not very clear, kinda blurry.

Cute mug!
By
Shopper

(Lake in the Hills, IL) - October 21, 2011
Very cute mug. Nice quality. The only reason I did not give it 5 starts was because I ordered the "red" one and it was definitely more a dark maroon color, not the bright red as shown in the picture (which is what I was hoping for).

80% happy with the product
By
Shopper

(Renton, WA) - August 5, 2011
I loved the print quality but did not like the quality of the mug itself. Base of the mug is dirty and since the mug is white in color, it really shows up. It did not go off after cleaning too.

Rest all was good and it was delivered on time.

Good but not top quality
By
Shopper

(Athens, GA) - March 4, 2011
The mug looks a little bit coarse but the print is really high quality. My friends loved it so much. I think overall it is nice gift compared to the price. I shall definitely try other products in this mall.

Very nice gift
By
Shopper

(Coumbia, SC) - February 24, 2011
I bought this as a gift for my husband. He loved the graphics; but as a "mug" family, neither of us were super-impressed with the generic shape offered. I wish there had been at least one other mug-type to choose from. Otherwise, I loved the color options, and the ability to personalize the verbiage on the other side. Having a daily reminder of lyrics from "our song" is a pleasant way to start the day.

Quality: I've washed this cup several times now (by hand),and by all appearances the graphics show no sign of fading, peeling or chipping. I do appreciate that!! Thanks for offering a unique V-Day gift!

gift for Valentine's Day
By
Shopper

(Lynnwood, WA) - February 20, 2011
- nice color, good design
- unicode symbols do not show up

Likes it.
By
Shopper

(Indianapolis, IN) - February 19, 2011
I think the heart could have been bigger and so could the font. But I liked it overall. The product arrived in great condition. He LOVED it. That's all that mattered.

cute mug
By
Shopper

(Reading, PA) - February 11, 2011
It is a very cute design. The heart is made up of two names in different fonts and the back can be personalized to say anything. The mug was a bit smaller then I thought but still a great gift for anyone.

Personalized Mug
By
Shopper

(Monterey park, CA) - February 2, 2011
I am very pleased with the product, however i gave it a 4 star because i think the Heart should be more Heart shaped, if you look at the right side, it is a bit crooked compared to the left side. however, all in all, i am very pleased with the product..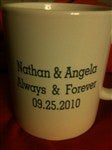 Cup
By
Shopper

(St. Louis, MO) - September 15, 2013
I wish the font of names in heart were bigger - a little hard to read.

Cute idea for couples
By
Kristen E.

(Arlington Heights, IL) - June 5, 2011 (
See all reviews by this customer
)
The mug is a really cute design with the couple's names forming the heart. I ordered this in red and the color was more burgundy- I was a little disappointed by this. The quality of the mug is average.

nice but not great
By
Veronica C.

(Bakersfield, CA) - March 10, 2011 (
See all reviews by this customer
)
These came out nice, they however are not GREAT. The mugs are fine, feel thick and heavy like regular mugs, the only issue I really had was that the writing of the names in the heart were blurry, it would have been better if they were crisp and clean, but maybe because they are so small that was not possible. I bought a set of these as part of a bridal shower gift basket for my cousin - one for him and one for her -(I made a coffee gift basket) since her wedding is in the spring & spring colors I decided to go with the multi-colored heart. I am thinking someone may have better luck with the crispness of the words if it were to be made in a single and darker color, like the red. But I am not sure since the back writing was pretty clean. Just a speculation. I wouldn't discourage anyone from buying these but I would probably have purchased a different one or at least in a different color scheme
if I had known about the bluriness before hand.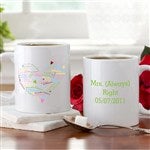 Smaller than expected
By
Shopper

(Rockland, MA) - February 15, 2011
The cup is very cute, but the printing on the heart is
smaller than I expected. This will not, however, deter me from
ordering again.



Not what I expected
By
Shopper

(Factoryville, PA) - June 11, 2012
I was very disappointed at how tiny the print was within the heart. When I previewed the mug, the print did not seem as small as it actually was. I gave the mugs as a wedding shower gift because I had no choice, but I was not happy doing so.