youth T shirt
By
Dee H.

(Churchville, NY) - February 28, 2012 (
See all reviews by this customer
)
Good quality, pleased with quick shipping.

Great Quality!
By
Jennifer K.

(Brick, NJ) - December 13, 2011 (
See all reviews by this customer
)
Came exactly as ordered, nice large size bib.

sooo cute
By
Mary A.

(Richboro, PA) - November 20, 2011 (
See all reviews by this customer
)
I couldn't wait to get this romper in the mail. When I saw it, I was not disappointed. It was so cute and can not wait for it to be opened at the baby shower. Thanks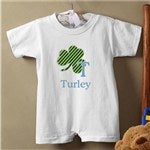 LOVE IT
By
Jennifer L.

(Westminster , CO) - March 25, 2011 (
See all reviews by this customer
)
I bought this shirt for a friend's daughter. My friend fell in love with this product. Great value and super cute!

Great Buy
By
Jennifer L.

(Westminster , CO) - March 25, 2011 (
See all reviews by this customer
)
I bought this for my daughter who is probably the worlds hardest person to shop for. She opened the box and absolutely fell in love with it. The quality was great.

100% SATISFACTION!
By
JACKIE D.

(KENNEWICK, WA) - March 20, 2011 (
See all reviews by this customer
)
I PURCHASED THIS SWEATSHIRT FOR MY GRANDSON TO WEAR ON ST.PADDY'S DAY.
IT WAS MAILED DIRECTLY TO HIS ADDRESS AND WAS RECEIVED IN A VERY SHORT AMOUNT OF TIME.
EVERYONE LOVED IT! I CAN'T WAIT TO SEE PICTURES!
GREAT QUALITY! EVERYTHING YOU SEE AND MORE.
I WILL DIFFINTLEY BE MAKING FUTURE PURCHASES!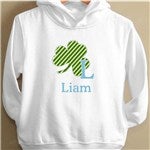 shamrock shirts
By
Shopper

(lakewood, OH) - March 15, 2011
I ordered 4 shirts and each one was perfect in the writing and the sizing. The kids were thrilled and so were their parents....perfect gift and great price.

Great shirts for St. Patrick's Day
By
Jo Ann M.

(Pittsburgh, PA) - March 14, 2011 (
See all reviews by this customer
)
The shirts were better quality that I expected and the kids loved them!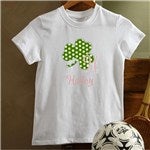 shamrock T
By
Shopper

(Savannah, GA) - March 11, 2011
Very soft and nice for a toddler- great quality of embroidery

Unique
By
JAMIE B.

(Lafayette, IN) - March 4, 2011 (
See all reviews by this customer
)
Very satisfied customer again. This shirt is unique and I am sure this gift to my young niece will be well received. I have ordered several personalized items in the past from PersonalizationMall.com and have never been disapointed.

Shamrock Tee
By
Julie W.

(Albany, TX) - February 24, 2011 (
See all reviews by this customer
)
This shamrock rock tee is great for St. Patrick's Day! The T-shirt is made of good quality cotton and appears to be appropriately sized. We cannot wait for March to arrive so our daughter can start wearing this awesome tee!

reliable vendor
By
carol O.

(verona, NJ) - March 7, 2014 (
See all reviews by this customer
)

The shirt is really cute and I loved that it could be personalized and viewed before ordering. that made me feel secure. It runs a little large, I think, but my grandaughter absolutely loved it.

great personalization
By
Shopper

(St. Louis, MO) - March 19, 2013
I ordered this bib for my 8 month old irish princess! She looked adorable in it and the quality was quite nice. The only thing I would change is to have it adhere with velcro rather than a tie. Sometimes when she is a little wiggle worm, it isn't as quick and easy to tie up a bib.



Cute, runs a little small
By
Shopper

(millbury, MA) - April 5, 2012
Nice, is just as it appears in pictures. Runs a little bit small.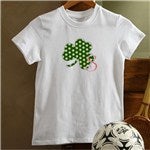 So cute!
By
Elizabeth P.

(Pasadena, MD) - March 22, 2011 (
See all reviews by this customer
)
I just loved this design and was so happy to get it for my daughter! The only drawback was that the coloring of the shamrock was not as GREEN as it appears in this picture. But I still loved it, the shirt was of good quality and we'll definitely be using it for more then just St Patrick's Day!!

Shamrock Infant Shirt
By
Wendy C.

(Roseville, CA) - February 28, 2011 (
See all reviews by this customer
)
Love love love your company. I am always impressed with the ease of ordering and your prompt delivery practices. What fun it is to watch friends and family open gifts that I have purchased from Personalization Mall.

So cute!
By
Shopper

(Walpole, MA) - February 22, 2011
I bought the girl's shirt for my 11 month old daughter, and the boy's for my 11 month on nephew. They are both adorable! We decided to use these shirts for their one year old photos. Very happy with both products!

Somewhat disappointed
By
Shopper

(Colorado Springs, CO) - March 20, 2011
I was disappointed in the lack of brightness of the color of the shamrock and name. The material is very lightweight. The idea is darling and I ordered 5 pieces for my granddaughters, but will be careful about what I order in clothing from now on. However, this company is wonderful in the customer service area and would recommend ordering from them.

Very disappointing
By
Shopper

(White Plains, NY) - March 18, 2011
I bought this for my niece to wear for St. Pattys Day and had it sent directly to their house- I wish I hadnt. If I had sent it to myself, I wouldn't have given it as a gift. Its so cheap looking, I couldn't have been more embarrassed. Im not sure what I expected but it certainly doesn't look the way it does on the website- not even close. The shamrock is so small (its about a quarter of the size shown on the site)and isn't at all the way it appears in the picture; it's a very cheap looking iron on. Thankfully I only put my nieces initial instead of her full name or I think I would have been even more disappointed at its appearance. The only positive is, the size was correct. I can't speak to the quality of the t-shirt, I didnt even notice. I couldn't get past how cheap and unlike the picture the design was. Wouldn't recommend.

Smaller than looks, image peeling
I thought the bib was super cute when I opened the box but then I noticed it is A LOT smaller than the photo makes it look. I also noticed the iron-on square's edges are quite visible and were already starting to peel on one side. It looks cute on her and I had planned to order additional personalized bibs but will not be a return customer at this point. I was so excited to receive the item - it was the first thing I ordered with her name on it but it did not live up to my expectations.