Perfect!
By
Shopper

(Canton, MA) - May 3, 2014
I so loved watching the recipient (7 yo) open this gift. She couldn't wait to take her necklace off to put it in the cross box. I love the fact that it was different from other gifts she received because it was personalized. She now has a reminder of her special day because it's something that can be displayed and used everyday. I thought it might be too small but it fits it purpose perfectly!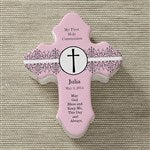 Perfect Gift
By
Shopper

(Canadensis, PA) - May 1, 2014
Ordered this on a Thurs. night and received it 5 days later. Shipped fast w/o paying for expedited cost. Just regular delivery. Item was on sale plus I had an online coupon. It is beautiful and with the personalization I know the little girl is going to LOVE it. It was everything I expected and more. And the website is very easy to order from. You even get to see the finished product before checkout is completed. I love this company.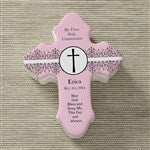 Satisfied Customer!
By
Shopper

(Canoga Park, CA) - April 14, 2014
I am very pleased with my recent order. They came out beautifully done, and the shipping was super fast. I will definitely order again and recommend this business to family and friends. Thank you so much!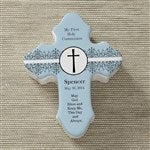 May God Bless Me Personalized Cross Box
By
Gwendolyn L.

(Coon Rapids, MN) - October 7, 2013 (
See all reviews by this customer
)
I ordered this cross keepsake box for our grandson's baptism and was very pleased. It came within a couple of days and surpassed my expectations. The color was great and printing was very clear. The box will now hold a special pocket cross that we had his godfather hold in his pocket during baptism.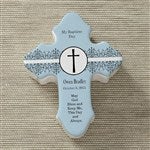 Beautiful first communion gift
By
Christina R.

(New Rochelle, NY) - June 11, 2013 (
See all reviews by this customer
)
It's a lifetime gift.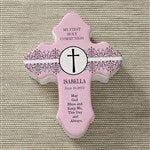 Personalized Cross Box
By
Kimberly R.

(Columbia, MD) - June 10, 2013 (
See all reviews by this customer
)
Although, the cross box is nice, I like the one that was offered six years ago better. I have bought three over the past six years for my granddaughters' Christenings. The nicest one was the first one, because it was more simple. Not too much writing on it. Sometimes less is better.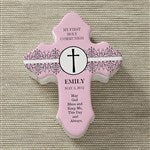 Adorable Keepsake trinket holder
By
Shopper

(Farmingdale, NY) - May 25, 2013
This is a very cute trinklets ceramic like cross box. However, smaller than looks in the picture, about the size of a palm - hand. Really nice! Good quality. I bought this for my nephews communion with his name & date of communion. Would reccommend...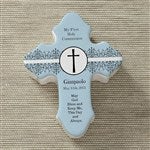 first holy communion cross
By
Maggie G.

(katy, TX) - May 12, 2013 (
See all reviews by this customer
)
I received this item about 3 days after ordering which I was pretty impressed with since it was monogrammed and all. I was worried it was gonna be too small but the size was perfect. Overall I am very happy with this purchase & would definitely order from this site again.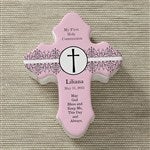 Wonderful gift idea
By
Shopper

(Pembroke Pines, FL) - May 11, 2013
High quality item. Made for a wonderful gift.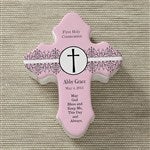 Features I don't like
By
Shopper

(Dartmouth, MA) - May 10, 2013
I thought the item was going to be a bit bigger. I also was a bit disappointed that the "lip" to put them together wasn't more evident so it wouldn't slide open so easily, being that it's glass.
Loved the personalization and the color though!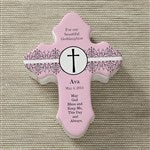 Very nice for a young girl making her communion
By
Shopper

(Harrison, NY) - May 6, 2013
Very cute and my granddaughter can put her
jewelry in there.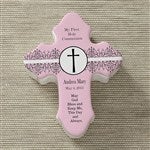 Small but sweet
By
Shopper

(Oak lawn, IL) - May 3, 2013
My niece loved it. It shipped very quickly. My only complaint is that the shipping is very expensive.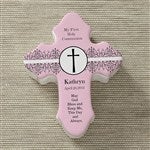 Adorable Cross Box
By
Shopper

(Sugar Hill, GA) - May 3, 2013
This item is adorable and is a good quality. I needed it by a certain date and they shipped it out fast so I was happy with that. It was smaller than I expected so be aware of that and the top just sits on and doesn't completely seal. Overall we are happy with our purchase.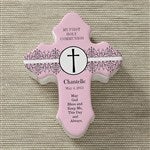 Nice first communion gift
By
Shopper

(Sioux City, IA) - April 30, 2013
I purchsed this cross box for my nephew's first communion. My daughter recieved the same gift for her first communion. She really likes it so we decided to give it as a gift.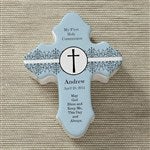 Great Customer Service
By
Shopper

(San Ramon, CA) - April 22, 2013
I ordered from here & it was delivered super fast, but from all the handling through the mail, my item got broke in pieces.
I called customer service and told them what happen and they were awesome! They told me to email a picture of the broken item and they'll send out another one asap. And they did!
I got the item, it was delivered all in one piece and it was exactly what I wanted!
Thank you so much!!
Oh, and their prices were way better than anywhere else I've looked!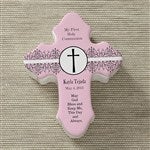 Beautiful box and great price
By
Callean F.

(Madison, AL) - August 20, 2012 (
See all reviews by this customer
)
the box turned out beautiful.. bought one for my god daughter and everyone loved it

Great value!
By
Claire B.

(Canada) - May 19, 2012 (
See all reviews by this customer
)
I bought one of these for my nieces' baptisms and one for first communion. They are exactly as shown - glossy and pretty. I love how you can make it for almost any religious occasion!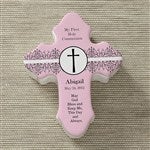 easy gift
By
Shopper

(Coral Springs, FL) - May 10, 2012
This was perfect for my cousins first communion. I was worried about what to get him since I knew that everyone would get him the obvious gifts for such an occasion but after visiting personalization.com I knew instantly that customizing something was the way to go. I was able to get him something more personable and with little effort...it was so easy to order. It let me verify the final view of the item unlike on other sites and it was shipped in a very timely manner. Couldn't have asked for a simplier process. My cousin thought it was "neat" (what a boy lol) but he appreciated the originality of the gift. No complaints here.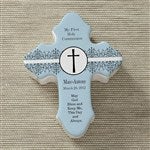 Nice keepsake
By
Virginia G.

(Hawthorne, NJ) - May 9, 2012 (
See all reviews by this customer
)
This item is cute and was delivered with care, bubble wrapped for care. The personalization was nice, it is a bit small but very pretty just the same.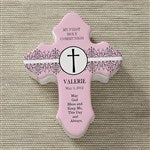 Great gift
By
Shopper

(Philadelphia, PA) - May 6, 2012
We got this for my fiance's goddaughter. It arrived quickly and was just beautiful. It's the perfect size for putting her rosary in and other necklaces or bracelet's. She loved that it had her name on it. It was the perfect gift!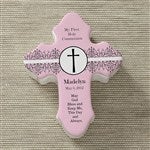 First Communion Gifts
By
PATRICIA B.

(PHILADELPHIA, PA) - May 6, 2012 (
See all reviews by this customer
)
Loved the finished product on these two crosses I purchased for my grandchildren's Communion. They were done in such a short period of time and shipped to me within a week of ordering. Love the products and would definitely recommend them as gifts. You would not be disappointed.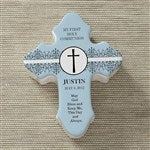 A good Communion gift
By
Mary M.

(Nanuet, NY) - May 6, 2012 (
See all reviews by this customer
)
Unfortunately, my initial order was not rec'd correctly even tho everything was indicated properly by you but date was incorrect, but you did send a replacement quickly and done correctly. Thank you.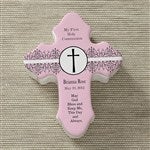 Perfect
By
Chris K.

(Fillmore, CA) - April 29, 2012 (
See all reviews by this customer
)
Easy to order, came fast and it was just what I needed. Made good and I know my Granddaughter will loved it. Just the right size for a young one.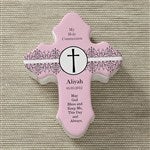 Beautiful Keepsake
By
Barbara H.

(Bowling Green, KY) - April 23, 2012 (
See all reviews by this customer
)
My niece loved the personalized cross box. Great quality and it arrived quickly as promised.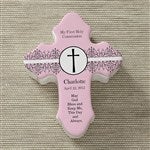 Beautiful Keepsake
By
Shopper

(Festus, MO) - April 16, 2012
I ordered one of these for my daughter and niece. They are beautiful and well made. I love that you get to personalize it with their name on it. I would recommend this product to anyone. I got them for a Christening and 1st Communion.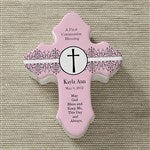 The Personalized Cross Box
By
Maryann D.

(boston, MA) - April 13, 2012 (
See all reviews by this customer
)
I purchased this for my Nephew, and I must say how pleased I am with this purchase. It is very nice...and will make a cherished keepsake for him. It was packaged for shippping all snuggly wrapped in bubblewrap....impossibe to break in shipping. The inscription was perfect...the color and quality is nicer than I expected....was also larger than I imagined. I am very pleased?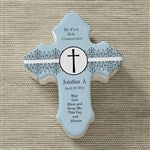 Cross Boxes
By
Shopper

(Cape Coral, FL) - April 8, 2012
The cross boxes that I purchased were absolutely beautiful. The quality is excellent.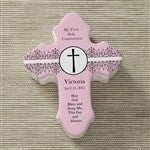 Gorgeous Personalized Cross Box
By
Jodie V.

(Australia) - February 17, 2012 (
See all reviews by this customer
)
Very happy with item. Just gorgeous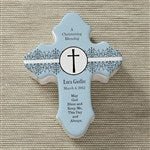 Beautiful!!!
By
Shopper

(Atco, NJ) - January 14, 2012
The cross box that I ordered is very nice and the personalization is beautiful! It will be perfect to hold my granddaughter' s rosary. Thanks for the great service and prompt delivery. I know I can always count on Personalization Mall.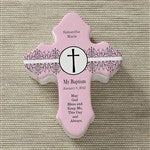 perfect
By
Shopper

(East Grand Rapids, MI) - May 11, 2011
Just what I expected. Perfect size for earings or a special bracelet. I bought one for each of my nieces. They loved having their names on it. Great keepsake!

Love everything about this product
By
Shopper

(Saint Charles, MO) - December 4, 2011
I ordered this Cross Box in pink for a Baby Dedication and placed a cross necklace inside. I just love everything about this product and to be able to personalize it makes it even more special.

May God Bless Me Personalized Cross box
By
Shopper

(chula vista, CA) - November 5, 2011
this was adorable. I bought it for my niece's baptism and it was a big hit. It was delivered within five days after ordering. The price was good and the quality excellent. Loved it.

Gorgeous!
By
Erin G.

(Metairie, LA) - July 26, 2011 (
See all reviews by this customer
)
I ordered 3 of these cross boxes for as baptism gifts. Two were blue and one was pink. They are perfect to hold a cross necklace or small jewelry for a baby or child. The boxes are well made and the imprinting is perfect. I highly recommend these as baptism/christening gifts and I plan on ordering two for my sons for their crosses.

Baptism gift
By
Victoria H.

(Garland, TX) - April 23, 2012 (
See all reviews by this customer
)
Beautiful and perfect for a Baptism gift to my Goddaughter! Only wish they allowed more lines to engrave so I could put all I wanted to say on it.

First Communion and Baptism gift
By
Shopper

(Baltimore, MD) - April 27, 2012
I purchased the box for both a First Communion and Baptism gift. They are exactly what I expected and I think the price was reasonable. My order arrived in less than a week. I would have liked to included the child's middle name on all the boxes but there was no room due to limited characters.

as expected...
By
Shopper

(Sacramento, CA) - November 12, 2011
This item is perfect for small baby jewelry received and love the option to personalize anything. The box was a bit bigger than the palm of my hand (woman).

nice keepsake
By
Shopper

(Easton, PA) - April 10, 2011
I ordered the cross box on a Monday and received it that Saturday. The turnaround time was great. The box is for my son's communion. It seems like it's harder to find gifts for boys than for girls, so this makes a good gift. The personalization came out very nice. The only minor thing is that the top of the cross doesn't line up exactly with the bottom of the cross when closed. Otherwise, it's fine. I would order other items in the future from this company.

Great gift idea for my niece
By
Shopper

(Westerville , OH) - July 23, 2011
Great personalized gift for my niece's christening. Exactly as it appears in the photo.

First Communion Crross
By
Shopper

(Farmington Hills, MI) - May 7, 2012
The cross boxes was adorable and the girls loved them. I made them bracelets to put in the boxes. My only complaint is that the lid slides off too easily. Making the lid an easy casuality. The service was quick and the persoanlization look very nice.

Nice
By
Rhonda C.

(Kansas City, KS) - April 11, 2011 (
See all reviews by this customer
)
I got this for our niece and it is very nice petite but nice.