Beautiful
By
Lynn C.

(Buzzards Bay, MA) - May 11, 2011 (
See all reviews by this customer
)
On line does not do this cross box justice, just beautiful. The color and printing were perfect and loved the saying that was included. Great product, great price!

Beautiful Cross Box
By
Kathleen G.

(Houston, TX) - May 9, 2011 (
See all reviews by this customer
)
We loved this item on the website...and we loved it when we received it at home. My son liked it so much that he brought it to school to show his classmates and teacher.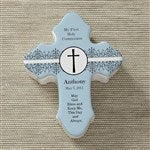 Wonderful Keepsake
By
Shopper

(Aurora, MO) - May 9, 2011
I love this! I bought this for a family members 1st Communion gift and it turned out beautiful. It arrived so fast and was packed so securely. The quality is excellent and I am sure it will be a treasured keepsake for years to come! I will definitely be a return customer! A++++++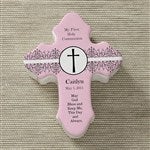 Very cute and perfect size for a kid.
By
Erika L.

(Katy, TX) - May 5, 2011 (
See all reviews by this customer
)
I ordered three of these cute boxes and they are just adorable. Perfect size to hold a Rosary and maybe some charms. Very delicate. Love this product!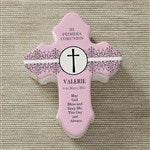 Nice
By
Rhonda C.

(Kansas City, KS) - April 11, 2011 (
See all reviews by this customer
)
I got this for our niece and it is very nice petite but nice.

Awesome
By
Shopper

(Havre de Grace, MD) - April 1, 2011
Beautiful Box, professional personalization.

I read a review about getting a last minute order in time for the event - but mine was only 4 days away! Checkout said it would be here in 7-10 business days, but it came back in 3! Have faith, my friends!

Awesome!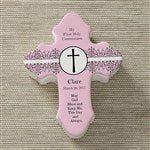 Great gift for a baptismal
By
Rose H.

(Corpus Christi, TX) - March 7, 2011 (
See all reviews by this customer
)
This is the most perfect gift, we baptized our little niece and we put a rosary in it and gifted, name, date and baptismal, such a perfect little keepsake. I would definitely recommend!

Beautiful, thoughtful gift
By
Keri C.

(Fall River, MA) - March 4, 2011 (
See all reviews by this customer
)
I ordered this gift last minute, but still received it in time for the event. The Cross Box came in exactly as pictured and the family loved the "thoughtful" gift. I would definitely recommend this gift when you are stumped for a Christening or Communion gift.

Adorable Cross Box
By
Shopper

(Sugar Hill, GA) - May 3, 2013
This item is adorable and is a good quality. I needed it by a certain date and they shipped it out fast so I was happy with that. It was smaller than I expected so be aware of that and the top just sits on and doesn't completely seal. Overall we are happy with our purchase.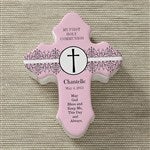 Nice box
By
Arlene C.

(West Bloomfield, MI) - March 3, 2013 (
See all reviews by this customer
)
Purchased two cross boxes for First Communion Gifts. Very pretty, wish it was a little bigger and more customizable (wording on bottom), but besides that nice quality and great gift idea! Shipped super fast!

Nice keepsake
By
Virginia G.

(Hawthorne, NJ) - May 9, 2012 (
See all reviews by this customer
)
This item is cute and was delivered with care, bubble wrapped for care. The personalization was nice, it is a bit small but very pretty just the same.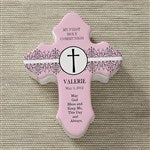 First Communion Crross
By
Shopper

(Farmington Hills, MI) - May 7, 2012
The cross boxes was adorable and the girls loved them. I made them bracelets to put in the boxes. My only complaint is that the lid slides off too easily. Making the lid an easy casuality. The service was quick and the persoanlization look very nice.

A good Communion gift
By
Mary M.

(Nanuet, NY) - May 6, 2012 (
See all reviews by this customer
)
Unfortunately, my initial order was not rec'd correctly even tho everything was indicated properly by you but date was incorrect, but you did send a replacement quickly and done correctly. Thank you.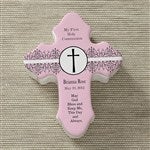 First Communion and Baptism gift
By
Shopper

(Baltimore, MD) - April 27, 2012
I purchased the box for both a First Communion and Baptism gift. They are exactly what I expected and I think the price was reasonable. My order arrived in less than a week. I would have liked to included the child's middle name on all the boxes but there was no room due to limited characters.

Baptism gift
By
Victoria H.

(Garland, TX) - April 23, 2012 (
See all reviews by this customer
)
Beautiful and perfect for a Baptism gift to my Goddaughter! Only wish they allowed more lines to engrave so I could put all I wanted to say on it.

as expected...
By
Shopper

(Sacramento, CA) - November 12, 2011
This item is perfect for small baby jewelry received and love the option to personalize anything. The box was a bit bigger than the palm of my hand (woman).

Cute
By
Adrienne C.

(Lauderhill, FL) - September 30, 2011 (
See all reviews by this customer
)
The items purchased are exactly like what was pictured on the company's website. It was bought as a gift for twin girls & I am completely satisfied with the product. I'm sure the girls' parents will love it too.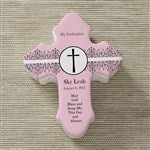 Great gift idea for my niece
By
Shopper

(Westerville , OH) - July 23, 2011
Great personalized gift for my niece's christening. Exactly as it appears in the photo.

nice keepsake
By
Shopper

(Easton, PA) - April 10, 2011
I ordered the cross box on a Monday and received it that Saturday. The turnaround time was great. The box is for my son's communion. It seems like it's harder to find gifts for boys than for girls, so this makes a good gift. The personalization came out very nice. The only minor thing is that the top of the cross doesn't line up exactly with the bottom of the cross when closed. Otherwise, it's fine. I would order other items in the future from this company.

Features I don't like
By
Shopper

(Dartmouth, MA) - May 10, 2013
I thought the item was going to be a bit bigger. I also was a bit disappointed that the "lip" to put them together wasn't more evident so it wouldn't slide open so easily, being that it's glass.
Loved the personalization and the color though!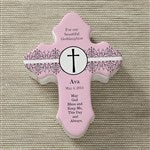 Cross box
By
Shopper

(san antonio, TX) - May 28, 2011
It's a cute and meaningful gift. It was a little whoabaly.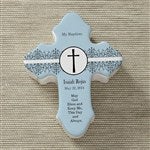 Personalized Cross Box
By
Kimberly R.

(Columbia, MD) - June 10, 2013 (
See all reviews by this customer
)
Although, the cross box is nice, I like the one that was offered six years ago better. I have bought three over the past six years for my granddaughters' Christenings. The nicest one was the first one, because it was more simple. Not too much writing on it. Sometimes less is better.