Decent
By
Kevin C.

(Waukee, IA) - February 15, 2010 (
See all reviews by this customer
)
Arrived on time, looks as good as in the picture. Was the right size ordered. Screen printed though ...not likely to last forever.

Good deal for the price
By
Richard M.

(Las Vegas, NV) - February 5, 2010 (
See all reviews by this customer
)
I was very pleased at the quality of the item and the great service I received including fast shipping. I have purchased other items from PersonalizationMall.com and have yet to be disappointed. Thanks.

Cute Camies
By
Selfija A.

(bronx, NY) - November 17, 2009 (
See all reviews by this customer
)
it is cute and better material than i thought it might have been . thanks to the manufacturer's

BIG BOOBS BEWARE
By
Shopper

(elkton, MD) - February 15, 2014
Nice quality shirt, vibrant red color, thick material. However, where the writing was bent under my chest! You couldn't read what was on the shirt unless I pulled it taught.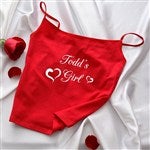 Very cute but very small
By
Shopper

(Amherst, OH) - February 1, 2013
Material matches nicely with the camisole and this is a cute style . However the medium size is very very small.

Short Top
By
Shopper

(Vail, CO) - February 25, 2011
I ordered a medium in this camisole and it fits fine but it is extremely short. I thought it was going to be more of a tank top but instead it fits like a tube top. The quality of it is great though, just short.

Simple, but cute tank
By
Larissa N.

(Hicksville, NY) - February 23, 2010 (
See all reviews by this customer
)
I was rushing to place the order to meet the V-day deadline...was satified but expected that this would come along with the panties, but to my surprise they are ordered separately. Also I was hoping for a silkier material. Regarding size, I would strongly recommend getting a size larger than usual..as it will DEFINITELY shrink.

Careful picking the size
By
Andrea C.

(San Bernardino, CA) - February 17, 2010 (
See all reviews by this customer
)
The quality seems good but the sizing is off. A large does not fit an 8-10. More like a 6-8 with no chest.

Too plain and cheap looking
By
Marta C.

(Pooler, GA) - February 17, 2013 (
See all reviews by this customer
)
This shirt was nothing to be excited about besides the fact it was personalized. It was not worth the price I paid. I washed it initially because it smelled like vinegar and the fabric is cheap... The hem is already coming apart. Not happy!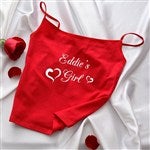 could be better
By
Julia A.

(Alpharetta, GA) - February 20, 2012 (
See all reviews by this customer
)
The edges ripped as I tried the shorties on for the first time. I also wish that the back of them could have been custom made as well like the Camisole.

Product good, service bad
By
Dan R.

(Gladstone, MO) - February 14, 2010 (
See all reviews by this customer
)
Although the product is good and the personalization is very well done, please be careful. If you are a man ordering a gift for your wife make sure the size is correct. If you order the wrong size they will not replace it because it is a personalized item. They offer a 30% off code if you have to order the same item in a new size, but after Valentine's Day they raise the prices so you end up paying the same or more than you did for the original item. Just be careful. Although I like the product I will probably never order from them again because of this policy.

Poor
By
Shopper

(Brighton, CO) - February 9, 2013
The quality was not what I expected, it's hard cause size is wrong and can't return or exchange it.

Disappointed
By
Shopper

(San Diego, CA) - May 21, 2012
Be sure when you order with a personalized name you add the apostrophe S otherwise it won't be added. The size ran small so I gave the large I ordered to my 12 yr old 95lb daughter.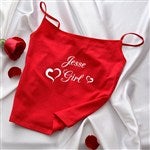 Returning
By
Shopper

(Goldsboro, NC) - February 16, 2011
Did not like them at all! Will be returning them! Did not wear them either! Not made for conservative women!

This is a very small 10-12
By
Shopper

(Milmont Park, PA) - January 28, 2011
This is very small if your chest bigger then a 34 A then it won't fit. I am stuck with it because of the personalization so it is for a young girl which I wouldn't buy for a young girl so anyone with a larger bra size don't order it, all you can do is frame it or use it as a dust rag.

Very unhappy
By
Shelly D.

(Cecil, PA) - October 15, 2009 (
See all reviews by this customer
)
My product arrived in a sealed bag. Upon opening I noticed an ink (probably pen) stain on the upper right front. I emailed your company in regards to this and told I would have to take a picture of it, email back to you and they would then review it. This is a gift for Saturday. Obviously it will not be replaced by then. Your policy on this is ridiculous. A new product should have been sent out immediately with a return slip for the damaged product. I have not yet been able to take a pic of the damaged shirt as my son has my digital camera and he lives in OHio. I was very disgruntled with your procedure and will not by products from you in the future.