Love it
By
Shopper

(levittown, NY) - August 16, 2011
I bought this for my newphew and I love it!! Would by again.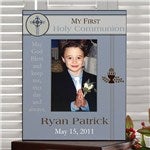 marks over the frame
By
Shopper

(Matawan, NJ) - July 10, 2011
It is a nice memento for a young man for his first communion. However, the one that was sent to me had a lot of marks on it which took away from it, it looked "second hand". I sent it on as a gift anyhow as my previous experience of sending something back for a replacement the replacement was worse. I love a lot of the things I have bought but frames are not the best.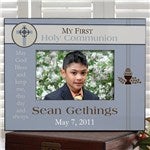 Nice keepsake
By
Shopper

(Secaucus, NJ) - July 5, 2011
This made a great gift for my Godson. His mom really liked it.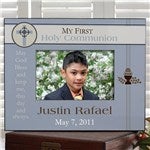 loved it!
By
Shopper

(Chicago, IL) - May 12, 2011
Mine was blue maybe the previous writer had a bad one. Mine turned out great and everyone loved it!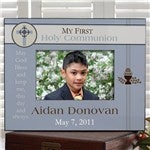 Great First Communion gift !
By
Shopper

(Canonsburg, PA) - April 17, 2011
I was very pleased with the First Communion frame! It was everything that I expected ---plus! I always order from Personalization Mall, when a special event
comes along, because I know that the quality of your products are outstanding.
I always recommend PersonalizationMall.com, to my friends and family, in need of a special gift for a special someone, because I know that they will never be disappointed.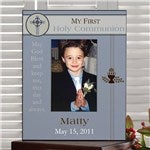 Very Impressed by the quality
By
Shopper

(North Arlington, NJ) - March 29, 2011
I first purchased two frames for each set of grandparents and when I recevied them I was so impressed by the quality of them, I just ordered another one for a mother's day gift for the communion boy's mother. Everyone I had shown it to remarked how beautiful it was and how nice the personalization came out.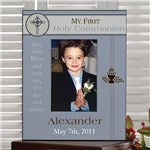 Perfect Gift for Boy's Communion
By
Karen H.

(Benbrook, TX) - May 12, 2014 (
See all reviews by this customer
)
Purchased for my younger son and my oldest started asking why I didn't get him one! Guess I'll be ordering another. Thank you!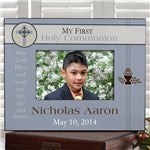 Great Gift Idea
By
Shopper

(Clifton Heights, PA) - May 6, 2014
I ordered these frames for both communion parties I recently attended and they were great. I can't say enough good things about these frames and both parents and kids loved them so that's an added bonus. I always order from this site and once again it did not disappoint. Will be back again for sure!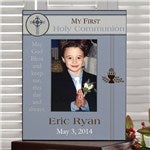 Communion frame
By
Deborah T.

(Freehold, NJ) - April 20, 2013 (
See all reviews by this customer
)
I ordered and received this frame within 1 week. It came personalized as promised, and was quite nice. I was very pleased with the purchase, and with the entire shopping experience of Personalization Mall.com, once again. I would not hesitate to order again.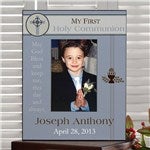 Love the "preview" feature!
By
Margaret W.

(Yorkville, IL) - February 2, 2013 (
See all reviews by this customer
)
I have ordered from Personalized Mall several times and have appreciated their prompt delivery and their customer service. They are one of the few sites that provide a "preview" of the personalization so you can see exactly what your item will look like. In my most current order, there was a problem with a flaw in the frame and they resolved the issue VERY quickly and to my satisfaction. I will not hesitate to use this company for my future personalization needs. My grandson will love his new frame.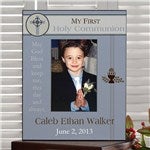 Perfect frame for a special little boy
By
Shopper

(Little Egg Harbor, NJ) - May 19, 2012
I run. Program for after school kids I ordered this frame for him ! Both he And his family loved it ! I loved the fact that I could give a special remembrance oF the day !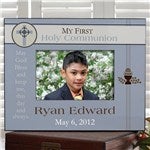 First Communion Frame
By
Shopper

(Southaven, MS) - April 29, 2012
The young man I bought this for is 7 and just a real cutie. Knowing my little sister she'll have a great pocture to frame. And I know in his while suite this is the perfect frame.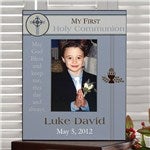 I am more than satisfied with my picture frames!!!!
By
Jennifer V.

(Toms River, NJ) - February 4, 2012 (
See all reviews by this customer
)
I have now ordered three personalized picture frames through Personalization.Mall and all three frames came out perfectly and so beautiful! Personalizaton.Mall offers a vast variety of picture frames to personalize and their prices are very reasonable! To sum it up at Personalizaton mall.com they do exceptional work!!!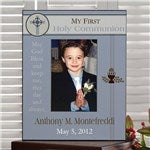 great quality
By
Shopper

(Meriden, CT) - January 22, 2012
Received very quickly and when it arrived I was very pleased how it came out. I would highly recommend it, the only thing I wished is if it came in 8x10 would be even better but other than that it came out wonderful.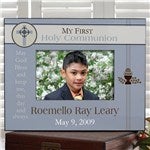 Great gift!
By
Erin H.

(Staten Island, NY) - May 2, 2014 (
See all reviews by this customer
)
I am one of those people that loves personalized gifts for myself and to give for speical occassions! this is perfect for such an occassion! the family loved it!!

Excellent quality
By
Shopper

(Houston, TX) - May 7, 2014
I ordered 2 of these for my son and nephew. They arrived very quickly especially since they are personalized, and I have to say, the quality is great. There is a classy smooth gloss on the front that makes it very modern and upscale. Love it!
Will choose this for all 1st communions in the future!

Nice present for a boy
By
Stephanie B.

(Silver Spring, MD) - April 24, 2011 (
See all reviews by this customer
)
I'm very pleased with the First Communion picture frame. It's easy to buy jewelry for a girl. But, it's much more difficult to find something to buy for a boy that would be appropriate for a First Communion celebration. Being able to have his full name and the date put on the frame makes this a special gift.

Gift
By
Kathleen K.

(West Chester Penna. 19382, PA) - November 17, 2013 (
See all reviews by this customer
)
Very pleased with quality and prompt service.

Gift for Grandson
By
Grace K.

(Chicago, IL) - March 30, 2014 (
See all reviews by this customer
)
I was extremely satisfied with the personalized frame I ordered for my grandson. It is well made and is very nice appearance-wise. I am very impressed with the quick delivery on this item. I have notified family members who will be looking for First Communion gifts to look at this website and assured them they will be happy with their purchases.

Gift message was not included
By
Shopper

(Owings Mills, NJ) - May 18, 2011
The frame itself was great, but I was very disappointed to learn that when it was delivered, my gift message was left out, so the receiver did not know who it was from. This is very disheartening.

Doesn't look blue
By
Shopper

(Fishkill, NY) - April 23, 2011
When it arrived I opened it and it looks more violet to me then blue. The woman was nice in customer service and said I could send it back - but I didn't have time. The girl one is nice - I wouldn't buy this one again.

Really nice keepsake
By
Connie B.

(HIGHLAND, IN) - May 16, 2014 (
See all reviews by this customer
)
Really loved this as a nice keepsake for my grandson, can't wait to see his first communion picture in it! Very nice and well worth the price! Could not believe how fast the delivery was, beautiful gift!

Nice Gift
By
Gloria S.

(Levittown, NY) - May 7, 2012 (
See all reviews by this customer
)
This is a very nice frame to give as a gift. However, the only problem I encountered with it is that the insert should be padded better because it is loose when you open the box and everything pops right out. I nearly broke the glass when I went to check it and had to tie everything together so the recipient could open it safely. I suggest they use corrugated cardboard for the insert instead of flat cardboard.

A Lovely Memory
By
Shopper

(Potomac Falls, VA) - May 13, 2014
I really like the quality of this frame and personalizing it made a wonderful reminder of a special event!

Pretty picture frame
By
Staci D.

(Red Bluff, CA) - April 27, 2013 (
See all reviews by this customer
)
The picture frame is beautiful. The personalization looks great & I can't wait to put my son's communion picture in it for everyone to see.

Communion frame
By
Shopper

(new windsor, NY) - May 4, 2013
Perfect gift for a communion mine was for a boy and the blue was very nice. Great price for the product. I ordered 3 and loved all of them

Communion Frame
By
Shopper

(kearny, NJ) - April 13, 2012
I love it! It is the perfect gift to give.

Even Better Than Pictured
By
Shopper

(Mahwah, NJ) - April 30, 2012
This is my first order with PersonalizationMall.com and I must say, I'm delighted! My frame arrived in record speed, and it was even better than I expected. It's a gorgeous frame, and I'll be very proud to present it to the Communion boy next month. This is something I know he'll keep forever.

Great!
By
Shopper

(Brooklyn, NY) - March 29, 2013
Great quality as always!!

Blue and brown personalized 1st communion frame elegant yet cool looking
By
Shopper

(Overland Park, KS) - May 17, 2011
A hit in our family. Really like the plain yet elegant design with my son's first and middle name plus 1st communion date on the frame.
Looks really nice and goes very well in my son's room.
Thanks a bunch for producing the frame so quickly.
Sabine

Wonderful Gift for my Godson!
By
Karen S.

(Akron, NY) - May 11, 2013 (
See all reviews by this customer
)
This frame is beautiful! It is not like the things you find at the mall. Love the fact that I ordered it on a Sunday and it was at my house by Wednesday with standard shipping--wow! The guest of honor and his parents really liked it because it was personalized just for him. Highly recommend!

Great frame!
By
Danielle C.

(Flushing, NY) - May 17, 2011 (
See all reviews by this customer
)
Bought this as a gift for my coworker's son's christening. Beautiful frame, great quality!

Very beautiful design and of very good quality.
By
Shopper

(EL Cajon, CA) - June 27, 2011
My husband and I purchased two frames for our granddaughter and grandsons lst.Communion. We were very impressed with the quality. When they opened up the boxes at their communion party everyone at the party said how beautiful they both were. They all asked where we had purchased them. Both frames were just beautiful and a little different from each other. We are so very pleased with this purchase.

gift
By
Nilde V.

(Jersey City, NJ) - May 23, 2011 (
See all reviews by this customer
)
i was very happy whith all i got,very nice ideas for all occasions