Perfect! :)))
By
Lora J.

(Nixa, MO) - December 23, 2012 (
See all reviews by this customer
)
Love, love, love my new stockings! I've always wanted the old time looking stockings & fell in love w/this design! The quality & colors are great! They look awesome on my fireplace & I couldn't be more satisfied!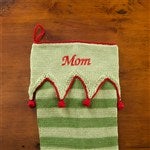 Classic
By
Shopper

(Champaign, IL) - December 21, 2012
My son's family loves these socks for the quality and since they are knit, they can be stuffed pretty full!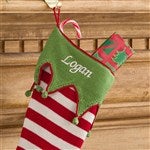 Classic
By
Shopper

(Champaign, IL) - December 21, 2012
I got these for my son's family. They feel they are nice quality and all love them!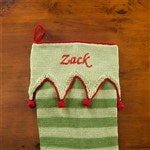 Playful and Festive!
By
Shopper

(Ventura, CA) - December 19, 2012
We are enjoying this stocking. It adds a cheerfulness to our mantle and we can't wait to see how Santa fills it! Great quality. The embroidery is neat and perfectly placed.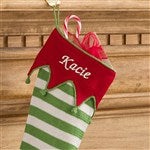 Arrived quickly and quality is nice!
By
Shopper

(Hamilton, MA) - November 30, 2012
Great Grandma has knitted stockings for every new member of the family for many decades. But, at nearly 89, she just can't finish the newest GREAT GRANDCHILD's heirloom. She was delighted when we showed her this stocking and ecstatic when it arrived! It was a wonderful solution for the growing family tree to keep Great Grandma's tradition - hopefully for generations to come. Thank you!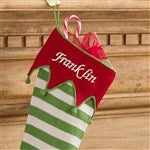 bad quality
By
Shopper

(chicago, IL) - November 24, 2012
do not purchase these, the customer service is terrible also, very over priced for the quality. Go to ballard design to get personalized stocking. These are very bad quality for the price.

Can't wait for the Christmas Holidays !!
By
Goode T.

(Houston, TX) - October 14, 2013 (
See all reviews by this customer
)
This is a special Christmas for me and my Family, and with the new addition of grandsons, I decided to but all new Christmas stocking that are similar in colors. I looked every where one line for day's and thank goodness I found this site.

The stockings are more detailed and beautiful than I imagined,as they where piced very reasonably! Thank so much!

Embroidered Knit Stocking CREAM Cuff & Red Stripes
By
Shopper

(VILLA PARK , IL) - December 5, 2011
I could not wait for my stockings to come in!!! Talk about disappointment! I had read a review about this item before I ordered it. Why I didn't take that persons advice I'm not sure, but I am kicking myself for it now. The item discription says "creme cuff" and it looks awfully cute and BRIGHT in that mantel photo but the discription should say beige cuff not creme. I could not believe the color difference. The stocking itself is cute. I also ordered the green cuff stocking as well which I like but for this price I do not recommend the "CREME" cuff stocking. I would stick with the green or red cuffs.

Love them...
By
Shopper

(Lynchburg, VA) - January 17, 2013
I ordered two and we both loved them...

nice stocking, bad customer service
By
Shopper

(Brooklyn, NY) - December 19, 2012
These stocking are very nice. I was hesitant, because they are very expensive, but ordered anyway. I don't think the are worth $50 each, but they are very nice. My biggest problem is with Personalizationmall.com In LESS THAN 24 hours after I placed this order I received a sale email. I promptly called the store and asked that the discount be applied and was told no. The agent gave me store credit, but really, how many personalized items does one order, and frankly, I'll find another personalization site when I need to. I have never been denied a sale price by any site in less than 24 hours after ordering, before the item even shipped! Horrible customer service.

Nearly perfect
By
Shopper

(Fort Worth, TX) - December 16, 2012
The stockings are beautiful, great size, and very well made. My only suggestion is to make the loop from which it hangs a bit thicker to prevent over stretching that may occur once gifts are placed inside the stockings. Otherwise, the colors are perfect (not too bright), the material is high quality and won't easily pull or pill, and the variety in pattern works perfectly for our family of five.

christmas stocking
By
Shopper

(Horsham, PA) - December 6, 2012
I love the stocking although, I wish it would be a little longer and lined.


Perfect stocking
By
Shopper

(Venice, CA) - January 3, 2014
These stockings were a perfect holiday tradition addition to our holiday celebration. Just as pictured!

Cute
By
Shopper

(Wasilla, AK) - November 21, 2012
This is cute, but its a little smaller than I imagined, and the fabric is a little thinner. But it should hold up for a lot of years!

Great stockings!
By
Shopper

(Round Rock, TX) - October 25, 2012
I purchased 6 stockings embroidered for my family. Each is a different pattern and all are BEAUTIFUL!! I know my kids will cherish these as they grow and start their own families.

Also, the turnaround on getting the product was great. Super fast! I highly recommend.

My puppy's first Christmas
By
Nancy H.

(Bradenton, FL) - May 8, 2012 (
See all reviews by this customer
)
I had gotten my new puppy her first ornament for our first upcoming Christmas and nothing would do but that I also got her stocking. It is beautiful and perfect for our first Christmas together.

beautiful craftmanship
By
Shopper

(lawrenceville, NJ) - January 1, 2012
I purchased 3 of the stockings and was so pleased with the quality. I was hesitant with the price but when I received them was quite impressed with the craftmanship. Great product. We will have these for life and the fact that they are free trade makes it worth the purchase.



Awesome
By
Shopper

(Havertown, PA) - November 10, 2012
This stocking is absolutely adorable. It reminds me of what I think old-time stockings must've looked like and I think that's so cool. The embroidery is perfect and my little girl will have it and use it for many Christmases to come. Delivery was so fast - I think we received it within two days of placing the order. Absolutely terrific product and service! Thank you!

Love the stocking!!
By
Shopper

(Lubbock, TX) - December 6, 2012
Very pleased with the stocking. It looks great. My kids eyes lite up when they saw them.

Love the stocking!!
By
Shopper

(Lubbock, TX) - December 6, 2012
Very pleased with the stocking. It looks great. My kids eyes lite up when they saw them.

Cute Stockings
By
Shopper

(Noonan, ND) - November 28, 2012
Great Stockings!! Love the look and that you can personlize them!!

beautiful
By
Shopper

(Spencer, IA) - December 27, 2011
exactly what i was looking for... knitted personalized stockings. i have four children and ordered one of each. they look great!

Fantastic craftsmanship!
By
Shopper

(Carmel, CA) - December 10, 2011
I really could not have been happier! Craftsmanship is amazing. I will have these for a lifetime.

Beautiful!
By
Shopper

(Carmel, CA) - December 10, 2011
Beautiful stocking! Great quality and clearly handmade. I love them and couldn't have been happier!

Love it and the cause
By
Shopper

(Richmond, VA) - December 8, 2011
This is exactly what I was looking for. I almost didn't buy it because of the price, but then I saw that it is hand made (fair trade) by a women's co-op. I absolutely love that a company like this is supporting a sustainable development project for women. Way to go, personalization mall!

The stocking itself looks just like the picture. Yes, it is cream-colored (as described) and absolutely beautiful. It has a stretch, which is what I was looking for so I can stuff a bunch of toys in it as my son gets older. Very pleased!

Goofy4u
By
ELIANA D.

(MIAMI, FL) - December 17, 2011 (
See all reviews by this customer
)
The knit stocking is gorgeous. Very well made and the colors are vivid. Look in the catalog or computer and that is exactly what you get.

great embroidered knit stockings
By
Shopper

(Greenville, SC) - December 21, 2011
i loved it!!!

Excellent quality!
By
Shawn D.

(Centerville, IA) - December 20, 2011 (
See all reviews by this customer
)
The stockings were even nicer than I had hoped. The quality was excellent!

Beautifully Handcrafted Stocking
By
Shopper

(San Jose, CA) - December 18, 2011
This stocking is even better than described! Truly beautiful and look forward to having for many, many years. We bought 4, one with the green top, one with the white, and two with the red. I like the green and red the best, but the white is very nice too.