Beautiful gift
By
Shopper

(Baltimore, MD) - May 26, 2013
Great gift for my teacher as an appreciation token.

USB key ring
By
Shopper

(Overland Park, KS) - January 25, 2013
I ordered the leather USB Flash Drive with Key Ring for my husband for Valentine's Day. The quility is excellent. I know that he is going to love it. I have been ordering from Personalization Mall for about 7 years and I love the products. I order Christmas Ornaments for my husband and I, and the grandchildren every year. I am always asked were I get such cute ornaments. The shipping is excellent; I always get my order earlier then expected. My items are always packaged very well. Most of my items come in a very nice velvet bag. I have ordered other products also. I love Personalization Mall and I know you will too.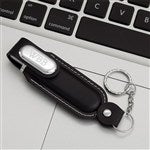 Leather USB flash drive
By
Shopper

(Canoga Park, CA) - December 31, 2012
Very pleased with the flash drive. Quality was excellent. Having it initialed and on the key ring was a plus for easy identification if lost. Cost and quality a positive.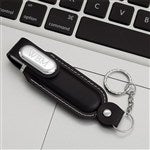 Product information
By
Shopper

(Greenfield, TN) - December 24, 2012
Great quality!

Geat Gift for the Guy who pretty much has what he wants.
By
Shopper

(LAGRANGE, KY) - December 8, 2012
This is a great gift! Very Masculine and well made. Hopefully Personalization Mall will get one with a larger than 2gb.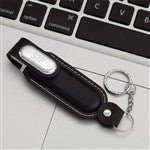 great guy gift
By
Dana F.

(Sheboygan, WI) - December 4, 2012 (
See all reviews by this customer
)
I bought this gift for my brother who is a teacher and is very hard to shop for. giving him a functional gift that is personalized with his initials was a hit! very nice structure to usb drive, very pleased!

Wow awesome.
By
Shopper

(Oxford, MS) - July 31, 2012
I've purchased 2 of these for gifts. They are great for guys but I wish there was a more feminine version like in a navy or red leather. This is really handsome for the computer geek in your life. Buy it!!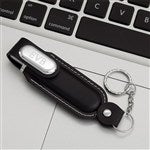 Great Father's Day Gift
By
Shopper

(Arroyo Grande, CA) - June 22, 2012
I bought this flash drive for my Dad on the occasion of Father's Day. He absolutely loved its uniqueness to anything he'd ever seen and that it was personalized to him. What a perfect gift.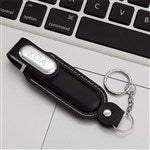 graduation gift
By
Christina S.

(Sinton, TX) - June 18, 2012 (
See all reviews by this customer
)
It is great. My nephew loved it and it will be useful. The personalization looks great.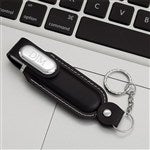 Gift for him.
By
Shopper

(Oxford, MS) - June 5, 2012
The leather flash drive is handsome and very masculine. My husband loved his personalized gift and it went directly onto his keychain. I hope Personalization Mall will offer some other colors (like a navy or red) in the future for ladies to choose from. The black is nice but too masculine for a lady. I would buy it again for any guy I needed a gift for....it's unique and attractive.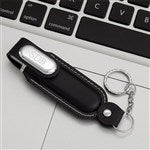 Classy, sophisticated for the new grad enroute to college
By
Shopper

(Columbus, OH) - May 18, 2012
Lovely....much better looking/better quality than the pictures shown
Practical for the new grad headed to college who will need to download material regulary! Engraving was perfect/accurate. Arrived in good time!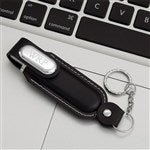 Very nice gift
By
Shopper

(Roanoke, VA) - May 13, 2012
We plan to give this gift to a relative graduating from law school. We will also give a little bit of $ but this was a nice gift to go with that. Thank you.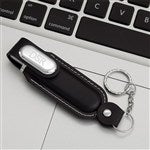 He loved it
By
Nhung N.

(Jersey City, NJ) - May 9, 2012 (
See all reviews by this customer
)
I purchased one for my brother and he loves it. He immediately attached it to his batch of keys.

The leather case is very attractive, and I love how his initials came out. He does a lot of projects; mostly using Microsoft powerpoint and Windows movie maker, I wish there was a memory upgrade option on the USB flash drive (like 8gb or 16gb). Other than that, I'm happy with the product because he was happy receiving it.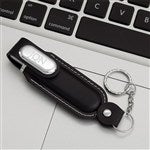 Masculine - great gift for guys
By
Evelyn M.

(Aberdeen, MD) - January 27, 2012 (
See all reviews by this customer
)
This is a great gift for the guy in your life. Mine always has a flash drive with him and tends to lose track sometimes, since they tend to all look alike. This is fantastic, can't lose track of it now. Well made, great personalization.

Great gift
By
Theresa K.

(Foxboro, MA) - December 30, 2011 (
See all reviews by this customer
)
I got this for my husband to keep in his briefcase. He's an attorney so I thought it would look very professional since the black leather matched his briefcase. He loves it andthought it was very unique. Highly recommended!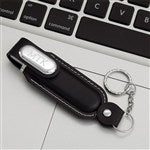 perfect
By
LAUREN G.

(BOAZ, AL) - December 29, 2011 (
See all reviews by this customer
)
this was a perfect gift for my brother who will be starting to college. He LOVED it and was so happy to recieve something so useful and personalized.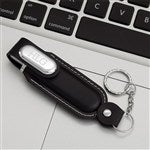 Fantastic gift
By
Marta D.

(Miami, FL) - December 28, 2011 (
See all reviews by this customer
)
This is a wonderful gift. Recipients will love it.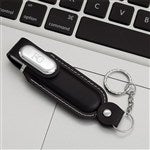 A good buy
By
Linda B.

(Bradenton, FL) - December 23, 2011 (
See all reviews by this customer
)
Very nice. Sleek, compact, attractive, useful. Came quickly. Had its own gift box. I would highly recommend this for the person who has everything. Much better than a tie or a silver plated yo yo.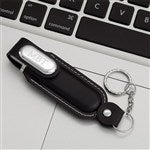 Once More - Fantastic
By
Shopper

(Windsor, CA) - November 27, 2011
Once more Personalization Mall came through. The printing was great, as was the article itself and the gift package it arrived in. It also arrived on time, and I would recommend this to anyone who needs a special personalized gift. Thanks to you all.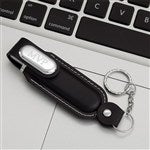 Perfect!
By
Sonya M.

(Westmont, NJ) - August 13, 2011 (
See all reviews by this customer
)
This item was purchased for one of the groomsmen in my wedding party. It really is great quality. One thing that impressed me is that there was an error on the personalization and I contacted PM.com and they fixed the item and send me a new one free of charge AND told me to keep the original. Great customer service!!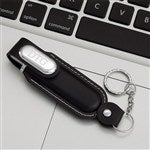 Great gift idea
By
Traci B.

(Broken Arrow, OK) - May 23, 2011 (
See all reviews by this customer
)
I purchased this for a high school graduate going to college. I think the leather case with the initials are very nice and gives the young man a sense of accomplishment that he is on to his next chapter. It is very impressive. The only thing that could be better is for PM to offer the option for 4GB or 8GB which is what most people need in today's world. Nevertheless, it didn't stop me from ordering or make me any less pleased! I know that he will be thrilled.

alicia Monroe Gifts for graduation from law school
By
Rozella M.

(Louisville, KY) - April 27, 2011 (
See all reviews by this customer
)
All of my personalized gifts were sent very fast and the writing was done very nicely. I will refer people to this web site.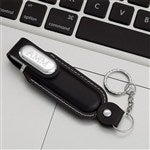 Nice good quality
By
Roxanne S.

(Duluth, MN) - January 21, 2013 (
See all reviews by this customer
)
I bought this for my college bound son who tends to "misplace" things regularly. He can attached to his car keys and not lose his homework! very nice quality and nice gift for that "hard to buy for person"

Great idea
By
Shopper

(Antioch, IL) - December 26, 2012
What a great way to keep track of a flash drive. Would have been 5 stars if flash drive capacity was greater.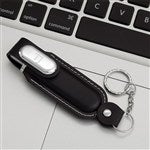 Present for a partnership
By
Carlie L.

(Lebanon, OR) - September 29, 2012 (
See all reviews by this customer
)
I have been having difficulty finding a Christmas gift for my brother-in-law and his boyfriend. They are tech fanatics and I am so late in the game that anything I try to get them is obsolete by the time they receive it. This monogramed flash drive is PERFECT for function, style and sentimental reasons. I would call this flash drive a hole in one!

Functional gift comes in handy!
By
Karen L.

(Spartanburg, SC) - July 31, 2012 (
See all reviews by this customer
)
I purchased this for my husband for Father's Day. He loved the personalization on it. However, 2 gigs for $32... even with the personalization, was a little steep. Great gift for a student!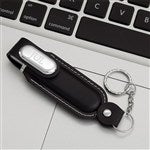 Nice gift
By
Karla G.

(Pineville, LA) - May 23, 2011 (
See all reviews by this customer
)
This gift was perfect for my brother's high school graduation. Nice leather case and nice personalization.

dissatisfied
By
Shopper

(Wesley Chapel, FL) - July 27, 2012
I bought this for my husband & The leather case holding the flash drive will not stay closed . it keeps getting opened in his pocket . I'm dissatisfied with it.