Simply Perfect!
By
Shopper

(Upper Darby, PA) - February 1, 2012
Ordered this bib for my grandson's first birthday and its beautiful. No squiniting here! The letters are big, bold and the colors are bright great job:) love it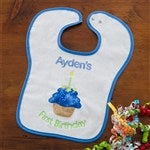 so sweet
By
Angela M. L.

(Saratoga Springs, NY) - January 23, 2012 (
See all reviews by this customer
)
I ordered the birthday bib for my precious granddaughter who will be 1 in Feb.--it was delivered within days and even prettier than in the pics. Thank you! Another great buy from personalizationmall.com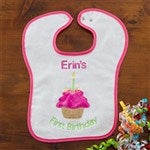 Perfect
By
Shopper

(LYNDHURST, NJ) - September 19, 2011
The bib was so cute and I can not wait to use for her 1st Birthday

Perfect gift.
By
Shopper

(Tioga, PA) - September 14, 2011
I am very impressed with the quality of this bib. The embroidery is first rate and the colors are vivid. I would definitely order this again.

First Birthday Bib a success
By
Philip M.

(Woodstock, IL) - August 29, 2011 (
See all reviews by this customer
)
This came out perfect! It was just what we hoped for.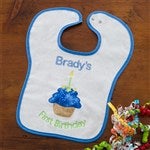 Personalized First Birthday Bib For Girls
By
Eugene J.

(Arlington, TX) - July 29, 2011 (
See all reviews by this customer
)
The bib was thorougly enjoyed both by the immediate family, and the maternal grandparents - who may post a picture of this grandchild with her bib on Facebook! From what we heard (we had the product shipped directly to granddaughter for her birthday because, unfortunately, we live in a different state) the qualllity of the bib was excellent. This is our second or third purchase from Personalization and it definitely won't be our last!!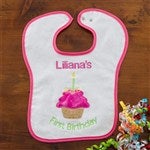 Happy Baby Bib
By
Jan C.

(Loganville, GA) - July 17, 2011 (
See all reviews by this customer
)
Ordered this for my granddaughter's 1st birthday. She was even having a cupcake-themed party, so it was perfect! It was made well, had good coverage. Especially good when she got into her "own hands-on" cake! Loved it and plan on ordering one when my next grandchild turns one!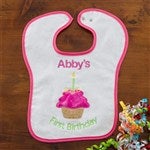 1 Year Old Bib
By
Shopper

(Pikeville, KY) - June 17, 2011
This personalized bib was a big hit at my grandson's 1st birthday party - especially with his mom.
Personalization Mall always comes up with excellent items and always gets it right the first time. I've ordered here many times and have always been very pleased.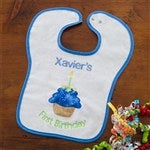 Adorable!
By
Shopper

(Paw Paw, MI) - May 7, 2011
The bib is great quality and appreciate the fact that it is made in U.S.A. (which is hard to find these days). It's the perfect size and so cute! This bib will become a 1st birthday tradition for all my grandchildren. Hope it will be available for a long time.

Nice Bib
By
Shopper

(Alexandria, VA) - February 2, 2014
Love it just wish it was less expensive. Also, they should consider making the words "First Birthday" another color as the current lime green is too light.

Very good quality
By
Shopper

(Pomona, NY) - March 26, 2012
This is a very cute and very good quality bib, but the only thing is that it is pretty expensive

First Birthday letters
By
Shopper

(Franklin Lakes, NJ) - February 26, 2012
I love this bib. The workmanship and quality are wonderful. I bought two one for my great niece and one for my great nephew. The only thing I would change is the color of the letters for first birthday. They are light green and did not show up that well in the pictures we took. Should be darker in color. Otherwise it was great.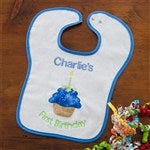 Beautiful but a little too long.
By
Shopper

(Canada) - December 10, 2011
This is a beautiful bib and quality is great. The only disadvantage is the bottom of the bib reads "1st birthday" and it is a little too long for the wording to be seen in pictures.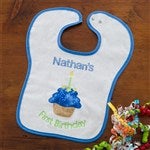 Cute
By
Shopper

(Saline, MI) - October 28, 2011
Most of this bib is just what I wanted - quality fabric, cute, name on top. However, I was quite disappointed that the cupcake appliques are wrinkly, not lying flat.

terrible website
By
Patricia V.

(San Juan Capistrano, CA) - November 17, 2011 (
See all reviews by this customer
)
Our first grandchild celebrated his 1st birthday today (11-17-11) WITHOUT the Personalized gifts totalling over $200 from this crappy website. I placed the order on 11-2-11. The promo touts 1-2 day shipping. Baloney!!! 15 days later the order has YET to be delivered. The Customer Service was snippy and unsympathetic. I would NEVER recommend this website and will tell everyone I know to ORDER ELSEWHERE if they expect delivery date to be honored.