I finally know where my keys are
By
Shopper

(Danube, MN) - April 10, 2011
I have a problem with losing my keys, ALL THE TIME!!! My husband constantly get on me about it. I always think I put them in my purse or my jacket pocket, when really I've just set them down where ever it's convenient. I've looked into buying something like this before in different stores but never found anything I really liked. When I found this and found I could personalize it, I was sold! Personalizing it just added something special to it, and it looks GREAT on my wall.

Superb Quality and Unique
By
Lisa S.

(Pflugerville, TX) - April 4, 2011 (
See all reviews by this customer
)
The quality of this product is superb and it is very unique. Definitely will purchase more as gifts for family members!

Shopper Martinsville IN
By
Shopper

(Martinsville, IN) - April 3, 2011
Extremely satisfied! Matches my kitchen perfectly.

nicely done
By
Shopper

(Westfield, IN) - February 14, 2014
The key rack was very nicely done. Definitely a good addition to our organization. I did not know the size and wish it was bigger but overall I like it a lot.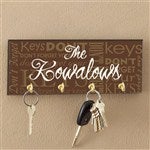 Nice
By
Mary W.

(Lansing, MI) - December 28, 2013 (
See all reviews by this customer
)
This is attractive but smaller than anticipated

Christmas gifts
By
Shopper

(Taylorville, IL) - December 9, 2013
These are smaller than I thought they would be - however they are so classy!!! I love them! The writing is awesome and the colors are sharp!

great key holder
By
Shopper

(Homewood, IL) - December 5, 2013
Great key holder. Wished it came with nails.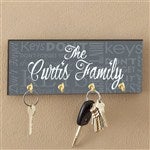 good item
By
Shopper

(rosemount, MN) - October 18, 2013
Good item, worth the price

Good Product
By
Shopper

(Taylorsville, KY) - September 1, 2013
Very nice product

Housewarming gift
By
Shopper

(Chapin, SC) - June 16, 2013
Plaque is well made and solid. Finish is smooth,
I will give this to my daughter as a housewarming present
Only reason for 4 stars rather than 5 is I would have preferred a less frilly font for the lettering.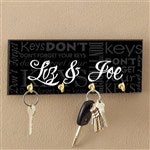 GOOD, BUT . . .
By
Shopper

(FAR ROCKAWAY, NY) - June 15, 2013
Just as pictured but I, too hurriedly, misread the instructions and thought the "The" above the name would be automatically added. Soooo, I didn't add it and consequently it arrived with just their name. They weren't aware of my snafu and loved it for their new condo. For me though it looked "incomplete" without the "The" above the name. DON'T MAKE THE SAME MISTAKE! It looks incomplete with the space above the name blank. Otherwise, this is a great housewarming gift.

great product
By
Shopper

(Corona, CA) - April 19, 2013
High quality, fast shipping. Great vaule for the price.

Great gift !
By
Shopper

(Smithfield, NC) - January 8, 2013
Very nice item ! The couple to whom I gave this as a gift loved it so much !

Great But Small
By
Kimberly E.

(Onalaska, WI) - September 17, 2012 (
See all reviews by this customer
)
I really love ours that came in, was just smaller than I expected.

Makes a great housewarming gift.
By
Sheri R.

(Columbia, MO) - August 19, 2012 (
See all reviews by this customer
)
I am a Realtor and give this as housewarming gifts. They love them! Attractive, sturdy and practical!

Awesome Buy
By
Ursula L.

(Malden, MA) - August 2, 2012 (
See all reviews by this customer
)
I bought this as a gift when we moved into our new home. It is really nice quality, perfect fit for the space near our door. Really like that it adds a personal touch to our home.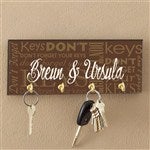 Very Cool
By
Raymond K.

(Fairfield, CA) - May 18, 2012 (
See all reviews by this customer
)
I am very pleased with everything about my key plaque except for it's pre-made grooves to mount it. I ended up giving up and just used command strips which are better for your wall anyway especially being a renter myself. The color and fonts are vibrant and vivid and it makes the perfect accent next to your front door.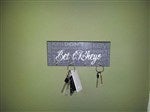 nice
By
Charlene P.

(Carlisle, PA) - February 21, 2012 (
See all reviews by this customer
)
these were Christmas gifts and received lots of compliments on them. Would buy them again!

Great gift.
By
Shopper

(Price, UT) - January 1, 2012
I bought this as a gift for friends and they loved it. The only thing I wish is that it was a bit bigger, seemed a bit small.

Practically perfect
By
Shopper

(Fairborn , OH) - December 2, 2011
Visually exactly what I expected. The personalization looks miraculous! Only flaw was the little
Rings around the hooks were lose (just one)
Easily fixed
All in all great product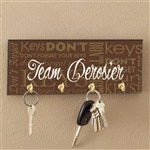 Good for the money
By
Shopper

(Broomfield, CO) - November 11, 2011
I purchased this after always leaving my car keys all over my apartment. The quality was better than I had expected although the front (where the names are) was very shiny and in the black color it's hard to see the "don't forget your keys" writing. Good buy overall.

Housewarming Gift
By
Amber J.

(Australia) - May 22, 2011 (
See all reviews by this customer
)
Brilliant housewarming gift! Very Happy!

Looks nice but not the highest quality
By
Shopper

(Lake Mary, FL) - January 19, 2014
Plaque looks very nice and does its job. The personalization definitely makes this unique. However, i was expecting a slightly sturdier and solid piece. Not the highest quality of materials used. I would definitely buy one for myself, but would not give as a gift- seems a bit cheap.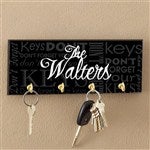 It's a key plaque!
By
Timothy C.

(Vancouver, WA) - December 16, 2013 (
See all reviews by this customer
)
The plaque arrived and looked exactly like the picture, however it seemed smaller than I expected it to be. The design is beautiful and it looks great on the wall but I had hoped it would have been built a little bit heavier- maybe with a better material considering the price. Would recommend the product for yourself or even as a gift.

Nice wedding gift.
By
Barbara B.

(Trenton, NJ) - September 24, 2013 (
See all reviews by this customer
)
Nice wedding gift that is different from using the bridal registry. I thought it would be a little bigger in size, though.