Exactly what I was looking for
By
Ashley H.

(lockport, IL) - November 22, 2013 (
See all reviews by this customer
)
Not only is the product exactly what I was looking for and couldn't find anywhere else, but I received it so quickly! WIll be a great gift for grandma and grandpa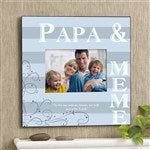 Beautiful frame
By
Reina I.

(Paramus, NJ) - February 3, 2013 (
See all reviews by this customer
)
Great family frame. Wish it was a little bigger, but other than that it looks amazing

Better than I expected
By
Erica E.

(Rochester, NY) - December 21, 2012 (
See all reviews by this customer
)
I am very impressed by this company. My frames arrived quickly and they are beautiful. They are even better than I expected, very solid and I love the gloss finish.

An Excelent buy!
By
Nancy H.

(Salem, MA) - December 18, 2012 (
See all reviews by this customer
)
I bought this for a very speical family picture. I had it engraved the way I wanted it, and it turned out wonderful!

Christmas Gift for a special couple
By
Luci B.

(Venice, FL) - December 11, 2012 (
See all reviews by this customer
)
Beautiful item and I know my friends really loved it. Can't wait to see it with their own family photo displayed in it. I thought the script at the bottom was just what my friends needed after a tragedy in their family.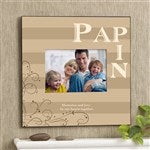 Great family gift
By
Shopper

(Leominster, MA) - December 7, 2012
The quality of the frame is very good. It's an attractive addition to any family room.

Loved it
By
Shopper

(Avenal , CA) - November 27, 2012
Product was perfect just as shown

How I'm using the product
By
Pamela J.

(Cincinnati,, OH) - August 24, 2012 (
See all reviews by this customer
)
A very close friend and coworker of mine just became a grandmother by adoption of a gorgeous little boy from China and I thought this would be a perfect FAMILY NAME frame to hold a picture of all of them including the grandparents!!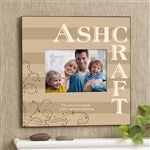 very nice
By
Andrea J.

(Minot, ND) - August 7, 2012 (
See all reviews by this customer
)
Knowing it was a 5x7 it was still larger than expected. Love it

PERFECT
By
Bev G.

(Lancaster, OH) - May 17, 2012 (
See all reviews by this customer
)
I received my frame quickly and was very pleased when I got it. The quality is great and the frame is beautiful...exactly what I have been looking for!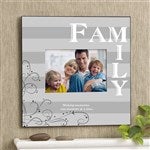 Great Gift for any occasion
By
Shopper

(De Soto, KS) - March 26, 2012
I personalized this frame with a very personal message and gave as a gift! It went over very well. I loved the quality and service.

Great Value Gift
By
Andrea C.

(San Bernardino, CA) - December 27, 2011 (
See all reviews by this customer
)
I like this frame for the price. substantial size and you can customize both titles.. The bigger lettering is a little cloudy, maybe thats how it is supposed to be..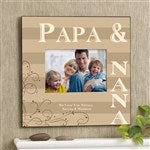 Family Frame
By
Shopper

(Holly Springs , NC) - December 27, 2011
Beautiful frame, great job with the personalization, shipped quickly!

A great gift
By
Linda K.

(Oak Lawn, IL) - December 12, 2011 (
See all reviews by this customer
)
This was a great gift. The quality was exceptional. Would recommend the frame highly. This was a gift for someone who will be leaving the country and returning to their home country. He loved it!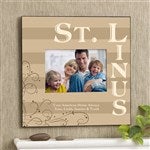 "family" frame
By
Shopper

(Hanska, MN) - December 12, 2011
THANK YOU THANK YOU...I wanted a frame that I could give to my children. I was very hard to find a frame to give to them for a blended "family" frame. Instead of putting last name on the frame I put "family" and just wrote a note! WE LOVE IT and have suggested it to many friends already.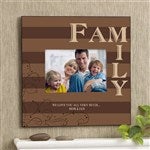 great gift!
By
Meghan S.

(Saint Peter, MN) - November 9, 2011 (
See all reviews by this customer
)
I got this for one of my sister in laws for Christmas! Perfect gift!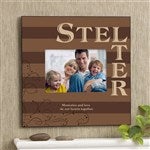 Looks great, family loved it
By
Shopper

(Santa Fe, NM) - September 19, 2011
Went on a holiday vacation and needed something for the family to capture the time. Couldn't find a 5x7 frame anywhere that was attractive. Looks great, price is right just thought the shipping was a bit much.

Family Memories Review
By
Valentina T.

(Teutopolis, IL) - June 7, 2011 (
See all reviews by this customer
)
I absolutely LOVE this frame! It's exceptional to be able to view your creation before you purchase it, but once you see it, you know you got the right item! I think this will make a nice addition on my wall for family photos!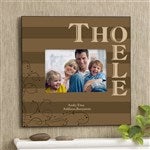 Absolutely Beautiful!
By
Shopper

(Miramar, FL) - October 15, 2011
I absolutely loveeeeee this frame!! It is even more beautiful when you see it than online. It's a Christmas gift & I can hardly contain myself because I want to give it right now. The only reason I did not give this 5 stars is because I think shipping was a bit too high!

Colors are not true!
By
Shopper

(Ness City, KS) - December 13, 2011
I received this item and was instantly disappointed in the colors. I expected a tan and deeper tan, instead it is a salmon and pinkish tan. I am rarely disappointed by Personalizationmall products, but this one is NOT a keeper! Furthermore, the customer service rep wrote to me that I needed to submit a photo of it before I returned it.... who has time for that? Little things like this make me leery of submitting future orders.


Very disappointed
By
Allison M.

(Lexington, SC) - December 10, 2011 (
See all reviews by this customer
)
I was so excited to to find this frame. When it arrived, I was shocked to see that it was plastic and cheap looking. I bought it as a gift for my best friend and have decided to not give it to her. I normally LOVE the things I get here, but this was a major disappointment. I suggest they stop selling it!!