Great wedding shower gift!
By
Shopper

(Orange, CA) - March 12, 2012
I was very impressed with the price, quality and timeliness of the shipping. I even want one for myself now!

Very Pleased
By
Shopper

(Auburn Hills, MI) - February 23, 2012
I bought this frame for a wedding present and I am very pleased with the quality, price and everything else about the product. Can't wait to give it as a gift!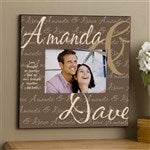 Very Nice!
By
Shopper

(Brooklyn, NY) - February 22, 2012
This frame is very nice and the coloring is just as it appears online. Can't wait to give it to our friends as their anniversary gift!

Love it! Love it! Love it!
By
Valerie B.

(Prince George, VA) - February 22, 2012 (
See all reviews by this customer
)
This Picture Frame is really so beautiful and it just makes everything so personal. When you are with the Love of your Life, having a frame that states everything with one look is so special and connects your hearts with a glance. The frame is so unique, I've never seen anything like it. Thank you and what a great website for such items.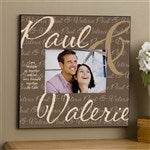 Perfect Valentines Gift
By
Shopper

(Kissimmee, FL) - February 20, 2012
I bought this frame as a Valentine's Day gift for my boyfriend of 2 yrs. I placed our first picture taken together in the frame and he LOVED it! Great gift for anyone.

Great
By
Jessica U.

(Alamogordo, NM) - February 18, 2012 (
See all reviews by this customer
)
The frame was gorgeous! Loved it more when I actually got it!

Be sure the color matches.
By
Glenna O.

(Columbia, SC) - February 15, 2012 (
See all reviews by this customer
)
I orginially ordered the tan frame, but it was way too rosey pink instead of tan. The Company asked for photos and I sent them against the wall I had planned to use it on. They immediatley replaced it. I got the black and white frame which is very pretty. I love the frame and the wording and it works just fine. I also purchased one for my daughter and her fiance' for their engagement party and they loved it!

Always Great
By
Shopper

(Victor, ID) - February 15, 2012
Personalization Mall is always great! Everything I have ever ordered has come as promised.

so cute!
By
Shopper

(Laverne, OK) - February 14, 2012
This is so cute! Very impressed!

Very Nice!
By
Shopper

(Duarte, CA) - February 13, 2012
I was pleasantly surprised with this piece! It is very nice and definitely worth what you pay for. The only thing I was disappointed in was that it doesn't have a back stand for you to hold the frame up...you need to figure out a way to "hang" it on the wall....other than that, the frame looked awesome!

Wonderful Wedding Present
By
Cheryl L.

(La Tour, MO) - February 5, 2012 (
See all reviews by this customer
)
I am so pleased with the frame that I ordered for my nephew and his finacee. I can't wait to give it to them at their bridal shower! They will absolutly love it! This will be my shower/wedding present for all now!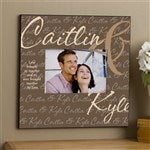 Beautiful Frame!
By
Cyndie V.

(Richland Center, WI) - February 5, 2012 (
See all reviews by this customer
)
I bought this in the black & it is absolutely stunning! I am giving this to my daughter & her husband for Valentines day & can't wait for them to see it! This is very high quality & money well spent!! This company is awesome!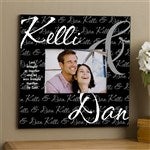 Perfect photo frame
By
Enid V.

(Piscataway, NJ) - January 31, 2012 (
See all reviews by this customer
)
This photo frame is perfect! I love every single detail. The selection in color, the way that is written the names, the small message in the left side, all the small names, everything. This was an anniversary gift, and when he open the gift box and saw that, that face has no price. Is a beautiful detail has a photo frame with our names on it. Is gorgeous, you gonna love it!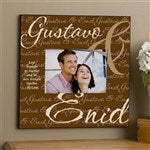 Love It! Makes as AMAZING Gift!
By
Stephanie K.

(Baltimore, MD) - January 30, 2012 (
See all reviews by this customer
)
I recently bought this frame for my niece and her fiance.
It turned out great and they really love it! Makes a great engagement gift!!!

Very Nice Frame
By
Shopper

(Port Allen, LA) - January 27, 2012
I wasn't sure how this would come out, but it is very nice. The colors on the initial item picture and the preview picture are completely different. The frame actually looks like the initial picture thankfully. I was satisfied with this purchase.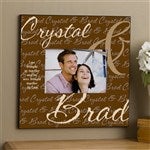 Personalized Frame
By
Mary W.

(Carrollton, TX) - January 16, 2012 (
See all reviews by this customer
)
I am very happy with this frame. It is well crafted and has a modern look that catches your eye. It is a nice size that displays perfectly on my mantel.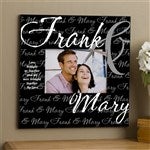 Beautiful frame
By
Shopper

(Oakton, VA) - January 15, 2012
I ordered this frame for my son's engagement party. I plan to group it with several frames with the same theme of "love". It is Just as pictured on the site and looks stunning in person; a definite winner!

Excellent gift choice
By
Shopper

(Staten Island, NY) - January 12, 2012
I ordered this for my neighbors who became engaged 2 weeks ago...I ordered the tan, not knowing any color schemes they were going to have so I picked a neutral color..The frame arrived in excellent condition, I ordered the gift box, made a really nice presentation. The frame itself was beautifully done, I was so happy I picked this. When I gave it the happy couple, they were so impressed.They loved it and that me feel great. I would defintely order this again for another couple for any special occasion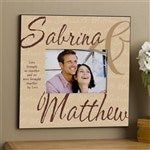 Great item and SERVICE
By
Richard J.

(Maineville, OH) - December 31, 2011 (
See all reviews by this customer
)
Frame is beautiful. It arrived with a broken corner - they corrected immediately by shipping new frame. Great Customer Service

Very beautiful product!
By
Joe T.

(Beaverton, OR) - December 28, 2011 (
See all reviews by this customer
)
My two friends loved their frame! They were so excited when they opened their gift and saw what a wonderful frame they had that they could not wait to get their wedding picture placed in it. Great gift idea!!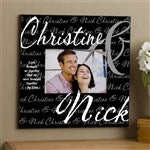 my son will love this for his girl!!
By
MaryS S.

(Staten Island, NY) - December 22, 2011 (
See all reviews by this customer
)
Purchased this for my son as he recently got engaged, very nice to send someone a personalized item, and this is very nicely done!!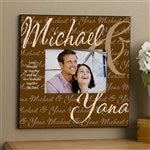 Better in person!
By
Stephanie S.

(Ada, MI) - December 21, 2011 (
See all reviews by this customer
)
You will NOT be disappointed! This is even more gorgeous in person and just the perfect gift. Everyone should have one of these in their home!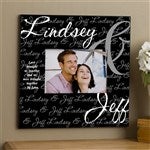 LOVE!!!!!!!!!!!!
By
Kelly D.

(Lyndhurst, NJ) - December 9, 2011 (
See all reviews by this customer
)
Bought this for my brother and sister in law. They went crazy for it.
Product perfectly packaged.
Shipped quickly
Personalized beautifully, it looks so elegant.
I love this item. I will be buying one for my self. I def recommend!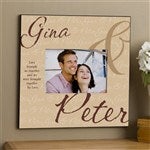 Great gift item for a couple
By
Beratta G.

(Kenmore, WA) - December 8, 2011 (
See all reviews by this customer
)
We love everything that Personalization Mall does. We have never had a bad experience. The prices, shipping and customer service is incredible. We have been customers for over 4 years and will continue using them for all our gifts.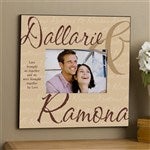 Lovely
By
Amber J.

(Australia) - November 30, 2011 (
See all reviews by this customer
)
I brought this as a wedding gift, in the Black and White. I couldn't be happier! The bride and Groom were speechless :)

Loved it!
By
Kristin A.

(Bensalem, PA) - November 7, 2011 (
See all reviews by this customer
)
For this for a friends bridal shower gift! She loves it!

Personalized wall frame
By
Shopper

(Maple Grove, MN) - November 7, 2011
The frame is beautiful and just what I wanted! The service, from beginning to end, was wonderful! Would definitely use this company again.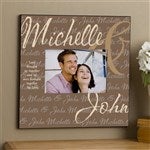 Beautiful
By
Shopper

(Toledo, OH) - October 28, 2011
Beautiful. Good quality and is a Very nice frame for a wedding gift. I just wish there was a place to put a date or just the year on it.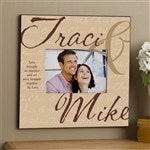 Excellent quality
By
Shopper

(Melbourne, FL) - September 26, 2011
The quality of this frame was great, better then expected for the price. Looked just like the preview and was perfect for an anniversary gift. Also, shipped very quickly for a personalized item.

Perfect gift!!!
By
Shopper

(Silsbee, TX) - September 19, 2011
I thought this was a pretty frame when I ordered it. But when I received it, it was much nicer than I dreamed it'd be. This is a "must have" for any couple in love. An excellent present!!!

I LOVE IT!!
By
Shopper

(Germantown, MD) - September 12, 2011
I needed an anniversary gift for the hubby and this frame was PERFECT. Very reasonably priced, esp. for the quality and workmanship! With a picture of the 2 of us and the card with the same message, I'm beyond happy with this purchase and can't wait to gift it. Thank you personalization mall, you never disappoint.

Exceptional
By
Jenai K.

(Kahului, HI) - September 9, 2011 (
See all reviews by this customer
)
Exceptional! I absolutely LOVED it!!! It was so much more than I had thought it would be &/or expected. Hightly Recommended!!!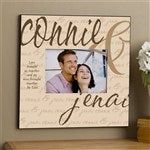 Absolutely Perfect!
By
Gloria P.

(Kenosha, WI) - August 15, 2011 (
See all reviews by this customer
)
After much searching on-line I was at a loss as to what to buy a dear couple, the new husband of which has a terminal illness. I had almost given up when I saw this item just one day before the celebration of their wedding. I thought, "How perfect, but it will NEVER get here in time!" I spoke to a wonderful woman at the company who helped get it to me overnight, even though it had to be personalized. It arrived just in time and was absolutely gorgeous, more beautiful than the picture and of high quality, well worth the money. The service was wonderful, as is this opportunity to give feedback. I have since placed another personalized order with this company with multiple items for my grandchildren and it arrived just three days later. It's obvious to me that customer service is a priority with them...something so lacking today! I plan to be a regular customer in the future!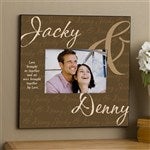 I loved this frame
By
Margaret T.

(Hanford, CA) - August 13, 2011 (
See all reviews by this customer
)
This is such a beautiful frame! The quality is excellent. I bought it for my son and his fiance and they really liked it, too.

Loved it!
By
Shopper

(Dilworth, MN) - August 3, 2011
I purchased this frame for my Brother-in-Law's wedding. When it came in the mail I couldn't believe how nice it was. I ordered it in brown and it worked perfect with the sepia picture I had. They loved it and even used it on the table at their reception.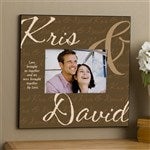 Very Nice
By
Barbara W.

(Bowie, MD) - July 31, 2011 (
See all reviews by this customer
)
I really like the quality of the frame. I just wish it would accomodate a larger picture; 5x7 pictures are not as readily available as 8x11. My husband was really pleased with it also......Thanks!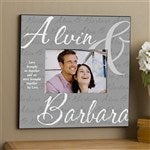 Great wedding gift!
By
Shopper

(Avon, IN) - July 26, 2011
I just ordered and received this frame in black and it turned out really nice!! The quality is great for the price and I just know our friends are going to love it!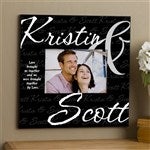 Amazing
By
Shopper

(Franklin, TN) - July 25, 2011
Bigger than I expected! Perfect. I am the maid of honor in my best friends wedding. This is the only personalized gift she recieved at her wedding shower. She teared up in front of 30+ people. I will continue to buy this frame for special events!

Great choice
By
Shopper

(South Jordan , UT) - July 24, 2011
Beautiful frame. Very good quality and so glad I purchased this!! The bride to be LOVED it. I will definitely be shopping here again:)) Ps. If it's on backorder it's worth the wait!


Beautiful!
By
Jenna B.

(Canada) - July 4, 2011 (
See all reviews by this customer
)
This is an awesome and original item! better than i expected!