Great!
By
Shopper

(Colleyville, TX) - December 5, 2012
The shot glass turned out even better than I could have imagined! It will be a great hit as a birthday gift!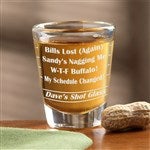 Love this!
By
Casey L.

(Ellijay, GA) - November 19, 2012 (
See all reviews by this customer
)
I have to say I love this idea! I am using it for a stocking stuffer. It arrived in perfect condition and it is of great quality. Will be purchasing these for different people in the future.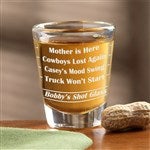 Perfect
By
Shopper

(Selma, NC) - October 15, 2012
My husband collects shot glasses. I ordered two shot glasses to celebrate/commemorate our first wedding anniversary. They were beautifully etched, came in nice black cloth gift bags and were shipped quickly. Thank you for everything. My husband loves them!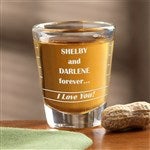 Fun Shot Glass
By
Bonnie K.

(Landisville, PA) - October 7, 2012 (
See all reviews by this customer
)
It was fun to design this shot glass for my husband. My only complaint is that it is difficult to read the writing on the shot glass without holding the glass at just the 'right' angle.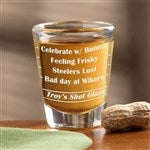 Great, awesome, fantastic!
By
Brittany K.

(Liberty, MO) - September 7, 2012 (
See all reviews by this customer
)
I was happy with the quality of the item, the speed of the shipping, and the ease of ordering. Will use again!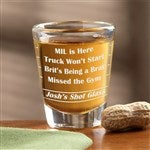 Loved it
By
angelique R.

(bensalem, PA) - June 12, 2012 (
See all reviews by this customer
)
This shot glass is the perfect gift. I gave it to my husband for Father's Day and he got quite a kick out of the personalized troubles. I would buy it again as a gift for even non-drinkers. Cute Novelty item.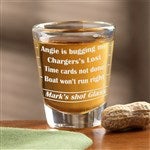 excellent party favor
By
Leslie F.

(Commack, NY) - January 20, 2012 (
See all reviews by this customer
)
excellent idea for dinner party , party favor, looked great, shipped timely, nice little gift bags.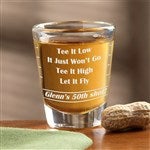 Very affordable; great quality!
By
Brenda W.

(Atlanta, GA) - January 1, 2012 (
See all reviews by this customer
)
Great gifts for my friends...they loved them! The quality was very good, fast shipping. Very affordable gift!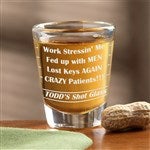 Shot glass
By
Shopper

(las vegas, NV) - December 31, 2011
I really liked how the product looked. It looked just like the review online. The only thing I wasnt pleased about was that it was difficult to read the words when the glass was empty. I think it would be beneficial to allow the consumer to choose the color of the text.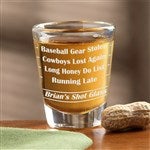 Shot glass review
By
Cheryl H.

(Tipp City, OH) - December 11, 2011 (
See all reviews by this customer
)
Love the idea, but the writing was very hard to read. Would have been a lot better if it was done in black.

Very nice but difficult to see personalization
By
Julia V.

(Lexington, KY) - December 19, 2013 (
See all reviews by this customer
)
It looks exactly like the picture, but it's extremely difficult to see the personalization when it's empty. I wish the words were in a different color and not white!

personalized shot glasses
By
Latisha T.

(toledo, OH) - February 10, 2013 (
See all reviews by this customer
)
The shot glasses really didn't look like the picture, to me. The shipping was super fast, best I have ever experienced. I really expected for the writing on the glass to be white not gray.

Comic "Relief"
By
Shopper

(Mount Airy, MD) - June 6, 2011
I ordered a shot glass for my husband and one for my son-in-law. The ability to personalize the glass with particular "woes" was very clever and perfect for each of them.

Shot glass
By
Shopper

(Hamilton, NJ) - July 24, 2012
This is a nice shot glass but you can't see the words as they are white and eched in glass. I would have preferred a color rather then white echting.

I got this for my fiances 21st bday
By
Shopper

(westwego, LA) - December 10, 2011
I got this for my fiances 21st birthday it was nice and i received it in 5 days but the lettering on it was to light and you could barely see it. but all the other products i have ordered from this website have been amazing and even though this wasn't perfect my fiance still enjoyed so i will definitely keep buying stuff from here.

I used this shot glass as a memorial, my son collected shot glasses
By
Shopper

(Clinton, NY) - June 19, 2011
I was very impressed with the engraving, it was beautifully done. I know my son will be looking down with a smile on his face when these are given out. Thank you for making this possible.

Outragiously funny gifts for all of the adults !!
By
barbara K.

(salem, VA) - May 30, 2011 (
See all reviews by this customer
)
We are all going to laugh at these, as everyone gets a personalized reality check at our next adult gathering... I have purchased 10 so far, and expect to get the rest of our friends one soon ! The engraving is wonderful. No paint that washes off in the dishwasher. Excellent quality.

Love it BUT...
By
Shopper

(palm coast, FL) - January 16, 2013
I absolutely love this shot glass and will definitely be ordering this again in the future. I just wish the text was a darker color.

Used for a gift
By
Shopper

(Rock Hill, SC) - October 20, 2011
It was great to add your own lines but the writing was kind of light on the glass.


hubby liked it!
By
Shopper

(SHAWNEE, KS) - February 16, 2012
would have preferred if the glass was either etched with the sayings or they used black instead of white lettering. My husband liked it though!

Very cute
By
Shopper

(Fairfax Station, VA) - March 17, 2012
Excellent quality and wonderfully suited for a particular individual! The only thing that would make it perfect is having the print in a color other than white, which is difficult to see without colored liquid in it.

Cant read the etching
By
Cheryl B.

(Marthasville, MO) - December 20, 2011 (
See all reviews by this customer
)
I was so disappointed in the etching on this shot glass. In the picture it is easy to read etched in white. On the shot glass it is more of a clear etching and so tiny you can't even see it without putting it under the light. Such a disappointment.

Great!
By
Shopper

(Decatur, GA) - May 28, 2011
This item was part of my first order with Personalizationmall.com and it is great and came just as described (and was delivered fast). I will definitely buy from them again!

GREAT GLASS
By
Coretta A.

(Port Arthur, TX) - June 13, 2011 (
See all reviews by this customer
)
i ORDERED THIS IT WAS CUTE AND ALL MY FRIENDS WANT A SHOT GLASS, IT WAS CLEAR VISIBLE AND I LOVE IT, IT'S A GREAT PIECE TO HAVE IN YOUR BAR COLLECTION.i HAD TO ORDER TWO MORE AS GIFTS.

Still love this on line store!
By
Shopper

(Aquilla, TX) - June 23, 2011
I have ordered from here many times and love to shop this web site. This is the first time I have had any problems with products. One of the letters were half way removed from 4th line on shot glass. I am sure if I had time to send it back it would be corrected. I will continue to order from here and have been very pleased over all with purchases.

HAPPY HAPPY HAPPY
By
Patricia L.

(Springfield, OR) - November 12, 2012 (
See all reviews by this customer
)
I have ordered many product from PERSONALIZATION, and every thing has been of good quality. I am very satified with everything I have ordered. I like that the shot glass lettering is etched in and not just a transfer.

Shot Glasses
By
Shopper

(Clinton, MA) - November 16, 2012
Exactly what I ordered and delivered quickly

I Love This!
By
Maureen M.

(Salem, NH) - December 7, 2012 (
See all reviews by this customer
)
This was shipped within 2 days. The quality was great. Room for a good amount of text.

Shot Glass
By
Shopper

(Austin, TX) - September 6, 2012
What you see when you order is exactly what you get.

Cute idea for someone who has everything
By
Shopper

(Freehold, NJ) - October 26, 2012
This with a bottle of the recipient's favorite liquor makes a great gift!

fast service
By
Shopper

(morristown, MN) - October 28, 2012
excellent quality and I received it very fast, thank you

Wonderful!
By
Annette Y.

(Chetek, WI) - December 7, 2012 (
See all reviews by this customer
)
I love the shot glasses I ordered. I really like that when I places the order I could see a preview of what my personalized item would look like ! A great buy!

everything I expected
By
Shopper

(Fond du Lac, WI) - November 10, 2013
I wanted something personal for a Christmas gift and this was the ticket!

Outstanding Customer Service
By
Shopper

(Grandville, MI) - January 23, 2014
I ordered three of these shot glasses. I was super excited to get them as they are unique and personalized to each of the receivers personally. They arrived on time but when I opened it I found one to be damaged. I immediately got a hold of someone, and they were more then understanding and willing to assist me in making me happy. The shot glasses other then the broken one look amazing and I cant wait to give them out. I know the receivers are going to love them. I will defiantly recommend them for anyone looking to have something personalized and I myself will continue using them!

Cutest ever.
By
Racheal O.

(Staten Island , NY) - February 9, 2014 (
See all reviews by this customer
)
Such a nice gift to give. The personalization came out so nice. I bought it as a birthday gift.

Shipping was quick, no cracks, it comes in a pouch, I will not be using the pouch because it has the PM logo (tacky, when being giving as a gift, otherwise I wouldn't have minded.)

Very pleased with this item.
Thank you PM

Such a neat gift idea!
By
Miranda B.

(Seymour, IN) - February 1, 2013 (
See all reviews by this customer
)
I got this for my husband for a Valentine's gift. I love this website! I also got him a personalized beer mug last year and the quality of these items really shocked me! They are not cheap-looking, and for this price you really don't know what to expect sometimes! But I am so pleased with the quality of this product and all the others I have ordered from them before.

Finally a shot glass for everyone!
By
Barbra F.

(Lombard, IL) - February 8, 2013 (
See all reviews by this customer
)
It was great to customize the shot glass for my own personal inside jokes. The recipient was surprised and impressed. I would order one of these again.

"Adults Only" Shot of Happy Times
By
Kristin B.

(Mechanicsville, VA) - March 9, 2013 (
See all reviews by this customer
)
I ordered 4 of these and was able to personalize them for all the members in our annual "Adults Only" vacation group. I love the way they turned out, especially since I was able to add a little antidote of something that happened or was said during our last vacation together. I know the recipients are going to have some huge laughs about what I wrote on each individual glass, and I can't wait to give them the glasses when we get together this year. The quality is excellent, the printing crisp, and delivery was quick. As usual, I was completely thrilled with my purchase and with the satisfying shopping experience that Personalization Mall always provides.

Fun Gift
By
Donna R.

(Highlands Ranch, CO) - November 4, 2011 (
See all reviews by this customer
)
This was so much fun to create and it turned out perfectly. It will make a great gift!

Perfect Choice!
By
Michael M.

(Malone, NY) - December 2, 2011 (
See all reviews by this customer
)
I was very impressed (again!) with the quality, communication, and fast delivery of your product! I order for only 7-10 people, usually during the holidays or for a special anniversary (work-related), and I immediately turned to Personalization Mall to find that perfect item. This year was personalized shot glasses - and they turned out to be just what I wanted. The custom printing was perfect, no mistakes, nice solid letters with no "bleeding". Thanks again for another quality product!