Great gift idea
By
Shopper

(Chicago, IL) - February 6, 2012
I created this for my husband as a unique valentine's day gift that he would actually use. I like that I could personalize each line to really be something special for him. I would buy again!

excellent party favor
By
Leslie F.

(Commack, NY) - January 20, 2012 (
See all reviews by this customer
)
excellent idea for dinner party , party favor, looked great, shipped timely, nice little gift bags.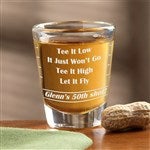 satisified shopper
By
Shopper

(Dyer, IN) - January 16, 2012
It was exactly what I hoped it would be. I like the fact that you can preview exactly what your order will look like.

Great gift
By
Shopper

(Huntington , WV) - January 10, 2012
I used this as a Christmas present for my fionce for our first Christmas! I put our names and the boys names on this along with the date. He loved it! Reasonable price and very nice quality. Not to mention many gifts are outragesly priced for personalization. I will be ordering this glass in the future!!!

awesome shot glass!!
By
Shopper

(Lafayette, IN) - December 13, 2011
My boyfreid recently turned 21 so I thought this would be a good gift for him. Once order the glass shipped within a day! He loves it and everyone that sees it thinks it awesome!!!!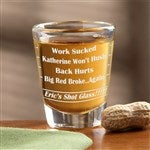 Funny Gift
By
Lauren S.

(Greenacres, FL) - December 7, 2011 (
See all reviews by this customer
)
I was completely satisfied with how this turned out. Same size as a standard shot glass.

Perfect Choice!
By
Michael M.

(Malone, NY) - December 2, 2011 (
See all reviews by this customer
)
I was very impressed (again!) with the quality, communication, and fast delivery of your product! I order for only 7-10 people, usually during the holidays or for a special anniversary (work-related), and I immediately turned to Personalization Mall to find that perfect item. This year was personalized shot glasses - and they turned out to be just what I wanted. The custom printing was perfect, no mistakes, nice solid letters with no "bleeding". Thanks again for another quality product!

Good gag gift
By
Kaitlyn P.

(Canada) - December 2, 2011 (
See all reviews by this customer
)
You can get pretty creative with these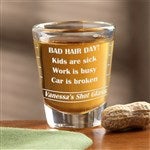 Exactly what I expected
By
Shopper

(San Antonio, TX) - November 24, 2011
I ordered this for my brother-in-law and it is exactly as the picture looks. I placed colored tissue paper in the glass so that he was able to read what it said right away without having to angle it too much.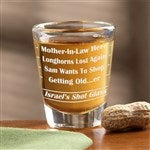 Fun Gift
By
Donna R.

(Highlands Ranch, CO) - November 4, 2011 (
See all reviews by this customer
)
This was so much fun to create and it turned out perfectly. It will make a great gift!

Perfect!
By
Shopper

(Bridgeport, WV) - September 24, 2011
I bought this shot glass for my brother for his birthday. My brother loves to drink and he has many shot glasses, but not like this one. It was a perfect gift! It is made out of the same thick glass typical of most shot glasses. But, other shot glasses aren't personalized. And this one isn't just personalized with someone's name, but also allows you to list your reasons for drinking, to design a shot glass that is individualized and as special as you are, or your loved one is. I would highly recommend this shot glass!

Great shot glasses
By
Brendan K.

(Falconer, NY) - July 11, 2011 (
See all reviews by this customer
)
Bought them for each of my groomsmen and shared a fun anecdote on each line for reasons why we might have drank in the past. Fourth line was titled "Brendan's Big Day". Durable shot glasses and the engraving looks classy!

GREAT PRODUCT
By
Louis N.

(Atchison, KS) - July 10, 2011 (
See all reviews by this customer
)
Exactly what I ordered and is a high quality product.

Father's Day Toast
By
Jan H.

(Upland, CA) - June 22, 2011 (
See all reviews by this customer
)
Purchased as Father's Day gift for a couple of special guys I know ... the quality was outstanding and the guys loved them!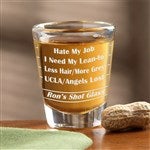 awesome
By
Melisa S.

(Canada) - June 22, 2011 (
See all reviews by this customer
)
this item has been loved by everyone we've showed it to. They think the idea is just wicked and they laugh when they see the phrases there. We had a little issue with this item but the fast and excellent response of customer service was just awesome and prooved us that every penny put into this items is completely worth it because there's good people behind it to back it up. Awesooome!! :D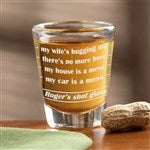 A definite gift pleaser
By
Victoria E.

(Greensboro, NC) - June 20, 2011 (
See all reviews by this customer
)
I personalize this for my husband for Father's Day and he absolutely loved it. I made sure I added things we go through daily like having teenagers and little kids, so he knew what level to fill the glass. He laughed so hard and that was the best feeling to see his expression.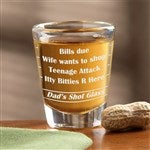 I used this shot glass as a memorial, my son collected shot glasses
By
Shopper

(Clinton, NY) - June 19, 2011
I was very impressed with the engraving, it was beautifully done. I know my son will be looking down with a smile on his face when these are given out. Thank you for making this possible.

Comic "Relief"
By
Shopper

(Mount Airy, MD) - June 6, 2011
I ordered a shot glass for my husband and one for my son-in-law. The ability to personalize the glass with particular "woes" was very clever and perfect for each of them.

Pleased
By
Shopper

(Amherst, NY) - May 31, 2011
Product is a decent quality shot glass, with exactly what I wanted on it, looks nice easy to read, does what it's supposed to. It came very quickly with ground shipping.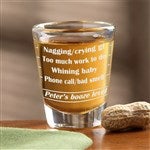 Outragiously funny gifts for all of the adults !!
By
barbara K.

(salem, VA) - May 30, 2011 (
See all reviews by this customer
)
We are all going to laugh at these, as everyone gets a personalized reality check at our next adult gathering... I have purchased 10 so far, and expect to get the rest of our friends one soon ! The engraving is wonderful. No paint that washes off in the dishwasher. Excellent quality.

Great!
By
Shopper

(Decatur, GA) - May 28, 2011
This item was part of my first order with Personalizationmall.com and it is great and came just as described (and was delivered fast). I will definitely buy from them again!

Shot Glass
By
Lisha C.

(Canada) - April 12, 2011 (
See all reviews by this customer
)
This is a great gift for a milestone birthday, or you just want to give a little haha.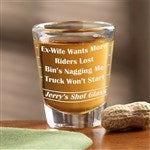 Perfect personalized gift
By
Donna B.

(St. Helena Island, SC) - April 11, 2011 (
See all reviews by this customer
)
I recently bought this glass for my son. He absolutely loves it! Thank you Personalization Mall for great gift giving ideas. The perfect gifts. The best store on the internet!