Great gift
By
Shopper

(Norton Shores, MI) - December 16, 2013
Great quality! Looks just as it shows. Good idea for male teachers.

Great cup
By
Shopper

(Worcester, MA) - June 20, 2013
We order this cup every year for my son's teachers. Nice quality and great that you can personalize it!

Nice gift
By
Shopper

(Ormond Beach, FL) - May 27, 2013
This is the second year I have bought one of these for an end of the year teacher gift. They look nice and are well made, and they are always well received.

Very good teacher gift
By
Shopper

(Elk City, OK) - December 20, 2012
Something cute and that they can really use....the personal touch is great.

Very nice
By
Kimberly A.

(Coral Springs, FL) - December 8, 2012 (
See all reviews by this customer
)
FIrst time ordering these and they are quite nice. Will be perfect for Teacher Appreciation week.

Teacher Gift
By
Shopper

(Streetsboro, OH) - November 13, 2012
This is one of our favorites-we have purchased this as a gift for several teachers. They love it! The tumbler always becomes a topic of conversation in the teachers lounge. It's cute and durable.

Great present for teachers
By
Shopper

(Tarpon Springs, FL) - June 10, 2012
Nice, good quality cups. My kids' teachers loved them.

Great Product and Excellent Service
By
Shopper

(Downers Grove, IL) - March 27, 2012
I ordered this product and loved the sturdy quality and the convenience. There was a slight flaw that though small was not what I had ordered. The costumer service was outstanding. I have always recommended them to my friends both by purchasing them gifts and forwarding Personalization Mall's emails and it feels wonderful to have a business today show their thanks with their customer service. Thanks Loads Personalization Mall.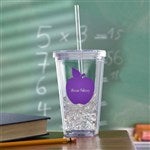 Love for a new teacher
By
Linda C. P.

(Lewisville, NC) - January 30, 2012 (
See all reviews by this customer
)
Such a nice gift for a new teacher just beginning her career!! The color was bright---the name printed on the tumbler was very clear and beautiful. I was very satisfied with the product.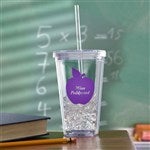 Great for teacher gifts
By
Becky E.

(Lake Oswego, OR) - December 27, 2011 (
See all reviews by this customer
)
I bought one of these for each of my kids' teachers and they look great.

Great Gift!
By
Britta H.

(Lester Prairie, MN) - December 19, 2011 (
See all reviews by this customer
)
I got this gift for my sons teacher, she is always drinking some sort of juice mix, so I thought this would be perfect! My son was very excited to give it to her. Great quality cup and the apple looked so cute! I thought it was an ok price for what you got, but there are cheaper ones in stores with no personalization.

Tumbler
By
Nikki C.

(White Pigeon, MI) - November 14, 2011 (
See all reviews by this customer
)
I bought this item for my son's teacher. It came back very cute and I also ordered one for myself...I am a teacher too!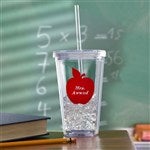 Nice
By
Shopper

(Mickleton, NJ) - June 14, 2011
This was nicely made and made a lovely gift.

Value and quality
By
Barbara C.

(Metairie, LA) - May 28, 2011 (
See all reviews by this customer
)
These are perfect for teachers, principals, anyone any age group.
The lettering in white looks better than the photo, hot pink, green, red they are all cute.
The red is my fav for teachers. My 12 yr old picked them out for her 4 favorite teachers.
The straw is stiff and durable. They are dishwasher safe also. Theybare double insulated with
A non leaking lid. Love them, I have one and I use it all the time ESP on the go.

Teacher Thank You Gifts
By
Kristi E.

(Felicity, OH) - May 28, 2011 (
See all reviews by this customer
)
They were just what I wanted. They were very nice an I will use their services again. The teachers Loved them. I filled them with Hersey Kisses and Hugs. Thank you for such a nice product.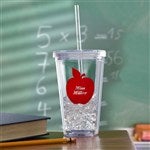 Wonderful gift!
By
Shopper

(Friendswood, TX) - May 22, 2011
Just received this gift for my son's kindergarten teacher & I am so excited about giving it to her! It turned out so cute & these cups are really popular right now. It seems to be a really good quality. I come back to your website to order gifts for every season/ occasion.

Thanks!

Great Teacher Gift
By
Shopper

(Everett, WA) - July 12, 2011
My son's teacher loved the Acrylic cup with her name on it. The only reason I didn't give it 5 stars is the cost is a little pricey when you add tax and S&H.