LOVE IT!
By
Lacy M.

(Parker, CO) - May 8, 2012 (
See all reviews by this customer
)
Oh my word, I adore my shirt! I wish it was printed on permanently however. Instead its the kind of print that will eventually peel off. I know I will wear it to death, and will hate to see it age and lose some of the design. Otherwise, it would have gotten a 5 star rating. The heart is big, easy to read and just darling! I used this design on a cookie jar for a grandma too, using names of all her grandkids. Loved it as well, and the writing there is permanent so it can go in dishwasher even! However, the yellow words are very difficult to read on the cookie jar, so its a bummer for the names that are in yellow. I'd recommend the company chose a different color.

Just as pictured!
By
Mary S.

(Bloomingdale, IL) - April 23, 2012 (
See all reviews by this customer
)
Product was exactly as shown on line. Love how you can customize and preview your order. It arrived looking exactly as I expected it to.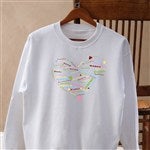 Sizes are for men
By
Dina I.

(Belle Chasse, LA) - April 22, 2012 (
See all reviews by this customer
)
The writing on the shirt was very nice and just what I expected. Size of the shirt was WAY off!!!! I ordered a large knowing that my daughter-in-law wears medium but I wanted the shirt to be comfortable. What I didn't expect (and very upset) is that the shirt is a man's large - size 42-44!!!!!!!!! The shirt is going to swallow her so I guess she can wear it as a nightgown!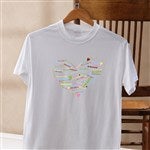 Mom
By
Lisa T.

(Brentwood, CA) - January 24, 2012 (
See all reviews by this customer
)
So So cute! The sweatshirt seems to run big but the quality is great!

Great Christmas Gift Idea
By
Julia K.

(Virginia Beach, VA) - January 2, 2012 (
See all reviews by this customer
)
My sister-in-law really loved receiving this T-shirt with her children's names on it for Christmas. And the older kids had a good time finding all of the instances of their name on the shirt. T-shirt is soft and well-sized. Ink color was a little less vibrant than expected but still looked good.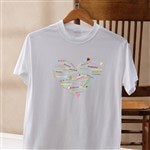 Great
By
Shopper

(Salinas, CA) - June 11, 2011
I ordered one of these for a birthday present. It turned out great and she loved it!

Cute
By
Kathryn G.

(Warren, MI) - May 17, 2011 (
See all reviews by this customer
)
This is a very cute gift and idea! My mother-in-law loved it. But it runs SMALL! She is a size 6 and I bought her a large and she said it was snug.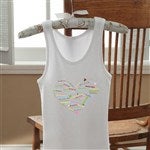 gift
By
Shopper

(Atlanta, GA) - May 12, 2011
mom loved it..

Love shirt
By
Shopper

(Excelsior, MN) - May 9, 2011
I bought this and had it sent to my mom, Grandma of 9. I had to combine 2 names on 1 line because there are only 8 allowed so that is the reason for only 4 stars. Also, it was not discribed what the loose shirt sizing was (ended up being men's sizing) so it was big for her, but she would never have worn "fitted". Also, where it looks red on the picture, she said was brown. But, she loved it! I can't wait to see it.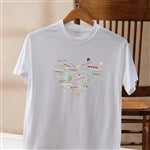 Very original and cute
By
Shopper

(Mesa, AZ) - May 9, 2011
This turned out great. We gave it to my mother-in-law for Mother's Day yesterday. She is 88. When I received it, the size was more for a man's XL, instead of a ladies XL. So, beware and note the sizing is generous. She will use it as a night shirt.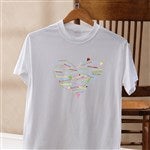 They LOVED them!
By
Shopper

(Foxborough, MA) - May 9, 2011
I gave one each to my daughter and daughters-in-law for Mother's Day. The girls one-by-one exclaimed "I LOVE it" even though each of them received it separately. It was a very attractive pattern with names of those they love interspered within the heart. Even though it was mentioned the sizing ran small, the "large" appeared to be fairly small so putting them in the dryer could be an issue. If I had to do it again, I'd go one size larger than I did. I hope they get to enjoy wearing them at least once. One daughter-in-law said her 5-year old could wear it as a nite-shirt if it shrunk too much.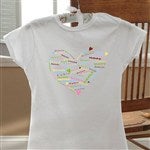 Awesome gift!
By
Shopper

(Pompton Plains, NJ) - May 8, 2011
I gave these shirts as gifts to my mom and mother-in-law for Mother's Day, they loved them! The sizes seem to run a bit larger, so you may want to order a size smaller than usual. I was very happy with the product.

NICE
By Shopper (Mentone, CA) - May 1, 2011
VERY NICE THANKS

Runs small
By
Shopper

(Evansville, IN) - April 25, 2011
I love the personalized t-shirt. However it runs small. I would strongly suggest ordering a size larger than you normally wear. Otherwise, the t-shirt is made very well.

Grandma/mom will love it!
By
Sarah H.

(Kettering , OH) - April 25, 2011 (
See all reviews by this customer
)
I think this is a great item. I got one for my mom from the grandchildren. The only issue I had was there were more then 8 kids so I doubled up on the names on each line, but it still looked great.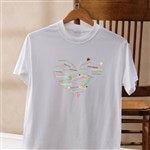 Sizing is way too big!
By
Shopper

(New York Mills, NY) - November 24, 2012
This shirt is sized for a man.

T shirt a little small
By
Shopper

(New Castle, PA) - August 7, 2012
the personalization on the t shirt is awesome. I just wish the sizes ran a bit bigger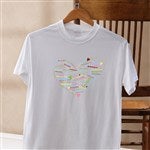 Beware! Mens size preshrunk tshirt!!!!!
By
VALERIE H.

(yukon, OK) - December 14, 2011 (
See all reviews by this customer
)
The quality is excellent. But ---- This is a preshrunk mens size tshirt (which I didn't expect, since this is a women's design). The shirt I bought was 2 sizes too big and had to order another one so I wouldn't offend my mom.

Sizing way off!
By
Shopper

(North Andover, MA) - November 5, 2011
This is very nice looking but it was HUGE! I ordered it for my mother, and I got a large because that's the size of several of her favorite sweatshirts, but when I got it I realized it was a wasted purchase because she'll never be able to wear it. I would compare this to an XXL... it would be too large for my husband who is 6'3''!

Adorable but runs very small.
By
Brandi E.

(Niceville, FL) - June 17, 2011 (
See all reviews by this customer
)
I was so excited to buy this shirt personalized with my small childrens' names, but it does run very small and is very thin material. I usually purchase my T's in fitted design and since I've had the little ones in a size large. As soon as I took it out of the bag, my husband asked, "Who is that for?" He was referring to it looking too small for me. I think I may give it to my mother-in-law, who normally wears a Medium, and buy a larger one for myself if possible. Really disappointing because I couldn't wait for the weekend to show it off!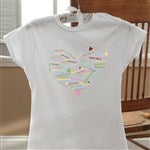 So small!
By
Jessica H.

(San Antonio, TX) - May 12, 2011 (
See all reviews by this customer
)
This shirt is super cute, but SO small. I ordered one for my mother in law and she normally wears a small, but I got her a Medium just in case. It is tiny! I should have ordered her an extra large. I don't know what to do with it now, because there is no way she could fit in it.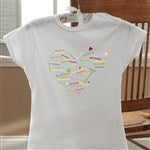 Cute design - poor t shirt choice
By
Krista J.

(Tampa, FL) - May 10, 2011 (
See all reviews by this customer
)
I ordered 2 of these for Mother's day. They are sized EXTREMELY large which the description mentions but it doesn't mention that the Hanes cotton shirt that it is printed on is called BIG BEEFY T. Imagine getting an oversized t-shirt for Mother's day with the words BIG BEEFY T printed on the shirt in the tag space. You can't cut it out because it is printed there. Poor choice but did give me a good laugh.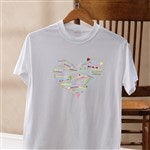 Too Small
By
Benne H.

(Cibolo, TX) - May 13, 2012 (
See all reviews by this customer
)
My daughter wears a medium size so when I ordered the fitted-T i ordered the largest size available.....however it is too small. If you order please keep this in mind.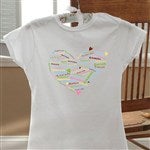 Cute, but small
By
Charity W.

(Romeoville, IL) - November 27, 2011 (
See all reviews by this customer
)
The shirt is super cute and looks awesome, but the fit is SUPER SMALL!!!!! I ordered a Large for my Mom (who usually wears a Medium) and I don't even think an XL would fit her! It's a shame...because as I said it is super cute. Make sure you order big!!!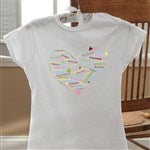 Cute but....
By
Shopper

(Sparks, NV) - May 14, 2011
This is a cute design, however the shirt sizes are WAY off. I usually wear a fitted small , but got the fitted medium thinking maybe it would shrink a bit and when putting it on I can barely get into it. Also the design shows through the material as one big patch, very expensive for something I can do nothing with. :(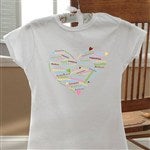 what size chart does your company go by?
By
Shopper

(Jacksonville, FL) - April 23, 2011
I ordered 2 "adult" large fitted t-shirts. Granted the shirts arrived to both my mother and mother-in-law in wonderful timing but OMG....those shirts were sooooo tiny. That shirt is not big enough to fit my 10 year old daughter. What sizing chart does your company go by? Both of my mother's loved the shirts but I guess they will be for "show" only because they definitely can't fit them. I had the shirts personalized with their children and grandchildren names, so they are very excited but again, they can't wear them. That's too bad because they are nice shirts. I wish your company had better sizing charts so my mother's could wear the shirts I paid good money for..... Signed, Not satisfied with my wasted money......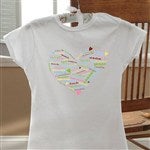 runs small
By
Shopper

(Charlotte, NC) - April 23, 2011
I ordered the tank in a large because I don't like tight-fitted tanks. I normally wear a size 6/small. This tank was way too small. Very cute design but I'll only be wearing it around the house. If you decide to order this product, think about ordering a size or two up.

size wasn't right
By
Shopper

(Williams, CA) - March 21, 2012
I ordered what i thought was a women's medium but what i got was a ridiculously large shirt. It was a birthday present for someone and now i have to buy a new gift in a hurry. DISAPPOINTED!!!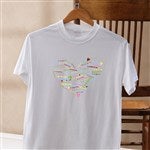 nice design but too small to wear
By
Shopper

(Stamford, CT) - June 27, 2011
I ordered the XL for my mom and it fits more like a size Medium. ended up giving (this personalized item!) to good will. no one else can wear it. grr

Unsatisfied in MD
By
Shopper

(Marbury, MD) - June 1, 2011
Personalization products are usually of the highest quality, however, this
fitted T-shirt is not true to size, the material is not the same quality that I am use to. I would NOT recommend this to any other shopper. I actually had to go out and buy other gifts to give. I just could not give this T-shirt in good conscience.

Jean H
By
Jean H.

(Kalamazoo, MI) - May 16, 2011 (
See all reviews by this customer
)
I was very disappointed with this product. I wasn't able to give it as a gift because it was SO SMALL! I ordered a large for my mom and it was more like a small. I wear a small or medium and I could hardly get into myself. I was very sad. It did come in a very nice organza bag which was a nice touch. Unfortunately, I had to rush out and find another gift for my mom.

I plan to return it.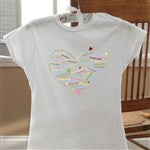 T-Shirt
By
Shopper

(Grand Prairie, TX) - May 16, 2011
I ordered this shirt for my mother, the print was perfect but not the size. She wears a large in ladies blouses so I ordered an XL just in case it shrunk when she washed it, the XL was way too small, it was more like a Small size instead of XL.

not to happy
By
Shopper

(Pinellas Park, FL) - May 14, 2011
I love ordering stuff from your company, but I WASN'T to happy with the tank top my daughter order for mother's day. you can see the tranfer on the tank top maybe you could of cut the heart out then put it on the tank top I washed it once inside out and you can see around the names that it cracked

runs very small
By
Shopper

(Mount Airy, MD) - April 26, 2011
super cute design but not very good quality & the extra large fit my mom who is a small normally

Very tight fitting
By
Shopper

(Wildwood, MO) - April 25, 2011
Shirt is very fitted and runs small, heart made of names is on a square piece of material which you can see on shirt, shirt is made of very thin material.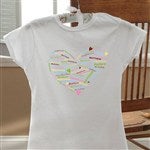 store bought transfer sheet
By
Shopper

(Canada) - April 23, 2011
You could make this yourself! It's just an iron on transfer sheet the size of a page. The edges are clearly visible. It looks so cheap.