beautiful angel!
By
AMANDA H.

(WYOMISSING , PA) - March 6, 2012 (
See all reviews by this customer
)
I love this angel doll! its just beautiful! My daughter loves these big dolls & I love that it has her name on it! perfect gift!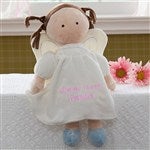 A wonderful Birthday Present!
By
BRENDA S.

(SMITHDALE, MS) - March 1, 2012 (
See all reviews by this customer
)
I bought this doll for my Grandaughter's Birthday present, I am very pleased with my purchase!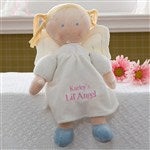 Embroidered Angel Doll
By
Martha B.

(Hope, MI) - February 6, 2012 (
See all reviews by this customer
)
I purchased this doll for my great niece who just turned 1 years old. Although I did not see the doll personally, I am from out ot town and send it directly to her, I received a photo with her holding the doll with a big smile on her face. It was a hit, so I am told - she can't put it down.

Everything I have purchased from personaliztion has been just exceptional. I have never been disappointed. The quality and promptness of delivery is beyond excellent.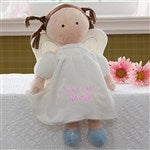 Soft and Cuddly Little Doll
By
Susan P.

(Parlin, NJ) - January 15, 2012 (
See all reviews by this customer
)
I bought this doll for my goddaughter's baptism. When I opened the box the doll was soft and much bigger then I thought. When I gave it to my goddaughter, she was smiling at the doll.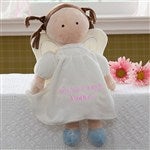 So cute!
By
LaDonna S.

(St. Louis, MO) - March 15, 2014 (
See all reviews by this customer
)
The doll is a birthday gift for my 1yr old great niece. I think she will love it! It's different than your run-of-the-mill dolls you see everywhere. A very nice size, and the best part is----it's machine washable! That was an extra perk, and what I tend to look for since kids like to drag things around with them!

Cutest doll ever!
By
Barbara L.

(Toms River, NJ) - August 8, 2013 (
See all reviews by this customer
)
We bought this for a Christening gift and it was a pleasant surprise. Very baby- friendly (no buttons or things to fall off or be a danger) and washable.....So cute- would recommend it to anyone!

God-Daughter Angel
By
Shopper

(Le Mars, IA) - August 15, 2011
We had this angel personalized to say My God-daughter w/ her name. It was a huge hit at hte baptism. So glad we could give our little god daughter such a precious gift that she can hopefully play with.

Soft and Cuddily
By
Shopper

(novelty, OH) - July 30, 2011
Loved this doll and so did my one year old grandaughter. The angel-doll is even sweeter and more cuddily than expected. It's a wonderful keepsake yet a doll to be held and squeezed everyday since it's WASHABLE! All the MOMS loved that feature. I highly recommend this doll.

Angel Perfection
By
Shopper

(Vienna, VA) - June 16, 2014
This Angel doll is beautiful. I got it for my granddaughters
First birthday.....and the quality of the doll AND the personalization
Exceeded my expectations. The angel is a good size and
Easy for little hands to hold on to....the plush is so soft
and cuddly......very well made.....would recommend
Highly

Love this beautiful doll!
By
Shopper

(Arcata, CA) - June 20, 2011
This item, personalized for my Granddaughter, came immediately! She is quite large (very huggable!) extremely soft all over and just as sweet as can be. Very good quality.

angel eyes
By
susan T.

(hazlet, NJ) - June 26, 2011 (
See all reviews by this customer
)
this was perfect for my great granddaughter Ava on her Christening Day thank you!

Perfect
By
Shopper

(Green Bay, WI) - August 17, 2011
I ordered this doll in memory of our daughter to place next to a framed picture of her. The doll is even larger than I expected, and she is just soooo cute and soft. The personalized embroidery turned out great and we have gotten lots of compliments on how sweet this doll is.

Goddaughter & Family Loved It
By
Shopper

(Chicago, IL) - June 14, 2012
Doll was beautiful, very soft and its size was decent, family loved it most of all my little niece went crazy she sleeps with her angel doll every night.

Angels for my angels
By
Shopper

(Wallingford, CT) - December 4, 2011
I purchased both the blond and brunette angels for my granddaughters to give for Christmas and I couldn't be happier with the quality. Both girls are very young one only 3 mos. on Chirstmas and the other just 2 years old but as a Christian grandmother, I want to start teaching them a little bit about God and what better way than with these beautiful angels that they can hug and love for many years to come. I ordered them early but really they came to quick, within a week's time. Thanks so much and I can't wait to give them to my little angels.

I kinda want one for myself
By
Shopper

(Irvine, CA) - April 24, 2012
I bought this as a baby baptism gift and I couldn't be happier. Item was excellent quality for the price and they embroidered the doll in 1 day! When the package arrived I showed my mom and she loved it so much she wanted to keep it.

Adorable Doll
By
Brenda S.

(Clarence, NY) - April 23, 2012 (
See all reviews by this customer
)
I bought this as a gift for my little grandaughter. It is so cute and so very soft and I can't be more pleased with it or the quality of it.

Baby doll
By
Shopper

(Falmouth, ME) - January 1, 2013
Just adorable! My grandaughter will love it. So soft and well made. I will order many other items from this co.

Beautiful soft angel
By
Shopper

(Davie, FL) - February 3, 2013
We love it! Soft and beutiful.Larger than expected.

love theses
By
Shopper

(Burlington, MA) - October 2, 2012
I purchased one for my granddaughter last year and she loves it. It washes well. When her sister was born I got her one.


Worth Every Penny
By
Diane C B.

(Defiance, MO) - October 4, 2011 (
See all reviews by this customer
)
This is exactly how it is pictured. Just as sweet as it looks. Just as big as it says and made very well. This makes a ver cute gift and everyone at the party thought it was precious! I do recommend this to everyone.
Thank You!
Diane