Very pleased
By
Shopper

(Sarasota, FL) - October 16, 2012
I was introduced to your website for the Grandparent gifts. I was very pleased to be able to order a wedding gift. I received my order and was very happy with it..I think the couple will be very pleased as well. It will be a keepsake as it has their first address as a married couple.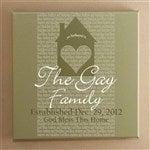 Great First Home Gift!
By
Shopper

(Avon, OH) - March 9, 2012
We bought this for our daughter and son-in-law when they bought their first house, and they loved it! It was a great housewarming gift and it arrived in a very quick, timely manner. To quote my daughter, "beautiful, perfect, and it means so much!"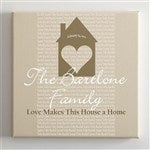 Wonderful
By
Catherine W.

(Hazelwood, MO) - February 2, 2012 (
See all reviews by this customer
)
I just want to thank you for having such wonderful merchandise. My canvas art piece is even better than I had hoped. The color is great. It warms my heart every time I look at it.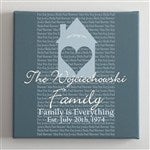 Love makes this our home!
By
Shopper

(Chesterfield, MI) - January 21, 2012
Ordered this for house warming gift, absolutely love it! It is the perfect gift for my friends who just bought their first home. As always extremely fast shipping.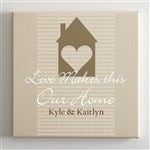 Great Gift
By
Shopper

(clinton, IA) - January 29, 2012
My daughter and son-in-law will be married 10 years in 2012 and I wanted to give them something special other than a card with $ in it. It was easy to order and personalize and when it arrived it was better than I expected,Just Beautiful. I have not given this yet but I am sure it will be a cherished memory for them.

housewarming gift
By
Cynthia P.

(Harrisburg, PA) - December 2, 2011 (
See all reviews by this customer
)
This gift was exactly what I wanted. Very good quality. Shipping was quick and packaging was perfect. I will order another item from this site.

Perfect gift for new home owners!
By
Shopper

(Dover, DE) - December 18, 2011
I loved this gift! It was so perfect! It was just as the picture showed!

Great house warming gift!
By
Shopper

(Ottawa Hills,, OH) - November 13, 2011
the quality is great! Love it!

Love this!
By
Lisa S.

(Altadena, CA) - January 8, 2012 (
See all reviews by this customer
)
We used this to commemorate a big home addition that we completed. It was a huge event in our lives and we wanted something to put in between the old part and the new part of the house and to thanks the people in our lives that really made it happen for us. It turned out really great. And people comment on it all the time.

Custom Canvas Art
By
Shopper

(Haddon Township, NJ) - May 21, 2012
Quick, easy, personalized housewarming gift!

Beautiful Wall Art Canvas
By
Tamika C.

(Grand Blanc, MI) - December 29, 2012 (
See all reviews by this customer
)
This product was absolutely beautiful. I wish it could of been larger, but it the art was just as ordered. My in-laws were emotional when they opened this gif. It will match the walls at their new home perfect. The quality of the product is ok but the look of it is great. I will definitly order more items from this site.

Anniversary gift
By
Lisa P.

(Lafayette, LA) - April 23, 2011 (
See all reviews by this customer
)
Last year I gave my son and wife a personalized frame with their names and they loved it. Now they are a family, welcoming a baby boy in January, so I thought this was perfect for their second anniversary gift. I loved the way it turned out and am sure they will too. I love the fact that you can try out so many options and see the way the product looks even before you place the order. I'm always very satisfied with your products.

Great Gift
By
Rebecca G.

(Silverdale, WA) - May 7, 2012 (
See all reviews by this customer
)
We purchased "Home is Where the Heart is" for friends that recently bought their first home. It was the perfect gift. We had it personalized with their new address and the names of their whole family. The colors for the beige piece are great, and it is the perfect size for an entry way. Definitely recommend.

It's ok
By
Shopper

(Minneapolis, MN) - December 19, 2013
I usually don't write reviews but had to say something about this product the heart canvas. Delivery was fast! It's cute but poor quality. Looks better online is all I can say.

LOVE IT!
By
Shopper

(Marietta, GA) - January 10, 2012
Love it! My only complaint is character spaces - not enough. I didn't have enough space to add the numbers to the address. Also not enough characters to add complete name (needed 10 spaces and was only allowed 9, so I had to use a nickname instead of the real name).
It still turned out fabulous and made a great housewarming gift.

nicely done
By
Shopper

(Poughkeepsie, NY) - April 9, 2012
great turn around time and a quality product. Was exactly as shown in pic.

Canvas personalized art
By
Deborah A C.

(N Huntingdon , PA) - April 30, 2011 (
See all reviews by this customer
)
This canvas personalized art Home Is Where The Heart Is plaque is a must have. You can personalize it with your wedding date and names and your new address. It is a true keepsake!

Great Product
By
Shopper

(Nashville, TN) - August 20, 2011
Turned our really great it was a gift and was loved by the recipent! High quality and very attractive.

awesome
By
Shopper

(San Dimas, CA) - August 28, 2011
the outcome was way beyond my expectations. i bought this for a wedding gift and now going to order one for myself.

House Warming Gift
By
Shopper

(Bronx, NY) - September 23, 2011
This was purchased as a house warming gift, so I didn't see the product live, but they said they loved it and went perfect with their decor!
Would purchase again!

Excellent!
By
Shopper

(Jeannette, PA) - August 15, 2011
Purchased as a housewarming gift. Very satisfied!

Awesome
By
Shopper

(New Berlin, NY) - June 17, 2011
I love this item and I know the couple I purchased it for will too. Thank you for the great product and the amazingly fast delivery (though with $7 shipping it should be quick haha).

Thoughtful Gift
By
Shopper

(Warminster, PA) - July 30, 2011
This canvas is a beautiful and thoughtful way to welcome a family into a new home. I bought the steel blue color and loved the way the names stood out in the background- such a lovely idea. Now my husband wants me to create one for our family!


Great housewarming present
By
Shopper

(Newton Lower Falls, MA) - August 5, 2011
Love this gift...it's a gift that people will actually display in their house. Doesn't look cheap, but looks like it cost a lot of money. I love all the details that are shown...it makes it really personal. two thumbs up!

love it!
By
Shopper

(Lilburn, GA) - December 18, 2013
Absolutely beautiful. Good quality. I ordered it as a gift but wish I had ordered one for our family!


Looks amazing!
By
Shopper

(Centennial, CO) - December 16, 2013
I have ordered many gifts from Personalization mall, each one was great. This one does not does not fail that description. It looks amazing!

Very nice personalized gift
By
Shopper

(Kansas City, KS) - December 25, 2013
I purchased nine of this item. Darling personalized gifts.

Gorgeous!
By
Shopper

(Sayreville, NJ) - December 22, 2013
This item is so beautiful that I ordered one as a gift and one for my self!

Beautiful
By
Shopper

(Franklin square, NY) - December 14, 2013
This was just gorgeous !!!! More than I thought it would be. I highly recommend this. Just oerfect

Quick, easy, affordable and perfect !
By
Daisy H.

(Revere, MA) - December 8, 2013 (
See all reviews by this customer
)
It was a perfect gift for my sister and her husband who had just bought a house.

Great Gift
By
Bonnie L.

(Hampton, GA) - December 14, 2013 (
See all reviews by this customer
)
This is a great gift, especially for a family. A nice keepsake.

Satisfied customer
By
Shopper

(Indiana, PA) - December 14, 2013
Product was nice quality. Arrived quickly. I am satisfied with it.

Wonderful Christmas Gifts
By
JoAnn P.

(Kings Park, NY) - December 27, 2013 (
See all reviews by this customer
)
Everyone one I gave them to loved them - so beautiful - very happy with them!! Thanks!!!

Housewarming gift
By
Shopper

(North Syracuse, NY) - April 18, 2014
Loved this!! Quality is wonderful and such a unique gift

A Great House Warming Gift!
By
Shopper

(Fairdealing, MO) - March 18, 2014
I purchased the Home Is Where The Heart Is Personalized Canvas Print for a fellow employee and his family. They loved it and hung it in their new home as soon as they recieved it. I love tho give thoughtful gifts that will be remembered for years to come. Thank you for giving me the opportunity to do that.

Perfect gift
By
Shopper

(Boylston, MA) - August 3, 2014
I just bought my 4th " home is where the heart is" canvas gift for an engagement party. Previously bought for people as house warming gift, hostess gift, and a Christmas gift. Everyone always loves it! I personally think the price is right and it shows that you put thought into the gift ( because it has to be ordered in advance of the occasion!). Fast turn around time. Nice gift!

MY FAVORITE SO FAR
By
Margaret S.

(Philadelphia, PA) - May 2, 2014 (
See all reviews by this customer
)
I have one for myself and have given 3 others as gifts... 4th one to come!!!

They loved it!
By
Shopper

(New Britain, CT) - January 6, 2014
Great gift for my son & his family, they were very surprised and happy with it.

Beautiful!
By
Shopper

(Eleele, HI) - December 28, 2013
Love my personalized canvas print and will definitely be back to order another one for another family!!

great housewarming gift
By
lilia Q.

(las vegas, NV) - March 8, 2014 (
See all reviews by this customer
)
this print was a great housewarming gift and the recipients where very pleased