Perfect gift
By
Shopper

(Boylston, MA) - August 3, 2014
I just bought my 4th " home is where the heart is" canvas gift for an engagement party. Previously bought for people as house warming gift, hostess gift, and a Christmas gift. Everyone always loves it! I personally think the price is right and it shows that you put thought into the gift ( because it has to be ordered in advance of the occasion!). Fast turn around time. Nice gift!

MY FAVORITE SO FAR
By
Margaret S.

(Philadelphia, PA) - May 2, 2014 (
See all reviews by this customer
)
I have one for myself and have given 3 others as gifts... 4th one to come!!!

Barbielynne
By
Barbara C.

(Portsmouth, OH) - April 28, 2014 (
See all reviews by this customer
)
I bought this canvas print for my daughter. She,and her husband, their daughter and two golden retrievers moved into a much larger and brand new home. They were very pleased and will find a special place to display it. I buy a lot from this website and have always been pleased with the product and the swift delivery.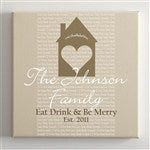 Housewarming gift
By
Shopper

(North Syracuse, NY) - April 18, 2014
Loved this!! Quality is wonderful and such a unique gift

A Great House Warming Gift!
By
Shopper

(Fairdealing, MO) - March 18, 2014
I purchased the Home Is Where The Heart Is Personalized Canvas Print for a fellow employee and his family. They loved it and hung it in their new home as soon as they recieved it. I love tho give thoughtful gifts that will be remembered for years to come. Thank you for giving me the opportunity to do that.

great housewarming gift
By
lilia Q.

(las vegas, NV) - March 8, 2014 (
See all reviews by this customer
)
this print was a great housewarming gift and the recipients where very pleased

Home
By
Shopper

(Las Vegas, NV) - January 24, 2014
Love it looks nice in our house can put names on it that print in the background and u any message i love personalized decor

They loved it!
By
Shopper

(New Britain, CT) - January 6, 2014
Great gift for my son & his family, they were very surprised and happy with it.

Nice!
By
Melissa D.

(Berlin, CT) - January 5, 2014 (
See all reviews by this customer
)
I ordered one for my grandparents and one for my sister-in-law for Christmas, they loved it! It looks really nice and came fast.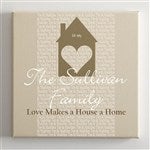 Beautiful!
By
Shopper

(Eleele, HI) - December 28, 2013
Love my personalized canvas print and will definitely be back to order another one for another family!!

Wonderful Christmas Gifts
By
JoAnn P.

(Kings Park, NY) - December 27, 2013 (
See all reviews by this customer
)
Everyone one I gave them to loved them - so beautiful - very happy with them!! Thanks!!!

Very nice personalized gift
By
Shopper

(Kansas City, KS) - December 25, 2013
I purchased nine of this item. Darling personalized gifts.

Gorgeous!
By
Shopper

(Sayreville, NJ) - December 22, 2013
This item is so beautiful that I ordered one as a gift and one for my self!

love it!
By
Shopper

(Lilburn, GA) - December 18, 2013
Absolutely beautiful. Good quality. I ordered it as a gift but wish I had ordered one for our family!


Looks amazing!
By
Shopper

(Centennial, CO) - December 16, 2013
I have ordered many gifts from Personalization mall, each one was great. This one does not does not fail that description. It looks amazing!

Great Gift
By
Bonnie L.

(Hampton, GA) - December 14, 2013 (
See all reviews by this customer
)
This is a great gift, especially for a family. A nice keepsake.

Satisfied customer
By
Shopper

(Indiana, PA) - December 14, 2013
Product was nice quality. Arrived quickly. I am satisfied with it.

Beautiful
By
Shopper

(Franklin square, NY) - December 14, 2013
This was just gorgeous !!!! More than I thought it would be. I highly recommend this. Just oerfect

Quick, easy, affordable and perfect !
By
Daisy H.

(Revere, MA) - December 8, 2013 (
See all reviews by this customer
)
It was a perfect gift for my sister and her husband who had just bought a house.

Thoroughly Impressed!
By
Shopper

(Cincinnati, OH) - December 5, 2013
I bought two similar products, so I will leave the same review under both. I was so happy with the products I received! The website was easy to navigate and personalize my item. They were reasonably priced and I was able to get a gift for each set of grandparents. I can't wait for Christmas so I can give it to them! Probably the best part was they looked even better in person than online. I was very happy with the quality of both canvases. I got them so quickly! I ordered them Cyber Monday, at like 11:00 pm, and received them today, on Thursday. Very impressive timing. Overall, I am very happy with my purchase and whll you the site for future shopping and gifts!

awesome
By
jennifer P.

(eliot, ME) - October 14, 2013 (
See all reviews by this customer
)
Really beautiful. Looks better in person. Arrived quick

Love it!
By
Shopper

(Ganado, TX) - October 12, 2013
Bought this as a gift for a friend. The delivery was fast and the quality was great. Im sure she will love it!

Customer LOVE these!!
By
Shopper

(Orlando, FL) - October 1, 2013
We have been giving these customized canvas prints as closing gifts for new home buyers for about a month now & they all absolutely LOVE them!!! We personalize it to each family & it just makes their home buying process that much more special.

Well made Canvas
By
Shopper

(HEMET, CA) - August 27, 2013
I purchased this Canvas for a friend as a house warming gift, I have not given it to her yet. However, when I received the package, i quickly opened it and i was amazed at how beautiful it was. Very well made. It looked better than online. The home address is actually significantly larger print than it appears online.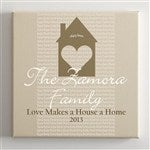 So many compliments on this!
By
Lucy L.

(Weston, FL) - February 4, 2013 (
See all reviews by this customer
)
I made one for our family and I made one for a friend's family. She was so pleased with this gift. It is truly unique - especially since you can have it say whatever you want. I have gotten compliments on the one in my house and my friend says that everyone that comes to her house asks her where she got it. I would definitely buy more in the future. It would be a great housewarming gift.

Great!
By
Shopper

(Westwood, NJ) - January 4, 2013
This was such a great gift to give to a family. I gave it to my long-time boyfriend parents for Christmas and they loved it!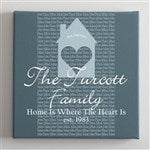 tradition remembered!
By
Robert H.

(Lenox, IA) - January 3, 2013 (
See all reviews by this customer
)
The entire family was thrilled with this piece, because i focused on the tradition of the family farm! The quality is great, and the service was awesome!

PERFECT gift for your home
By
Theresa F.

(Staten Island, NY) - January 1, 2013 (
See all reviews by this customer
)
This beautiful canvas art was exactly want I wanted. Quality, size and cost (which I got on sale) was just perfect and Shipping was amazingly fast especially right before Christmas time. Although, I was a bit disappointed that the background names could only fit up to 8 letters other than that everything that I order from this website I am extremely happy with and will continue to order more.

wonderful gift
By
Shopper

(Orlando, FL) - December 23, 2012
I got this for my parents for Christmas. I loved it even so much more
In person. The quality is top notch an it is beautiful. I know they are going to love it. Everything in my order was more than I expected in person, it was my 1st shopping experience with this website and I couldn't be more pleased.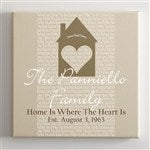 Very nice product!
By
Janeia S.

(Yucaipa, CA) - December 15, 2012 (
See all reviews by this customer
)
I am very pleased with how this came out. The size was large and it came out just as I hoped!

This Canvas Art is great!!!
By
Shopper

(Calexico, CA) - December 14, 2012
Excellent! I bought it as a Christmas present for my boyfriend's family, it is great!! They don't speak English, and I love that I can do my own personalization and write in Spanish. I will be buying from this site everytime I need a special gift, it is awsome.

loved it!
By
Brandi L.

(Roseburg, OR) - December 9, 2012 (
See all reviews by this customer
)
This is a really great idea. I did two of them and they turned out fabulous!

Thrilled!!
By
Shopper

(waxhaw, NC) - December 9, 2012
Canvas Art was much better quality than I expected for the price.
Super fast shipping too!

Great quality!
By
Glenda F.

(Selah, WA) - December 9, 2012 (
See all reviews by this customer
)
I bought this for my Aunt for Christmas. The quality is everything I expected it to be. Very nice print, clear and precise.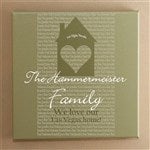 Perfect Housewarming Gift!
By
Shopper

(Sparks, NV) - December 9, 2012
This is the perfect personalized Housewarming gift. It was very fun & easy to do & turned out just beautiful! Very fast shipping, too!

Awesome Christmas Gift for Family and Friends
By
Shopper

(Jacksonville, AR) - December 8, 2012
Love this item! Perfect gift for family and friends. Picture review was exactly how it turned out. Product is an A+ for me! Even thinking of getting one for my home. =)

Awesome
By
Kate M.

(Bayonne, NJ) - December 8, 2012 (
See all reviews by this customer
)
Such a great gift! The color was perfect, the price was great and it shipped quickly. An on orderinh more.

Very pleased
By
Shopper

(Sarasota, FL) - October 16, 2012
I was introduced to your website for the Grandparent gifts. I was very pleased to be able to order a wedding gift. I received my order and was very happy with it..I think the couple will be very pleased as well. It will be a keepsake as it has their first address as a married couple.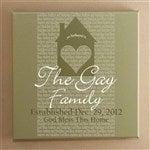 Wonderful Gift
By
Shopper

(Conroe, TX) - September 11, 2012
I bought two for different friends' birthdays. They both absolutely love them!

Best HouseWarming Gift
By
Shopper

(Ontario, CA) - August 22, 2012
Love it, Love it!..
This is an awesome housewarming gift!