Perfect Teacher Gift!!
By
Bonnie D.

(New Bedford, MA) - April 9, 2014 (
See all reviews by this customer
)
I bought two of these bags for gifts for my daughter and son's teachers. They are absolutely perfect! The colors are vibrant and the print is legible. The material is sturdy and durable. Each bag can hold a few large books as well as many other items at the same time. I was able to paint my kids' handprints on the back with a message to each teacher. Since giving them away I have received many compliments. People have asked me where I purchased such a great item. I would highly recommend this item if you are looking for the perfect gift!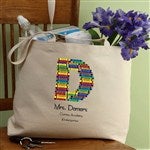 Great Purchase
By
Shopper

(Villanova, PA) - September 7, 2013
Loved the bag. It's bigger than I thought it would be, which for me was a plus. I purchased this for my son's school work which, as a kindergartener, tends to come home in mass. I put his initial on it with his name and the third line says "My School Work". It's perfect. Delivery was super fast too. I will be buying more (gifts etc) soon.

Teacher gift
By
Shopper

(North Potomac, MD) - June 19, 2013
Bought this for my son's teacher and was very pleased. The bag was bigger than I thought and his teacher, who recently got married, loved it! I wrote the kids name on the inside for an added personal touch.

Love it!
By
Nancy N.

(Abington, MA) - June 17, 2013 (
See all reviews by this customer
)
Highly recommend! Gave them as gifts for my daughter's Pre-K teachers and they loved them.

perfect for any teacher
By
Shopper

(New York, NY) - May 8, 2013
Teachers always need sturdy bags so that there is somewhere to put their teaching tricks treasures. This bag is high quality, and is roomy enough to fit many notebooks and guides. great work!

wonderful bag
By
Nancy S.

(corning, NY) - April 8, 2013 (
See all reviews by this customer
)
I bought this tote bag for a graduation gift for someone that is going on to become teacher. loved the design with the bright letter. I had the persons name put on it with the college they graduated from and year. I love the way it turned out! The guilty is great and it will be nice to carry everything a teacher might need. good size, not to big or small. very pleased..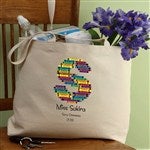 Excellent
By
jessica T.

(saugerties, NY) - December 12, 2012 (
See all reviews by this customer
)
I bought this bag for my son's Kindergaten teacher. Its the perfect size and the personalization gives it that xtra special touch. great item.

Great Bag
By
Calie W.

(Sarasota, FL) - December 6, 2012 (
See all reviews by this customer
)
I bought my Mother-in-Law a similar teachers bag from personalizationmall 3 years ago for Christmas, this year she mentioned to me how much she loves the one she has & gets so many complements on it. So I ordered her another one this year. The quality of theses bags are unbelieveable! They are great. Even after washing a few times they still look brand new. This is a great product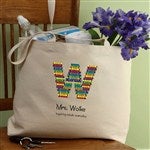 Ms. Teacher
By
Shopper

(Staten Island, NY) - November 30, 2012
I loved this bag. It fits everything I need to bring home from work. It's very comfortable and stylish. It is just what a teacher needs.

Birthday present for sister
By
Shopper

(Yukon, OK) - October 13, 2012
My sister LOVED this bag I got her! She carries all of her school stuff in it as she is a teacher. She loved that it was personalized with her name and school too!

Fun and practical
By
Shopper

(Crete, IL) - July 31, 2012
I purchased this bag as a gift for a fellow teacher who has been a tremendous help to me in my first year of teaching. It turned out really cute and is very practical for carrying books, papers and whatever else to school. And the bag came to my home in less than a weeks time. Amazing!



Love this!
By
Shopper

(Mount Pleasant, SC) - June 10, 2012
I ordered this for my sons teacher as an end of the year thank you! It was better than I had expected. The bag is big and roomy and appears to be very sturdy! I would consider ordering more in the future.

GREAT!
By
Carolina R.

(Miami, FL) - June 6, 2012 (
See all reviews by this customer
)
I really must say I ordered this bag for my teacher and she absolutely LOVED it! It is extremely durable; I loved the design, and a great size for teachers to carry around! I would highly recommend this product it is such a great gift for that special teacher.


Teacher Appreciation
By
Shopper

(Knoxville, TN) - March 30, 2012
April is Teacher Appreciation month at my son's school. I was looking for the perfect gift for a very special 5th grade teacher and this was it. I know she is going to love it and the personalization. Excellent transaction and fast shipping!!!!!

Crayon Letter Tote bag
By
Shopper

(Buffalo, NY) - March 6, 2012
Item is exactly how it appeared on-line. I'm very pleased with my purchase and with the price. Shipping is was fast.

Crayon tote rocks!
By
Nicole N.

(Australia) - February 4, 2012 (
See all reviews by this customer
)
This bag far exceeded my expectations. It looks wonderful. Makes me want to purchase another one.

Product Review
By
Sandy M.

(San Antonio, TX) - January 22, 2012 (
See all reviews by this customer
)
I was very happy with the products I ordered. I love the website as well. Things ship very quickly and they keep you informed by email when you order and when the items ship. I will order again!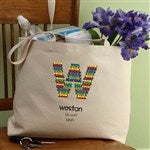 Perfect for any teacher
By
Richard G.

(Leakesville, MS) - December 19, 2011 (
See all reviews by this customer
)
This item is made of high quality canvas material and the colors of the crayons are vibrate. The added embroidery was matched perfectly. I ordered (2) one for the teacher and one for the assistant. They both absolutely loved it. Really large bag with as also super fast shipping and a great price. Thanks again another perfect gift.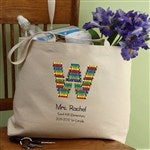 A Perfect Teacher Gift
By
Augusta G.

(Albuquerque, NM) - June 5, 2011 (
See all reviews by this customer
)
Bought this as an end of year gift for my daughters Kindergarten teacher... the quality was great! She loved it, and insisted I should not have "spent so much" as it looks far more pricey then it actually was. Very sturdy fabric, so I know she will have the bag for some time. The amount of personalizations was great too... we were able to write the teachers name, the school year and still had anonther line left. Overall, a hit!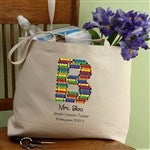 Awesome
By
Gina D.

(San Antonio, TX) - May 11, 2011 (
See all reviews by this customer
)
Ordered this bag for my kids teachers as an End of the Year gift, and they were so happy about the gift. The sturdiness of the bag, and the design was great.
Glad that I bought them!!!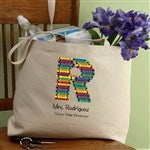 Teacher canvas bag with crayon letter
By
Shopper

(Phoenix, AZ) - May 6, 2011
Love it and can't wait to give it to my daughter's teacher at the end of the year. I will buy for more teachers.

nice teacher gift
By
Melanie K.

(Gallitzin, PA) - December 15, 2013 (
See all reviews by this customer
)
Bought this for a teacher gift for Christmas - very good size, larger than I expected. My only complaint would be the colors are not as bright as they appear online. Still looks good and seems like it will hold up well. Would buy again!

Nice Bag
By
Shopper

(APO, AE) - June 18, 2011
I got this bag for my son's teacher. I thought it was very nice when I got it, but it was a bit wider than I thought it would be. The bag in the picture looks a little bit more perportioned. Over all it is a very nice bag and my son's teacher loved it.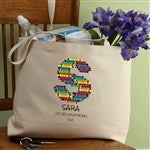 Loved the quality
By
Shopper

(Batavia, OH) - May 30, 2011
I liked the thickness of the tote, I just thought it was wider than I thought it would, it looks more rectangular than a square tote, but I never filled it up.





Teacher gift
By
Shopper

(San Mateo, CA) - May 14, 2013
I like the product just wished the crayons were brighter so it stands out on the bag color. In the picture looks bright but when product came a bit dull. Overall a good good idea and gift.

Great tote - would have liked brighter colors
By
Shopper

(Virginia Beach, VA) - July 16, 2012
The bag itself is a decent quality canvas and strap. I would have liked the color of the silkscreen to be brighter...the red and green are a bit dull. The preview photo looks so much brighter than the actual bag. (Preview picture shown).