Great Grad Gifts
By
Shopper

(Lexington, KY) - June 6, 2011
The frames were great graduation gifts and the people loved them! A big hit!!!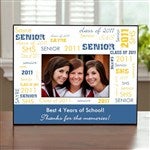 Great Graduation Gift
By
Shopper

(SANTA FE SPRINGS , CA) - June 6, 2011
This was a gift for my Step-daughter's graduation & as soon as she saw it she was very thrilled & excited about the frame, she loved it. Very good quality!

Graduation Gift
By
Judith J.

(Yorktown, VA) - June 6, 2011 (
See all reviews by this customer
)
Loved the outcome and so did the student I gave the gift too. Its a wonderful reminder of their years in high school. Personalization gifts mean so much more than just an ordinary frame that says Graduation.

Great Graduation gift
By
Shopper

(Streator, IL) - June 4, 2011
The frame is awesome and can be personalized with the student's school colors and name. My niece loved it!


My new favorite graduation gift!
By
Megan S.

(Minneapolis, MN) - June 4, 2011 (
See all reviews by this customer
)
I ordered this as a graduation present. I like to do something "personal," and this fit the bill. It exceeded my expectations! Nice quality, turned out great! I will be ordering this again for another graduate!

Love it!
By
Shopper

(Wahpeton, ND) - June 3, 2011
Vibrant colors. A very cute frame...

Great Gifts
By
Shopper

(Yuma, AZ) - May 31, 2011
It was such an amazing gift. When i ordered it i thought it wouldn't be as good, but boy was i wrong. When i got the orders, they were great! :) Will definitely buy from Personalization Mall again. The people who will receive these as a gift will love them!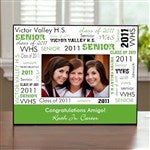 Satisfied
By
R R.

(Montgomery, TX) - May 30, 2011 (
See all reviews by this customer
)
I bought this for a high school graduate. After ordering it, I had it sent to her house because I was afraid that it would not get here in time for her graduation. I was VERY surprised when I got the email that it was being shipped the next day. I never saw the picture frame myself but the way the recipient and her mother were going on and on about it, they LOVED IT. The mother is an advent scrapbooker
and thought it was the perfect gift and of course wanted the web site.
Thank you for a one of a kind gift for a special graduate.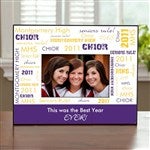 Graduate's frame in school colors with personalization
By
Shopper

(Naperville, IL) - May 30, 2011
Really quality product; as cool as it looks!!!! I will give this to every graduate in my life this year (and in the future!) Great personalized gift for a fair price!!!

Graduation Frames a Hit!
By
Shopper

(Jackson, NJ) - May 29, 2011
I ordered School Spirit Personalized frames for college graduates and everyone loved them! The ability to add several personalization items (name, major, year, school, mascot) makes each frame is unique. I'm sure they will be treasured for years to come.

very happy
By
Dovid M.

(Bronx, NY) - May 28, 2011 (
See all reviews by this customer
)
Came out perfectly. great frame, nice and sturdy

Great gift idea!
By
Leigh Ann L.

(Wendell, NC) - May 28, 2011 (
See all reviews by this customer
)
I bought 2 of these frames for myself and my friend since we just graduated with our master's degrees. They look phenomenal! I highly recommend this frame as a gift idea.

Spirit Frame
By
Shopper

(Water Valley, TX) - May 26, 2011
Love the frames! I wish they had a more better color selection. Wonderful gift.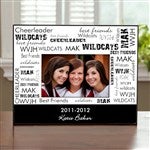 OMG!!!!! LOVE IT! LOVE IT! LOVE IT!
By
Lori W.

(Aurora, IL) - May 23, 2011 (
See all reviews by this customer
)
I brought this frame for my son's 8th grade graduation. Before ordering this frame I had ordered a "Inspirational Quote" item which my older brother was extremely happy with. Well again, Personlization Mall certainly didn't disappoint. Getting a quality product that is unique in every way and speaks volumes to the recipient on just how special they are at a price which is more than affordable? 3 words...UNBELIEVEABLE & THANK YOU!!!! The frame was made of such quality material and the formatting for the personalization is brilliant! It allows you to show your teenager that despite the challenge in raising them during this phase, you as a parent are aware of and celebrate the different characteristics that make them uniquely who they are. My son's graduation is 2 weeks away and I want him to have this gift so bad it seems like an eternity. I have told everyone I know about this website. No doubt I am a customer for life. Bravo folks...well done!!

MBA Frame
By
Charlotte L.

(Sunnyvale, CA) - May 23, 2011 (
See all reviews by this customer
)
Outstanding product. Our granddaughter was estatic over it. We would have liked burgandy instead of red, but it's still ok.
Your products are always reliably professional and delivered promptly.

PERFECT GRADUATION GIFT
By
Shopper

(Pittsburgh, PA) - May 23, 2011
ALTHOUGH I WILL GIVE MY NIECE A CARD WITH MONEY TO HELP GET STARTED WITH COLLEGE, I LIKE TO HAVE A LITTLE GIFT ALSO. THIS PERSONALIZED FRAME WITH HER SCHOOL COLORS, HIGH SCHOOL NAME, AND HER NAME WILL LET HER DISPLAY AND REMEMBER HER HIGH SCHOOL DAYS WITH AFFECTION. SHE CAN CHOOSE THE PICTURE, WHETHER IT BE HER SENIOR PICTURE OR A PICTURE OF HERSELF WITH FRIENDS, AND OR TEACHERS. THE QUALITY IS A+. I HAVE PURCHASED FRAMES BEFORE AND THEY ARE ALWAYS A LOVED AND CHERISHED GIFT.

School Spirit Frame
By
Rita G.

(Port Chester, NY) - May 23, 2011 (
See all reviews by this customer
)
When I received this item I was thrilled. It is so personalized and I know
the students I bought it for will love it !!

almost perfect
By
Sabrina M.

(Sierra Vista, AZ) - May 22, 2011 (
See all reviews by this customer
)
I bought the frame for my sister as a graduation gift. It was of greater quality than I expected and she absolutely loved it!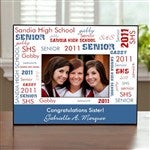 Spirit Frame
By
Shopper

(Cerritos, CA) - May 22, 2011
Great high school graduation gift...combines high school name, mascot, motto, year, etc. into one great frame in school's colors.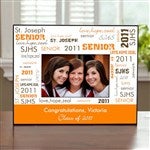 School Spirit Frame
By
Shopper

(Wauwatosa, WI) - May 22, 2011
I got it for a College graduate and she loved it! It really does give a wow effect. When I saw it in person it looked a lot better than on the preview. I love buyng things from Personalization mall.com. I will be doing it again! Thank You!

Nice Looking Item
By
Shopper

(Glen Burnie, MD) - May 21, 2011
The Colors on the Gold and Blue turned out exactly as the preview. Nice and Dark and very bright. This turned out great for my neice. What a nice graduation gift with her school name on it. Its really hard to find this type of frame with a gloss finish to purchase from your own high school. Very Pleased!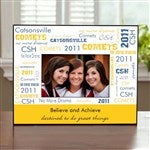 FUN GRADUATION GIFT
By
ANGELA L.

(SUWANEE, GA) - May 21, 2011 (
See all reviews by this customer
)
Once I had all senior's info regarding school, chool colors, etc...it was easy to just follow the instructions. I'm excited about giving such a personal gift to the graduate.

exactally what i wanted
By
Shopper

(Madera, CA) - May 21, 2011
I love this frame. I received exactally what I ordered and I was very impressed with the quality of the personalization. I have ordered many items from this site and have never been dissapointed.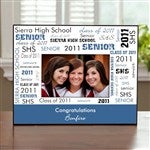 Excellent Quality
By
Shopper

(Clifton, NJ) - May 21, 2011
This item is a wonderful gift to give any graduate. Ordering was easy and the outcome is very pleasing. The quality of the frame was very nice for the price.

Great gift!
By
Shopper

(Toms River, NJ) - May 20, 2011
These were great! Not only was I able to put their graduation year, name, name of school but also mascot, their baseball numbers, anything personal that you would like to add. Love it done in school colors and I put their school name and degree on the bottom and their name under that. Looks great. Can't wait to put their pictures in them. The only thing I would have liked was the choice of horizontal or vertical. Most of the pictures are vertical. It's a great personalized gift to add to that money envelope!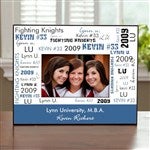 Great Grad gift
By
Shopper

(Norco, LA) - May 20, 2011
My nephew loved the picture frame. I was able to proof the frame before I ordered it. Very pleased!

Great way to honor Grads !
By
Florine B.

(Strongsville, OH) - May 20, 2011 (
See all reviews by this customer
)
What a great way to show the pride & joy felt when a loved one graduates! This frame allowed me to give a truly "personal" tribute. The frames I purchased make wonderful gifts that will be displayed by grads, parents, grandparents, & godparents. I love this site for quality personalized gifts.


Awesome Quality
By
Kaye J.

(Owensboro, KY) - May 20, 2011 (
See all reviews by this customer
)
I purchased the School Spirit frames for my daughter and her 3 friends for graduation. I was amazed at the quality of the frames. They haven't gotten them yet, but they will be thrilled! I liked it so much that 2 weeks later I ordered a wedding/couple frame for my niece who is getting married. I have already recomended this sight to several friends!

Awesome Frame!
By
Shopper

(Divernon, IL) - May 20, 2011
I ordered the picture frame for a graduate....it turned out great! I know she will be very surprised and happy with it!

awesome frame
By
Shopper

(Howard, SD) - May 20, 2011
wish I woulf of seen these earlier.affordable to give to the classmats!! Awesome details & coloring !!

SUPER CUTE!!!
By
Michelle L.

(GLEN ELLYN, IL) - May 20, 2011 (
See all reviews by this customer
)
Like everything I've ordered from PM, this frame is absolutely adorable and of excellent quality! LOVE it, and I just know my step-daughter will too!!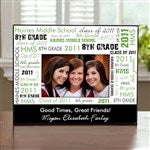 Great grad gift
By
Dorothea K.

(Lawton, OK) - May 16, 2011 (
See all reviews by this customer
)
Great gift idea for a graduate or teacher. We got ours for a retiring band director. Very happy with the quick service and delivery--less than a week.

picture frame
By
Shopper

(Wayland, MA) - April 26, 2011
Love it!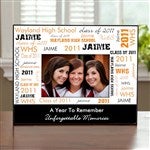 Good Quality Frame
By
Carolyn R.

(Nashville, TN) - April 19, 2011 (
See all reviews by this customer
)
I thought the frame might be cheesy when I got it and thought the price might be too high for that, but I was pleasantly surprised by the high quality and sturdiness of the frame. Now I feel the price is worth paying for the great product you get. The teens loved their personalization prom frames.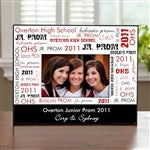 Very Satisfied
By
Shopper

(Gibsonia, PA) - March 24, 2014
My order came promptly and accurately. Thanks!

Great School Frame in your school colors
By
Patricia A.

(Manvel, TX) - March 24, 2014 (
See all reviews by this customer
)
I purchased this same item @ Christmas for my Freshman granddaughter.
I have returned to purchase another for my 50th Class Reunion.
I plan to use this as a gift for the Reunion.
this will make a great reminder of our High School & it is in our colors.
I will be back to order more of these as my granddaughter goes thru
each year of High School.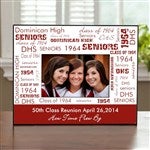 Really special!
By
Shopper

(New York, NY) - April 23, 2013
I think the recipient will really like this for his graduation!

exactly what i was looking for
By
Karla C.

(North hills, CA) - May 19, 2012 (
See all reviews by this customer
)
I wanted a frame that wasnt like every other frame I see in the stores and this was exactly what I was looking for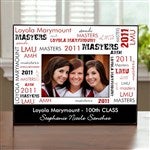 Helpful Tips
By
Shopper

(Glen Allen, VA) - May 7, 2012
Frames came quickly and they look great. Receipients love them because they are unique.

Cute personlaized frame
By
Shopper

(Leawood, KS) - May 2, 2012
The ordering process was easy and the frames came very fast. I ordered two for graduation presents and I like the different fonts and ability to put multiple sayings on the frame. Good shopping experience and I will be a return customer.