Beautiful
By
Lisa M.

(Bridgewater, MA) - January 3, 2012 (
See all reviews by this customer
)
I ordered this box for daughters graduation Great size, and very nice artwork on lid Great price and fast delivery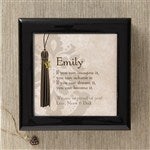 very good quality
By
judith D.

(lewiston, MI) - February 12, 2012 (
See all reviews by this customer
)
this is a very nice graduation gift. it looks expensive and is very tasteful. i especially love the saying. (also, it is a positive sign when a company wants a review to make sure they are doing the right thing and can improve if necessary)

Exceeded expectations
By
Shopper

(Albertson, NY) - May 21, 2011
Once again the product was better than I expected. The recipient loved it. I am a regular customer and will remain one!

Jewelry Box
By
Linda M.

(Woodstock, GA) - June 15, 2013 (
See all reviews by this customer
)
I ordered 2 of these boxes for graduation gifts. They were nice, but both boxes had scratches in the clear coating over the personalization. They weren't bad enough to send back, but not up to Personalization Mall's usual quality.

Graduation Box
By
Shopper

(Altoona, PA) - December 11, 2012
Nicely done on the outside but the lining is questionable.

Great grad gift!
By
Jane Z.

(Bourbon, IN) - April 19, 2011 (
See all reviews by this customer
)
Very pleased with this item! It is of great quality both inside and out. Will make a great gift for my niece's graduation this June. PersonalizationMall never has disappointed me.

Great service
By
Shopper

(Lexington, KY) - June 13, 2011
I have no complaints at all with either the product or service. Great interface for defining this persoalized gift, the gift itself was excellent no mistakes, delivered on time with a tight schedule. Thanks.

Happy Camper
By
Shopper

(SUMMERFIELD, FL) - April 21, 2014
Such a gorgeous keepsake box! My GRANDDAUGHTER will be thrilled. Thank you for helping me shop for graduations and the high quality of your gifts.

Quality met my expectations
By
Shopper

(Talladega, AL) - April 15, 2014
This was my first time ordering from your company. My Graduation Memories Personalized Jewelry Box arrived and I'm very impressed with appearance; quality of material used and personalization. Have placed a different order with your company. I would recommend this product to others. EG - Talladega, AL

Perfect
By
susanne B.

(Coatesville, PA) - June 25, 2013 (
See all reviews by this customer
)
The jewelry box exceeded my expectations. It is beautiful. The quality and the craftsmanship both excellent. What a perfect gift for a grad.

Great gift!
By
Shopper

(Santa Clara, CA) - May 27, 2014
The gift in itself is good quality, personalization effects are awesome. However, I would request that dont place stickers of "personalizationmall" on the gift boxes...it totally takes away the pleasure of the simple gift box. I wont like people visiting the site to figure out the price of the gift and dont want them to know from where i personalised the gift.

Goegeous Memory Box
By
Shopper

(Santa Fe, , NM) - May 6, 2014
This was a very nice surprise when received. I thought the cover was a paper under glass, but it is a tile with the wording etched in the tile. Very beautiful keepsake. I have ordered two of these for a niece and a neighbor, they both loved them.

Beautiful Graduation Gift
By
Heather G.

(Land O Lakes, FL) - May 4, 2014 (
See all reviews by this customer
)
I received this jewelry box and fell in love! It was the perfect size, the finish on the outside was beautiful, the cream colored felt inside was very nice....and the overall design and lettering was perfect. I think this will be a cherished gift for a very long time. Perfect for any graduate! Thank you again for a great product. There is nothing better than a personalized gift in my opinion.

wonderful graduation gift
By
Shopper

(New Hyde Park, NY) - May 18, 2013
i was extremely happy with this gift. it came out beautiful and Michelle was happy too!

Perfect!
By
Mandi E.

(Chubbuck, ID) - May 8, 2012 (
See all reviews by this customer
)
This was more beautiful than I expected. The graduate LOVED it!

Love love love this gift
By
Shopper

(SOUTHFIELD, MI) - May 1, 2012
I am do glad I made the decision to purchase this beautiful keepsake. My cousin loved the gift. It was very classy and a durable quality. White velvet on the inside and perfect size. We were all extremely pleased. Was delivered 2 days later. Amazing!!!!

Graduation Jewelry Box
By
Shopper

(Dayton, TN) - April 2, 2012
Just beautiful! This jewelry box is just amazing. VERY pleased!

Graduation MemoriesJewelry Box
By
Carol S.

(Utica, NY) - May 13, 2013 (
See all reviews by this customer
)
I was very pleased when I received this jewelry box. I am giving it to my niece who is graduating from pharmacy school as part of her gift. I plan on putting a piece of jewelry along with a monetary gift inside. I wanted her to have something special to keep so she will always remember us. She is very special to me and we have always shared a close bond. The quality was great and the fact that I was able to have my own sentiments on it made all the difference between the ordinary and the "extraordinary" present! Thank you!

Makes a Great Graduation Gift
By
Shopper

(Lake City, FL) - March 31, 2013
I actually ordered two of these beautiful little jewelry boxes. I have two grown daughters who both received their Bachelor's degrees (different fields of study and different universities). I wanted to give something that was similar yet personal and this was the perfect gift. I chose the right words for each of them. The inside of the box is beautifully lined and the words on the outside of the box show up nicely and are easy to read. I couldn't be happier and I know they will love them.

Graduation Jewelry Box
By
Shopper

(Lubbock, TX) - December 22, 2012
Wonderful gift from a caring boyfriend. Arrived in good condition/packaging. Expressed a beautiful sentiment of caring/personalization beyond the typical norm.