Ice bucket
By
Shopper

(St Rose, LA) - September 6, 2014
Super nice! Heavy and can see the etching clearly.

Exceeded my expectation
By
Shopper

(Bronx, NY) - July 21, 2014
I ordered this for some very good friends of ours. Still have not given to them but I am sure they will love it. It's beautiful!

greatest gift
By
Shopper

(BOCA RATON, FL) - June 30, 2014
this ice bucket with the engraving on the front and back, is a perfect gift for Wedding or anniversary or birthday. I am very happy with the engraving and look of the ice bucket. Fast service and delivery, packed very well, order the gift wrap kit, so you can see the gift before it is wrapped. easy to put the box together. Love it!

Lovely Gift
By
Vicki P.

(Somerville, TX) - April 27, 2014 (
See all reviews by this customer
)
I ordered this Chiller, Ice Bucket for a 50th wedding anniversary gift, when it arrived the item was broken, I called customer service and spoke with Kay D. she was so helpful and another item was sent to me at no charge, not even shipping. This one arrived and is just lovely, I can not wait to see the couples face when they open it. I have ordered gifts from here before and they have always been of the best quality and have been exactly what I have wanted. PersonalizationMall.com is the only company I will go to for all my gift needs.



Beautiful Anniversary Gift
By
Shopper

(Kevil, KY) - February 2, 2014
The crystal ice bucket was beautiful and met all expectations. Engraving was beautiful as well and it arrived 4 days after I ordered it. I have order from personalization mall several times and have always been pleased with the quality of the gift and ease of ordering.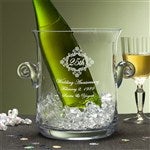 CRYSTAL CHILLER & ICE BUCKET
By
Shopper

(Omak, WA) - December 17, 2013
So very pleased with excellant quality of product, engraving and service!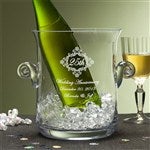 Excellent Quality, rapid service!
By
Shopper

(Fort Worth, TX) - September 23, 2013
I ordered this present slightly more than a week before the 50th anniversary celebration. It arrived quickly (I really didn't expect it to be on time) and it was excellent quality! The engraving was superb, just like the sample. The couple loved it and used it the same night!

Beyond Beautiful Part 1
By
Joan P.

(Louisville, KY) - September 14, 2013 (
See all reviews by this customer
)
I would have given this 10 stars if possible!! Beautiful, Elegant, Fine Quality are just the first words that come to my mind. I was so proud of the gift and am so pleased the gift was from me!! The ice scoop was the perfect finishing touch [separate purchase]. The engraving was PERFECT in every way - I checked it out extremely close :)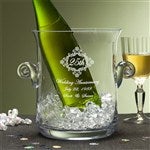 Engraved crystal chiller and ice bucket
By
Connie M.

(Moore, SC) - August 31, 2013 (
See all reviews by this customer
)
This was a 25 th anniversary gift and I was very pleased with the item. It was beautiful and the engraving was legible as well as elegant. I will definitely use your site for all if my special occasions in the future!

A Classic Touch!
By
Beverly N.

(Hinesville, GA) - May 28, 2013 (
See all reviews by this customer
)
I was overjoyed to have received my Dad and Mom's 42nd wedding Anniversary gift! It's so precious that I will deliver it in person, so I can see their reaction to the crystal chiller. The only drawback is that it could have been a little bigger in size. Other than that, I'm glad Personalization Mall deliver such great personal products for the ones we cherish most.

A one of a kind keepsake gift.
By
Shopper

(Hughson, CA) - February 2, 2013
The Crystal Chiller/ Ice Bucket was purchased for a "25" anniversary present.
I chose to have it engraved using my own wording. The results were beautiful. I also chose to purchase the gift box that is offered. Excellent choice as the Chiller was well packed.

The Chiller could be used as a desert bowl or floral arrangement bowl.

I have purchased from this company in the past and I have never been unsatisfied.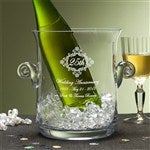 Super fast engraving!
By
KATHERINE D.

(Winston Salem, NC) - December 20, 2012 (
See all reviews by this customer
)
Ordered the crystal chiller/ice bucket for my parents 25th anniversary. They didn't charge extra for anything, just one set price. My parents absolutely loved it. My only complaint is you can't read the writing that well when the bucket is filled with ice, but my parents will keep it most of the time on a shelf where it is easily readable. Great gift, good quality, fast engraving & shipping. No 2 week wait like most places who engrave!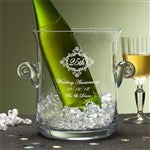 Great gift!
By
Shopper

(tehachapi, CA) - December 13, 2012
My brother and sister-in-law wer thrilled with this present.It was beautiful.

Beautiful!
By
Kathy K.

(Wauneta, NE) - October 23, 2012 (
See all reviews by this customer
)
I sent this to my brother and wife for their 25th and it was just beautiful! They ended up using it as a center piece on the table. It looked wonderful.
I ordered this and a bottle of wine also. Here is a hint for those that are
like me and don't drink wine. Don't buy this and a bottle of red wine, I was
informed red wine isn't chilled. But it still was a perfect gift!

Anniversary
By
Lynn C.

(Lebanon, CT) - September 2, 2012 (
See all reviews by this customer
)
The ice Bucket is beautiful. A great size snd well made. The party is this weekend and I know they are going to love it!

Everyone Impressed
By
Shopper

(Port Charlotte, FL) - August 8, 2012
Everyone impressed with 50th anniversary gift.Very Personal. Unique.Did not tell price.Looks very expensive. Thank you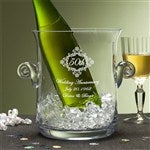 anniv gift
By
Shopper

(Roseville, MN) - August 2, 2012
nice quality and great personalized gift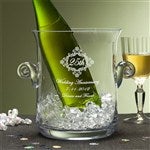 Great gift
By
Shopper

(Hollywood, FL) - August 1, 2012
Our friends loved this gift, and will treasure their 20th anniversary acknowledgment.

Anniversary Memento Engraved Crystal Chiller & Ice Bucket
By
Shopper

(Temecula, CA) - July 8, 2012
The item was fantastic !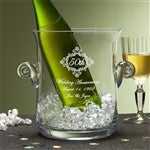 Quality
By
Betty K.

(Palm Coast, FL) - June 29, 2012 (
See all reviews by this customer
)
I was at a loss as to what to get my son and his new wife for their first year anniversary. I came upon your website and found the most beautiful ice bucket which could be inscribed (adding personal touch) and it was perfect. The couple have received the bucket and they are very pleased with it and just could't believe how beautiful it was and how nicely it was engraved. I am very happy with their delight. Thank you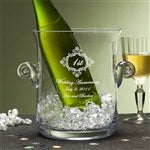 Superior product
By
Joseph W.

(Swansea, IL) - June 12, 2012 (
See all reviews by this customer
)
Absolutely superb. Great craftsmenship, professional product. My friend absolutely loved the gift. Best Anniversary gift to date.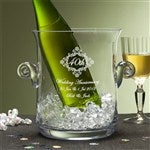 Very Impressive!
By
Shopper

(Southfield, MI) - April 26, 2012
Wow! I am very impressed with my overall experience here on Personalizationmall.com! We received our order extremely fast, and the Crystal Chiller is beautiful! Although it is a bit on the smaller size, it has a nice weight to it. The chiller can only hold one champagne/wine bottle and ice. It was well worth the price that I paid for this item. I mean, literally, I ordered this item on Monday evening, and with expedited shipping it was here by Thursday afternoon. I'm sure our gift recipient will be thoroughly impressed with this item. I will definitely shop here again. Thank you!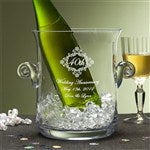 Beautiful
By
Sandra D.

(Canton, MI) - November 19, 2011 (
See all reviews by this customer
)
I purchased this for friends for their wedding vow renewal and it is beautiful! I was surprised at the quality...I love it and can't wait to see their faces when they open it. I love the fact that you can put any wording you want. I would highly recommend this as a gift for any occasion.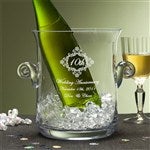 good quality product
By
Cristina M.

(Port Washington, NY) - November 13, 2011 (
See all reviews by this customer
)
Very nice,very elegant present!!
My friends were very happy when they received this engraved
crystal chiller from us!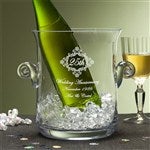 Beautiful!!
By
Shopper

(Freeburg, IL) - October 14, 2011
I ordered the Crystal Chiller for a wedding anniversary for a friend. Shipment was very quick. When it arrived I was very pleased with the quality. Nice engraving and perfect size. Also, ordered the ice scoop. It is of very good quality, too. Nice and heavy. I am anxious for them to see it!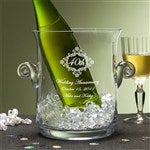 Classy gift
By
Shopper

(Lunenburg, MA) - September 23, 2011
This gift was presented to my daughter and son-in-law for their 1st year anniversary. They were so touched by the saying I chose as well as the personalization. Just gorgeous, glassy, perfect for the hard-to-buy-for person. just perfect!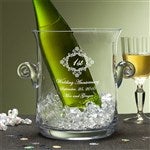 Fantastic!
By
Shopper

(Saint Louis, MO) - September 3, 2011
The engraving was great and it was delivered so quickly! The only thing is that it is a little smaller than I thought. I was thinking that I would be able to put two bottles in there but there is clearly only room for one bottle.

Awesome
By
Marjorie R.

(Jersey City, NJ) - September 2, 2011 (
See all reviews by this customer
)
I ordered this engraved Crystal Chiller & Ice Bucket with scooper for my son's 25th Silver Anniversary. The delivery was fast and the item is beautiful. Very pleased and will be ordering more from Personalizationmall. I can't wait until my son and daughter-in-law open it for their anniversary. I know they will love it.

Anniversary Momento Crystal chiller & ice bucket
By
louise S.

(Piqua, OH) - August 1, 2011 (
See all reviews by this customer
)
This gift was exactly what I was looking for, it is beautiful and I know my Son & Daughter-in-law will love this.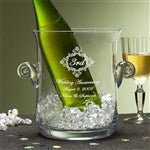 Love my Ice Bucket!
By
Shopper

(stamford, CT) - June 5, 2011
Put a bottle of champagne in the bucket with fluorescent paper and wrapped in a clear bag with a big bow. Everyone loved it!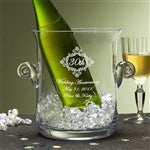 A cherished gift
By
Deborah R.

(Gulf Breeze, FL) - June 1, 2011 (
See all reviews by this customer
)
Just a week before our friends 50th Wedding Anniversary their familiy was unable to travel to celebrate with them, so my husband & I made last minute dinner plans at their Favorite Resturant. Trying to make the night as special as we could as quickly as we could, I ordered the Crystal Chiller, along w/the engraved champagne flutes only five days before they were needed. Calling your customer service dept., I was reassured that it would arrive on time - it arrived in 3 business days, perfectly done & absolutely beautiful!! I had the waite staff use it as the table center piece w/champagne on ice & had the glasses set @ thier places for dinner. The wife cried when she read the Chillers back inscription (picked from Personalization Mall's selections); both were overwhelmed at how lovely it all was! The personalization of the gifts helped to make the evening not only special, but a cherished memory of their love & our friendship. Thank you so much! I will be shopping with you again & again!

anniversary chiller
By
Lawrence D.

(Tallahassee, FL) - May 20, 2011 (
See all reviews by this customer
)
nice engraving, prompt delivery.

great product!
By
Shopper

(Baltimore, MD) - April 24, 2011
Exactly as described. My friend loved it as a anniversary gift.

Beautiful Gift
By
Shopper

(Florham Park, NJ) - May 16, 2013
I purchased this Crystal Chiller to give as a gift. It is absolutely beautiful and the personal engraving was perfect. It is larger than it looks in the picture and will hold any wine bottle beautifully. Very happy with this purchase.Will recommend this gift to others.

Smaller than I thought
By
Shopper

(Plano, TX) - October 16, 2012
This product is nice but was not as heavy or big as I thought it would be. It actually looked like it may be thick plastic until I touched it.